Last month, I had so much fun dreaming up the Northwestern and Northern Indiana Beer Trails, I decided to do it again, and come up with one for Southern Indiana.
Our imaginary itinerary took three days to cover, because we had 14 microbreweries in that part of the state. We were also a little "wind aided," because the seven breweries in Northwestern Indiana were so close; none of them were more than 20 miles from each other (and most of them were 15 miles or closer).
We're facing a tougher challenge with the Southern Indiana Beer Trail, because there are no more than three of them in any one area. However, we lucked out in that three cities — Evansville, Bloomington/Nashville, and Columbus — each have three. So we don't have to drive as far between every microbrewery, like we did in Northern Indiana.
This time, we're going to take two days to cover the entire state, visiting no more than seven breweries in one day.
The pattern is the same: start on the western side of the state, pick a convenient route, and head east, stopping at true microbreweries and nanobreweries on the way. This means no beer bars, no secondary locations. If they make beer there, we'll stop; if they don't, we won't.
So, pile into the special Beer Trail Limo, complete with designated driver, and let's get this thing rolling.
Day 1 - Southwest Indiana
We'll start at the Tin Man Brewing Company, a place I've visited the last few times I've been in Evansville. I even spoke to the Evansville Digital Media Association in their upstairs room this past January. The last time I was there, the beer menu was the same, although the food menu had changed greatly. One of the only microbreweries I've seen to use cans, Tin Man offers Circuit Bohemian Pilsener, Alloy American Pale Ale, Rivet Irish Red Ale, and Overlord Imperial IPA. They offer several other beers as well my favorite, the Rosenweiss Kristallweizen, a German filtered hefeweizen.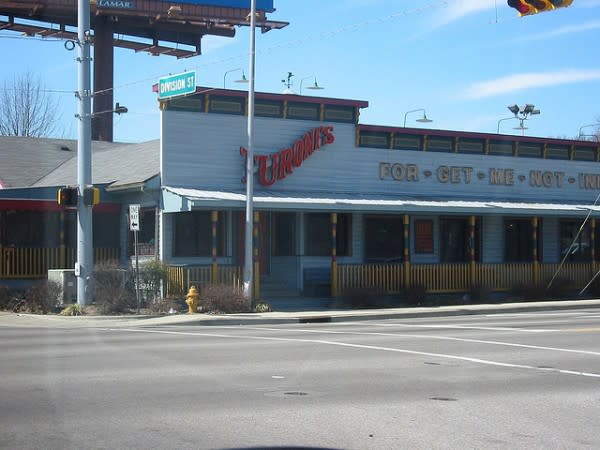 From there, we head east to Main Street Brewery at Turoni's Pizza in Evansville. Turoni's pizza has been made in Evansville for over thirty years, although there's no word as to how long they've been making beer. Turoni's offers five year-round beers — Thunderbolt Red Ale, Honey Blonde Ale, Ol' 23 Stout (which pays homage to Evansville native Don Mattingly) — and will rotate six seasonal beers throughout the year. At this time of year, they're serving their Helles Bock, and getting ready for their Wit's Up Belgian wheat and Hefeweizen for the summer.
Our last stop in Evansville is Carson's Brewery. They offer their Core 6 beers — including Brown Cow Brown Ale, Eville American Wheat, Harlot Honey Blonde — as well as 15 other specialty beers (I'd love to try their St. Carson's Tripel Quad, a Belgian style tripel ale). This is a taproom only, so there's no food. But they do sell their beer in over 60 locations throughout the Evansville metro area, and 56 more locations throughout Indianapolis. Use their online beer locator to find the closest restaurant or liquor store to you.
Now we need to head north to Jasper, in Dubois County (pronounced doo-BOYS, not doo-BWAH) and the Basket Case Brewing Company. This is a nanobrewery, only serving 1.5 barrels of beer at a time in The Mill House Restaurant. Their goal is to combine their love of music with their love of beer, so they refer to their lineup of beers as their setlist. The names of the brews even have a musical theme to them, like their Revolution English Pale Ale, Maneater Blonde Ale, and the Scarecrow Wheat, which was influenced by Mr. Mellencamp himself.
From Jasper, we head to Bedford at the Salt Creek Brewery right there on Old SR 37. They're Lawrence County's first and only microbrewery in a converted service garage. Although they don't serve any food — we're going to have to stop for dinner soon — they do have 12 beers to choose from. They have several of the old mainstays, like the Salt Creek Steam Porter, the Junkyard Dog Stout, they also have two uncommon Black IPAs, the Black Crew Brew and the Bradweiser. But I'm going to try the Grace Kelly Blonde Ale.
It's getting late, and I'm getting hungry, but we have two more microbreweries to check out. Good thing we have a designated driver.
First we'll stop by the Bloomington Brewing Company and Lennie's Pizza. Calling themselves one of Indiana's first craft breweries, they work the whole IU and Little 500 theme hard, with the Quarrymen Pale Ale and 10-Speed Hoppy Wheat. But don't forget the Ruby Bloom Amber and the Kirkwood Cream Ale. Right now, their specialty ales include a FeastMaster 80 Shilling Ale (one half of a combination with the New Albanian Brewing Company in New Albany), the Blueberry Blonde, and the French style Bière de Mars. Plus we can get pizza there, so we'll have dinner, hit the Upland Brewing Company and stop for the night.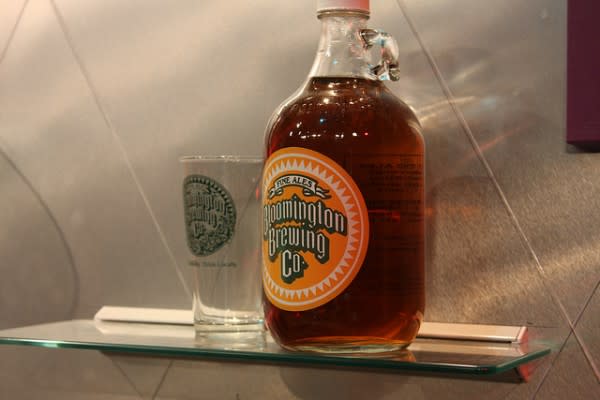 We may want to just make a whole day of the Upland Brewing Company, because they offer 30 different beer styles there. There's the Helios Pale Ale, Dragonfly IPA, and their Upland Wheat Ale. But you can find those in nearly any decent liquor store in the state. Or if you're from Indianapolis, you can visit their taproom in South Broad Ripple. But what I'm interested in are the beers at the bottom of their beer list. I'm a huge lambic fan — Lambics are the Belgian style of brews that taste like fruit — and they've got six of them that I'm dying to try: kiwi, persimmon, cherry, strawberry, peach, and blackberry. To be honest, I didn't even know these things existed until just now, so pardon me while I geek out a bit.
That's the end of day one, and what a day it's been. Seven breweries in a single day. We'll head over to Nashville to start the second day of our two-day adventure. We have six microbreweries to hit, so drink plenty of water tonight, get plenty of sleep, and we'll hit the last six, ending in Aurora in southeast Indiana, along the Ohio River.
Photo credit: Boldly Wanderlust (Flickr, Creative Commons) WFIU Public Radio (Flickr, Creative Commons)