If you have traveled in Indiana at all, you likely know that Columbus (just 45 minutes south of Indy) is known for its architecture. In fact, it is ranked 6th in the nation for architectural innovation and design by the American Institute for Architects. In this small town of 44,000 visitors can see 70 buildings and pieces of art by internationally known architects and artists. It is truly amazing. One fantastic example is The Miller House.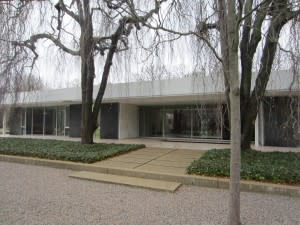 A lot of credit for Columbus and its architecture goes to J. Irwin Miller and his wife Xenia Simons Miller. I won't spoil the entire story for you, but Miller and his wife were prominent business leaders in the community and in the 1950s had the desire for a new home. They brought together three leading 20th-century architects and designers: Eero Saarinen, Alexander Girard and Dan Kiley.
Let me give you a recap of my tour with some pictures. This is one of my favorite parts of the house ... the conversation pit.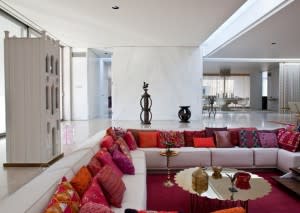 Photo Credit: Indianapolis Museum of Art
The home is very modern in style and is laid out in a tic tac toe style. It is hard to imagine a family of seven living in this home. (In the first picture, if you look hard you can see the conversation pit in the background.) And just picture in the middle of this fantastic dining room table fresh flowers floating in the water. Mrs. Miller was a huge fan of fresh flowers and always had them on display in the house.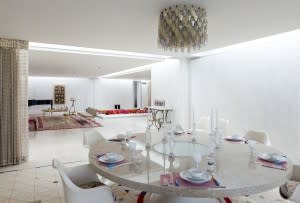 Photo Credit: Indianapolis Museum of Art
I definitely wouldn't mind having this sitting room in my master suite!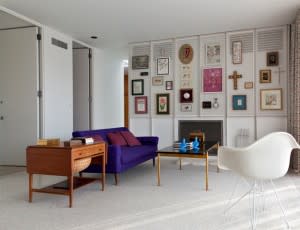 Photo Credit: Indianapolis Museum of Art
Let me be honest that I do not know a lot about architecture, but the tour was fascinating to me. Here are some of the facts I picked up:
The home took four years to complete (1953-1957)
The cost was $468,765.92
Total square feet - 6838
The Millers paid $30,000 for 13.5 acres
In 2000, the Miller House became the first National Historic Landmark to receive its designation while one of its designers, Dan Kiley, was still living and while still occupied by its original owners.
During most tours you aren't allowed to take photos inside the house (see photo credit above) so the only photos I took are from the outside and since it was December, the grounds weren't at their peak.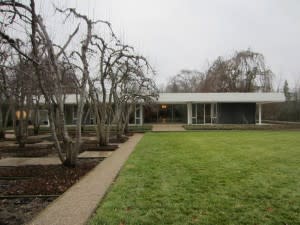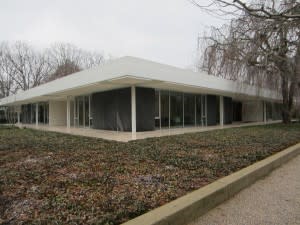 But, check out this fantastic picture I received from the Columbus Area Visitors Center. It certainly makes me want to visit again in the spring.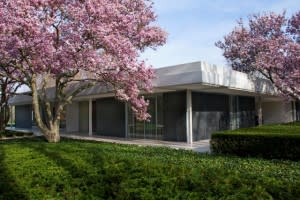 Photo Credit: Indianapolis Museum of Art
Today the Miller House and Gardens are owned and operated by the Indianapolis Museum of Art. The Columbus Area Visitors Center operates the tours and if you know when you want to go, sign up soon. The tour can only take 13 people at a time and they sell out quite often.
For other information on architecture tours and attractions in the Columbus area, be sure and visit their website. You can learn a little bit more about what they offer by reading the blog I did this past summer.
*One more tip - the tour lasts about an hour and a half and the house has restrictions on where you can walk and what you can touch ... so probably not the best attraction for little ones.