Tis the season! Once again the beautiful lights are hanging from the Soldiers and Sailors monument, lighted trees line the streets and holiday wreaths are hanging from street light poles. A cherished tradition by many families this time of year is attending a performance of The Nutcracker. As a former ballet dancer myself, The Nutcracker holds a special place in my heart. So this season, get your family excited about the holiday season by attending one of Indiana's many exceptional performances of this ballet classic.
The North
Live up in Northern Indiana? Luckily, you are right around one of Indiana's most prestigious dance companies, the Fort Wayne Ballet. Fort Wayne Ballet is performing The Nutcracker from December 6th to December 15th, with both matinee and evening performances. Better yet, after each matinee performance you can attend the Sugar Plum Party where you and your family can eat sweets and meet Clara and her friends. Certainly an added bonus, and something your child is bound to remember. Tickets range from $25-$48 for adults and $15-$30 for children.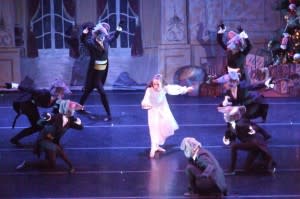 Clara surrounded by mice in Fort Wayne Ballet's The Nutcracker
Central
As you all know, I am a proud Butler Bulldog, so it should come as no surprise that I'm going to put in a shameless plug for you to attend Butler Ballet's production of The Nutcracker. This performance allows you to witness young dancers in their prime, music performed by Butler's orchestra, and a chance to see Butler's beautiful campus under a blanket of snow, hopefully. Butler is holding performances December 5th through December 6th. Tickets range from $17-$28 dollars depending on age.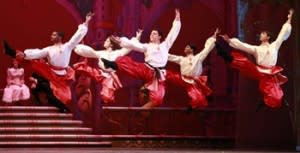 Russian dance at Butler Ballet's The Nutcracker
The South
I cannot think of a better reason to visit Evansville, Indiana, than to see the Evansville Ballet perform their rendition of The Nutcracker. See extraordinarily talented children and adults leap across the stage at Victory Theatre to the sweet sounds of the Evansville Philharmonic. Performances are at 2:00pm and 7:30 pm on December 14th. After the performance, be sure to drive just a few miles down the road and indulge in a sweet treat and a hot cocoa from the Donut Bank, you will not be sorry.  Tickets run $25-$45 depending on seat location.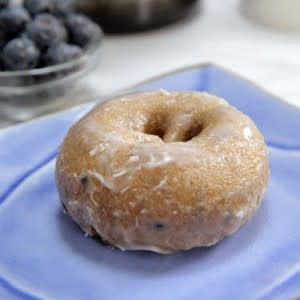 The Donut Bank's blueberry cake doughnut