Your first bite into your cut of Wagyu beef will tell you why you're there. It's in that first bite that you stop to savor the experience as the steak melts in your mouth. This is the real deal  - and you will be coming back for more. This farm restaurant in tiny Roanoke has caught the attention of foodies around the Midwest.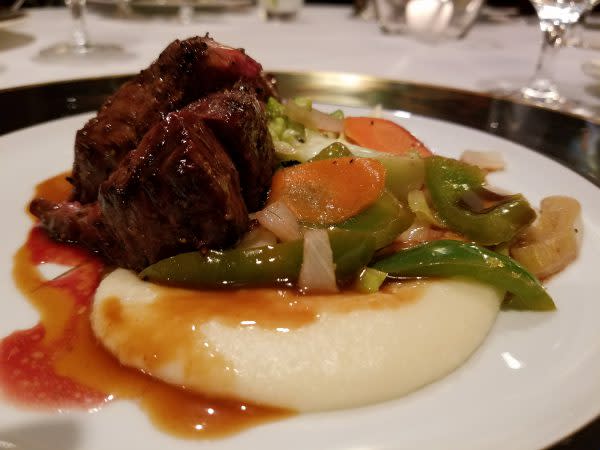 If ever there is a restaurant worthy of a road trip, it would be Joseph Decuis in Roanoke, Indiana. They have been serving up extraordinary gourmet farm-to-table meals for well over a decade with ingredients straight from their farm just a few miles away. Owners, Pete and Alice Eshelman, are passionate in their approach to delivering  superior farm to table fare and they love to share this passion with their guests by offering a multitude of dining experiences at all levels from casual lunches to their gourmet farm to fork meals and unique fine dining experiences on their farm.
After selling his successful insurance business several years ago, Pete has turned into a full time farmer of Wagyu cattle that he raises exclusively for their restaurant. Wagyu in the most simplistic of explanations are breeds of cows that originate from Japan and their meat is known for its extensive marbling and a taste that is second-to-none. Not only do they raise primarily 100% Wagyu (as opposed to Wagyu crossed with other breeds) but also, Mangalitsa pork, chicken and vegetables grown with organic practices. The farming operation is extensive but their love of producing the healthiest and highest quality ingredients is what drives them. Click here for video on their Wagyu beef.
The Emporium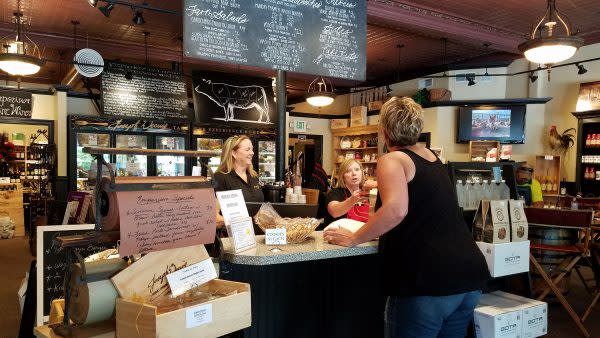 Curious about Wagyu beef but prefer a more casual dining experience? Head to the Joseph Decuis Emporium just a few doors down from the main restaurant. Enjoy soups, salads, sandwiches and lunch specials that will quickly make you a regular. For your first visit, I would strongly recommend the Wagyu burger with a side of sweet potato fries. For my most recent visit, I took them up on a special of Summer Squash Fritters over Greek salad with beets. While you are waiting for your food, feel free to wander the shop to purchase fresh vegetables from their garden, wines from their extensive wine shop in the back room or frozen meats to prepare at home.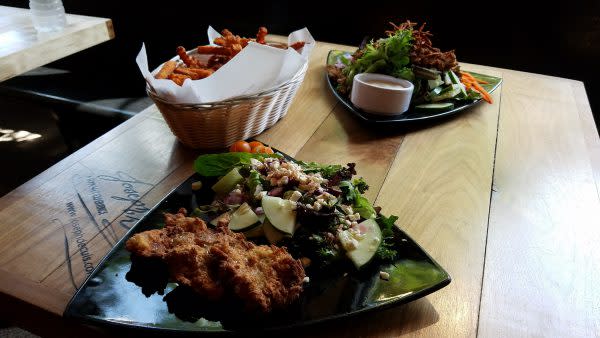 Enjoy a casual lunch at the Emporium. This visit I had the Summer Squash Fritters over Greek salad and beets. But no meal is complete without a side basket of sweet potato fries.
The Emporium is open Monday through Saturday from 10 a.m. to 6 p.m. but serve lunch from 11 a.m. to 3 p.m.
Joseph Decuis Restaurant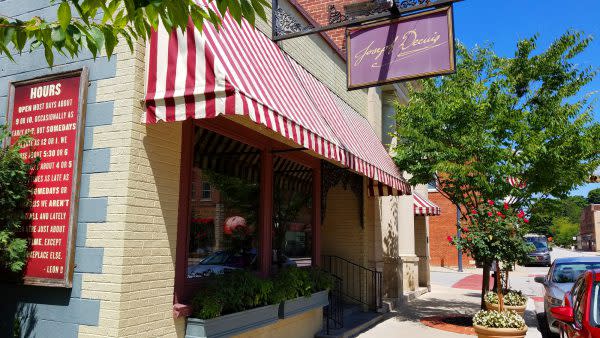 Don't wait for a special occasion to enjoy the splendor of Joseph Decuis' farm-to-fork cuisine in downtown Roanoke. The restaurant features an ever changing seasonal menu with alternating cuts of Wagyu steaks, Mangalitsa pork chops, seafood, chicken and vegetarian options. The mini Wagyu burgers are great for sharing. A favorite on the menu is to order the Chef's tasting for either two individuals or the entire table. The tasting is a six course meal that is carefully selected by the chef. It's only offered Tuesday through Thursday so definitely an incentive for mid-week dining.
Alice and Pete have created an atmosphere that is warm and inviting, yet elegant. The main dining room is situated in an old bank building and the beautifully adorned vault has been converted into the wine cellar.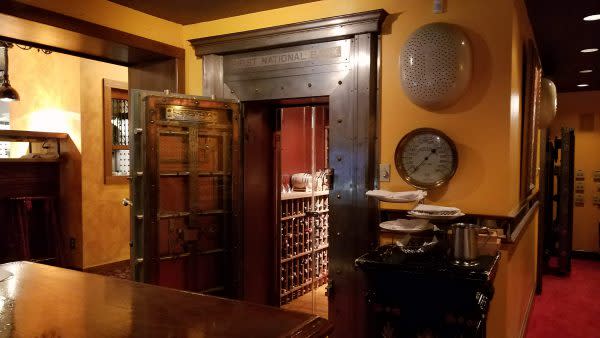 There's a story here about the food. Ingredients are carefully selected and artfully prepared and for those who are wanting an intimate evening observing and interacting with the chef and the kitchen staff, they have recently added seating at the Chef's Counter. There is an extra fee to sit here but they more than make up for it with special chef's tastings and the coolness factor of getting to watch the kitchen action and chatting directly with Marcus Daniel, Executive Chef. I decided to take them up on it and have to say that it was definitely worth the extra fee. I'm sure I asked Marcus way too many questions, but he eagerly answered them and helped me choose my menu for the evening.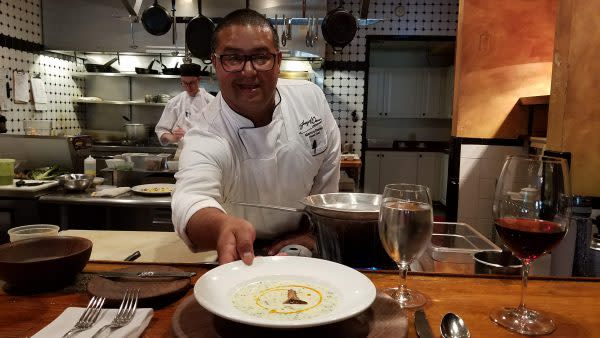 Sit at the Chef's Counter for a chance to observe and interact with the chef and kitchen staff. Marcus started me off with corn soup that was creamy goodness!
I started right away with the corn soup and it was easily one of the best bowls of soup I've had in years. It was creamy, sweet and filling - very satisfying! I followed that with the Wagyu dumplings with XO sauce that are topped with root vegetable kimchi. The dumplings were hearty and the spiciness of the sauce and kimchi really took this dish to a whole other level of deliciousness.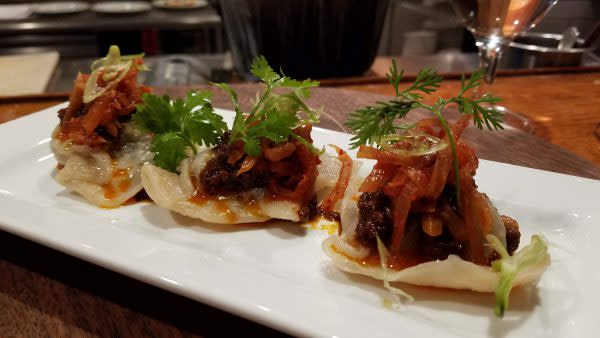 Wagyu dumplings
Among the featured Wagyu cuts offered that evening was a full-blooded Wagyu tri tip steak. So I ordered that as my main entree and it was accompanied by mixed vegetables from the farm and whipped potatoes. The steak was served perfectly with a pink center and a nice blend of char and seasoning on the sides. I found myself naturally talking less during my meal so that I could savor each bite to the fullest. Having a Wagyu steak is an experience in itself and it was by far the highlight of the evening's meal.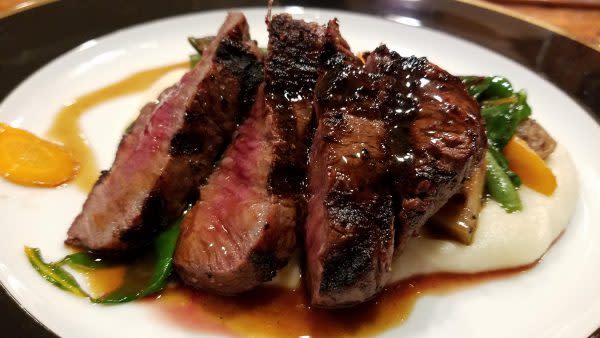 Full blooded Wagyu Tri-tip steak
I finished the evening off with another of the chef's offerings - the Indiana Corn Cake - which is a sweet corn bread soaked with tres leches sauce, blueberries and popcorn. Of course I asked about the popcorn as a choice for topper and Marcus said that it was for texture. I would have never thought of corn bread as a dessert but the dish was brilliantly delicious and the popcorn gave it a nice crunch but didn't detract from the sweetness of the cake.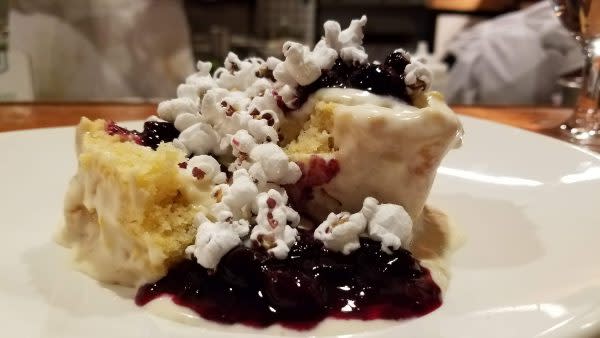 In addition to their regular schedule of Tuesday through Saturday from 5 p.m. to 9 p.m. with last reservations at 8:30 p.m., they have a few other offerings that you may want to consider. During the warmer months, come out on Friday nights for Bluejeans, Burgers and Beer in the Courtyard. It's a more casual dining experience with burgers on the grill and a great night on the patio with friends. (check schedule in advance) Ask about farm tours when making Saturday evening reservations as Pete and Alice will take you on a guided tour of their Wagyu farm. Another great experience to try are the Vineyard Lunches offered on some Saturdays.. These lunches include a specially selected menu theme, such as Mediterranean or Italian, with special wine pairings. Reservations are required.  Click for schedule. Follow them on Facebook to hear about additional special dining experiences as they are added.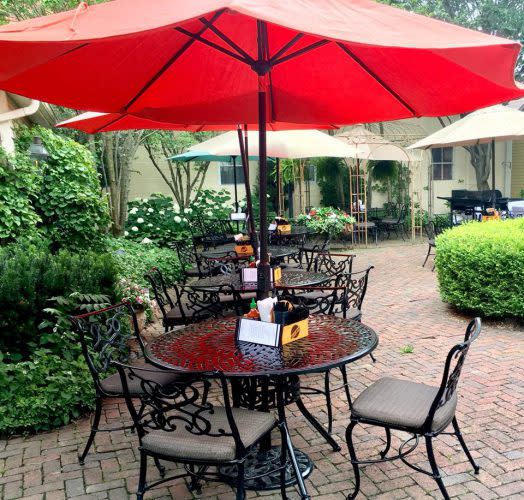 Blue jeans, Burgers and Beer events take place on the lovely courtyard.
The Farm
Some of their best dining events are located not in their AAA 4 Diamond restaurant but rather on their elegant farm nearby. The Eshelman's are gracious hosts and go out of their way to create some of the most exclusive and memorable experiences for their guests. One of their special dining options is their annual Farm to Fork FARM dinner in the fall  when you dine in style in the crisp fall air with some of the garden's final offerings and wine pairings. It's an annual beloved tradition. Check their schedule here to see what other events are coming up.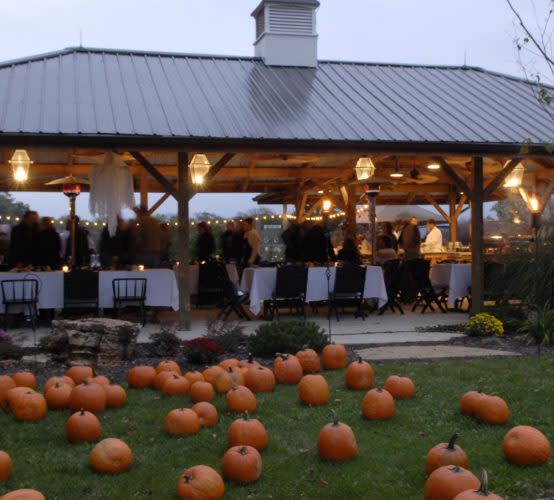 The Farm to Fork FARM dinner is one of the events hosted at their nearby farm.
Also, check the schedule for one of their Farmstead dinners held at their Farmstead Inn located across the street from the farm. This intimate setting is the place for a small gathering of guests that is prepared and introduced by the head chef. Each course is paired with a wine and is a wonderful evening of friendly conversations and gourmet cuisine. On the night I attended, we even took time to head out to the Farmstead's barn to see newly hatched chickens, the resident Mangalitsa pig, goats and the affectionate farm cat.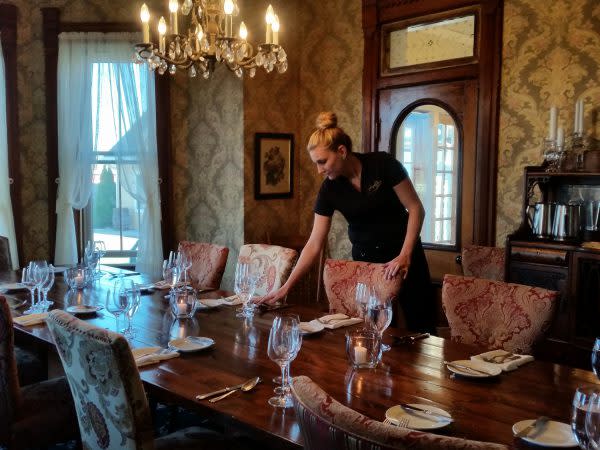 This gorgeous dining room at the Farmstead Inn is the setting for the intimate Farmstead dinners. A truly magical night on the farm.
The Eshelman's passion for food drives them to surprise their clientele regularly with new foodie experiences and culinary delights. It's hard telling what they will be cooking up next but in any case it will be spectacular. In the meantime, you MUST make your way to Roanoke, Indiana to experience a Joseph Decuis meal - whether for lunch, dinner or a special event. I know that I personally will be back very soon.