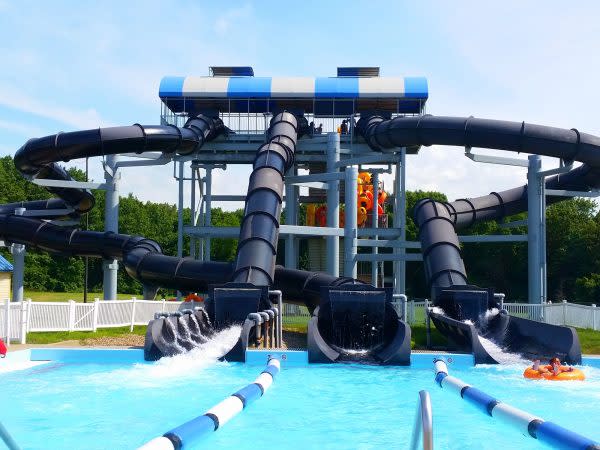 Head north to Deep River Water Park in Crown Point for a day of slipping, sliding, laughs and lots of screams. The park is located in the heart of what I would call a "Family Zone of Fun" right along the Lincoln Highway with the Albanese Candy Factory and mini golf and go carts nearby plus great food options. Spend the day or book a room and stay for the weekend and enjoy everything that the area has to offer. (blog: Candy Lovers Flock to This Indiana Candy Factory)
We arrived at the water park shortly after it opened and headed directly to the lockers. They have three sizes of lockers depending on your needs and the machine does take credit cards which is always a plus in my book. I would put everything in the locker including shoes so that you are free to enjoy the park. You program a 4 digit code into the locker so there's no keys to carry around.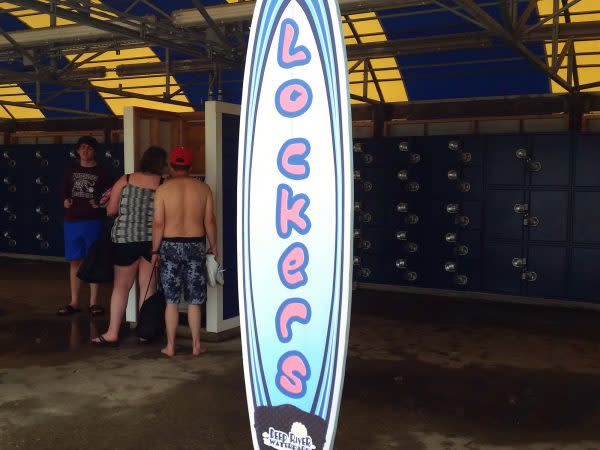 From there, it's pure fun! My kids and I decided to stick together for the day and had a great time trying out the various slides. What's nice about the park is that there is a great variety of slides so everyone in your group should be able to find something at their level of comfort. We tend to be more on the "scaredy cat" side of things and felt like we had plenty of fun options to keep us busy all day. The day we were there it wasn't too busy until late afternoon and we didn't have any issue getting tubes for the rides, but for busier days you may want to consider renting your own tube for the day to keep the fun rolling. It's a small fee but I could see how it would be well worth the extra cost.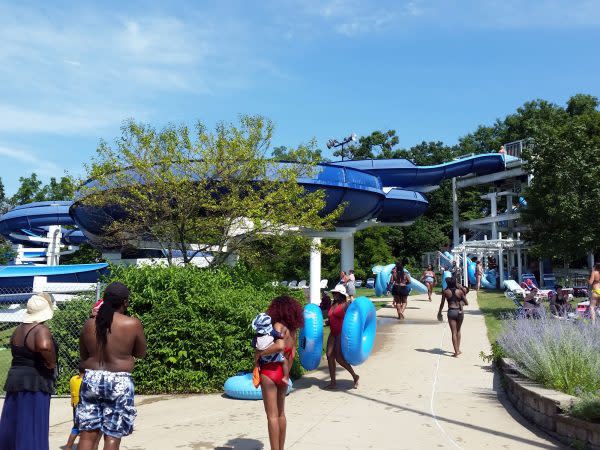 These two slides are a good place to get started if you are among the more timid visitors. Or head over to the Great River Ride to brave the geysers, buckets and waterfalls.
This was our favorite area of the park and these three slides had plenty of twisting turning action.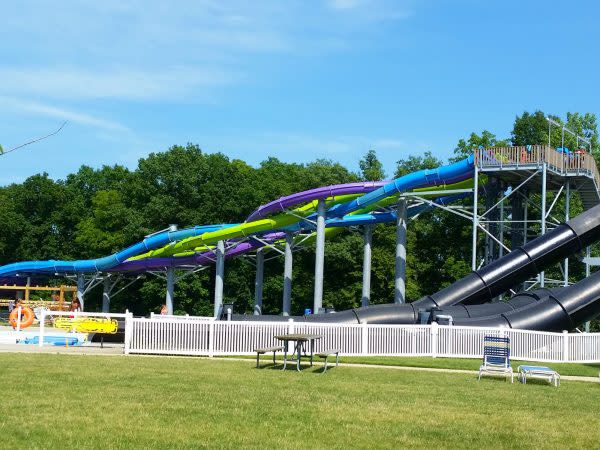 You gotta do the Kraken! Grab a mat and prepare for the magic of the Kraken!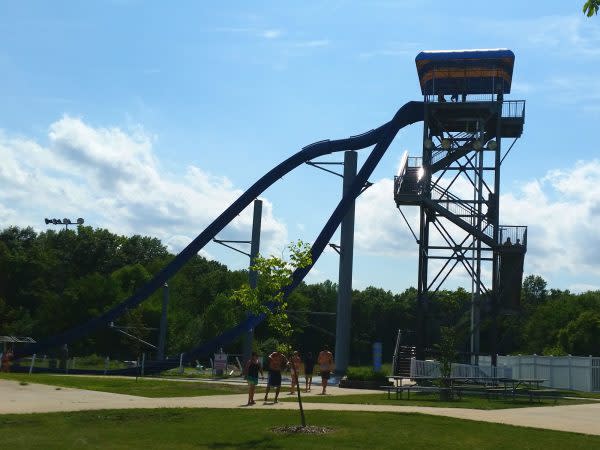 For those who want a near free fall experience, try the Dragon. This was past my comfort zone, but there was no shortage of people ready to take the plunge. There's a double dueling cannonball ride that is also on the more advanced side but well worth the bravery!
If you want to take a break from the slides and relax, you have a few options. Our favorite was the lazy river. We loved chatting and taking a break from the heat while we floated. Hop in a tube and let the current carry you for as long as you wish. Or spend some time in the wave pool and play among the ebb and flow of the water. Feel free to grab a chair and soak in the sun while your family plays nearby. If you have a larger group, you may want to rent a cabana where your family can stow your items and have your own private space to relax in between the fun.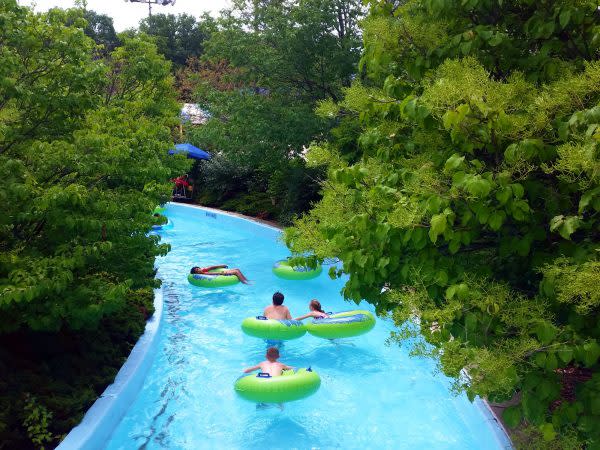 Cool off and relax in the lazy river.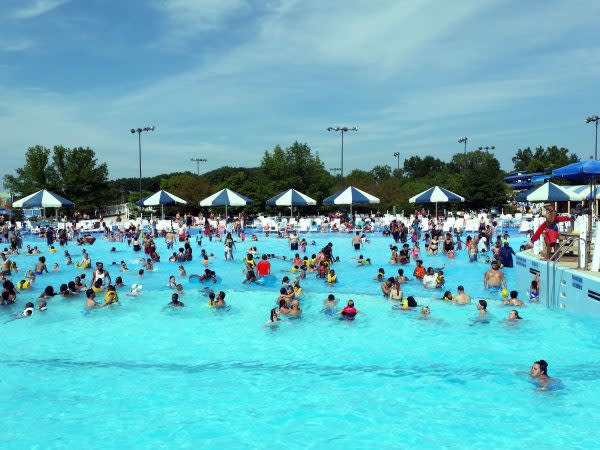 We loved the wave pool! Take a break from the slides and play in the waves. Life jackets are available.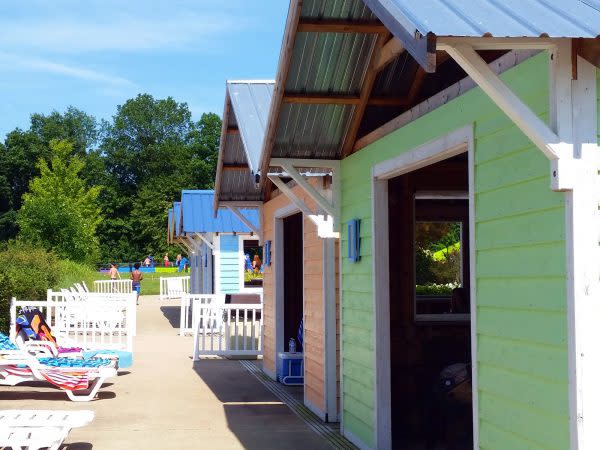 There are cabanas in both the children's area and near the intermediate slides. Great option if you have a larger group and want a place to gather.
If you have smaller tots, there are a couple of places that will have them occupied for hours! There's a splash pad area as well as a full on jungle gym of epic watery proportions. There are two slides in this area that gives the kids a fun way to travel back down to mom and dad before doing it again.
Great splash pad area to take the little ones to cool off. It was quiet in the morning but filled up fast!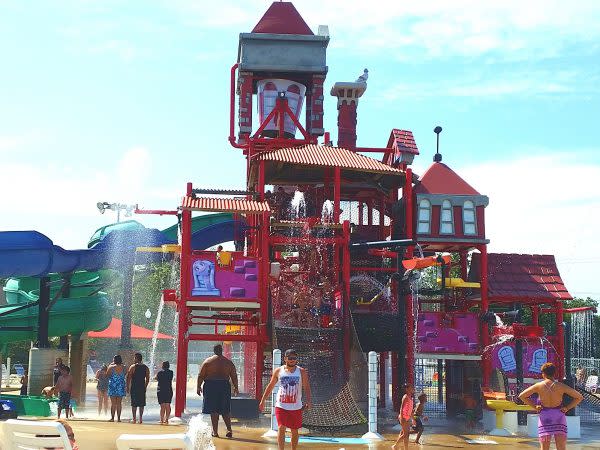 Mayor Byrdovich's Courthouse was teaming with kids having the time of their lives. Climbing, sliding, splashing...there's no shortage of smiles here.
We had one of our best summer days here at Deep River Waterpark. This was our first visit and we've decided that we will make this an annual outing. This place is perfect for families but you may want to consider bringing your group or family reunion here. They have group discounts, cabanas/gazebos to rent and allow coolers to be brought into the park as well as plenty of fun for all ages.
Deep River Waterpark is located at 9001 East Lincoln Highway in Crown Point in Lake County. It's about 2 hours from Indianapolis, close to 2 hours from Fort Wayne and 30 minutes from southeast Chicago. The South Shore has plenty to offer in family fun including the Indiana Dunes, camping, fishing, hiking, biking, shopping and loads of food options.