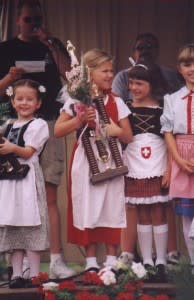 Entering the small town of Berne makes me feel like I've used my passport to travel thousands of miles and spent lots of money to visit a quaint Swiss village. The good news is I've not done so!
Scalloped balconies resplendent with bright window boxes overflowing with colorful flowers, white flags and red crosses and black bears all indicate the town's Swiss heritage.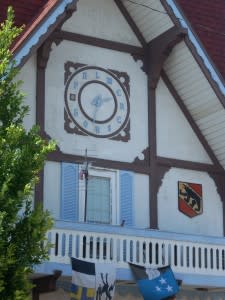 in 1852 a few dozen Swiss Mennonite founding fathers left their native country for a new land, seeking religious freedom and new lives. People from other cultures, including Old-Order Amish, joined the early settlers.
But they couldn't leave their homeland completely behind and so they named the town they founded after the capital of their beloved homeland -- Bern, Switzerland.
Berne is located one hour south of Fort Wayne, Indiana, on U.S. Highway 27.
In the 160-plus years since, an amazing variety of industries have sprung up in Berne -- printer, milk producer, magazine publisher, restaurants, furniture makers and a plethora of small businesses.
All of this heritage culminates each year during the last weekend of July. Then the citizens of Berne commemorate their hard-work ethics and industrious heritage by hosting a free Swiss Days Festival. This year's dates are July 24 – 27.
I have the best memories of attending Swiss Days. My husband's ancestors came over from Switzerland (our name is Swiss). For most of my life we have gone there to listen to yodelers and polka bands, watch folk dancing and the Steintoss contest.
The Swiss are known for their good food so it makes sense there would be a Bake-off Contest as part of the festival.
For heartier fare we go to The Palmer House Restaurant (118 W. Main St). It has offered its famous smorgasbord with regional favorite 'Swiss Schuetzie Salad' (hot bacon dressing poured over lettuce) since 1942.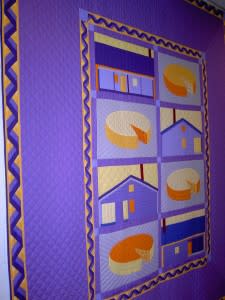 The residents of Berne are also crafty (with needle and thread) and the Swiss Days Quilt Show is a treat for the eyes. I can't thread a needle but I appreciate the time and effort and money these quilters have put into their creations. Lovely! The quilt show and other events are held at various locations around Berne.
New this year is a Bratwurst Eating Contest. This is another spectator sport for me as I would need a box of Tums afterward!
One of my personal favorite activities is a tour of Swiss Heritage Village (http://www.swissheritage.org/home.html). This is northern Indiana's largest outdoor museum with century-old buildings gathered together to form a look at the way life was in mid-1800s: Luginbill House, circa 1856; school house; cheese house; sawmill, among others.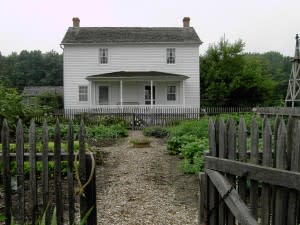 One of the coolest sites is the 4,000-lb. cider press, built in 1864 and still used today for demonstrations. It makes yummy cider in the fall!
The indoor museum features displays from Berne's past, including some of its most prominent citizens. Dr. Amos Reusser (a distant relative and one we will claim) was a local obstetrician who during the first half of the 20th century delivered 4,300 babies!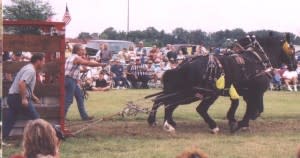 Other popular events of Swiss Days include the Little Miss Swiss Days Pageant, Berne's Got Talent, Pink Promenade, Swiss Days Race, Horse Pull Competition and the
Swiss Days Parade.
You won't have trouble finding the town of Berne. It is at the intersection of State Road 218 and U.S. 27. The beautiful 160-foot clock tower situated in Muensterberg Plaza is a clue you've arrived. It stands over the das Marit Farmers and Artists Market that occurs each Saturday morning from 8a-Noon.
Numerous Amish businesses, including bakeries, hardware, and woodworking shops, exist in the area. Maps are available from Berne's Chamber of Commerce. Note: These people do not permit photos to be taken of them. Please respect their religious beliefs.
With the cooler weather we've been having in this part of Indiana it's a great year to attend Swiss Days – even if you're not Swiss!
For more information go to http://bernein.com/swiss-days.
Berne Chamber of Commerce
205 E Main Street
Berne, IN  46711
chamber@bernein.com
260-589-8080