If you are looking for a vacation that is more low-key and relaxing than go-go-go, set your sites on the peaceful and charming community of Shipshewana. The Amish theme runs strong in this town that is full of shops offering Amish-made goods, foods and more and is surrounded by Amish farms.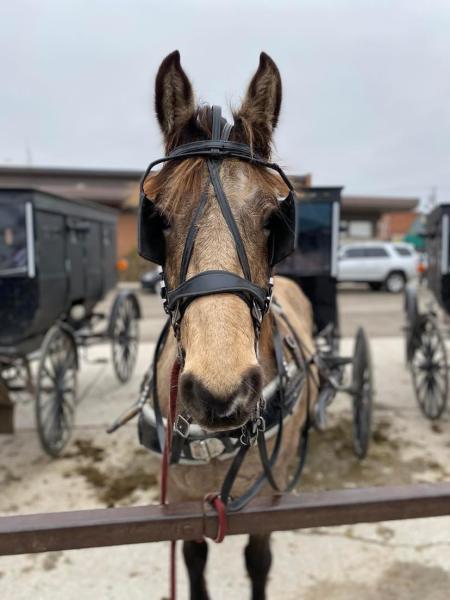 1. Have a Meal at the Blue Gate Restaurant and Bakery
No trip to Amish country is complete without a hearty Amish meal. The Blue Gate Restaurant and Bakery has an extensive buffet where you can try a little bit of everything - include fried chicken, slow-cooked roast beef, chicken dressing, noodles, macaroni and cheese, vegetables, a soup and salad bar and a large dessert bar. You can also order salads, entrees and other items from the regular menu. Be sure to also drop by the bakery for a pie, fresh bread, cookies or other goodies to take home.
2. Ride the carousel
A 1906 Dentzel Carousel sits on one of the upper floors of the Davis Mercantile. Take a seat on one of the hand-carved horses, cows or other animals. It's a great nostalgic activity for the grown-ups and fun for the little ones, too. Along with accompanying music, you'll circle around on this original work of art.
3. Visit Menno-Hof
This educational center includes visual and hands-on exhibits that give background on the faith and life of Amish and Mennonites. Menno-Hof covers five centuries of history from their origins in Switzerland to their arrival in America. Plan for about an hour and 15 minutes for your tour.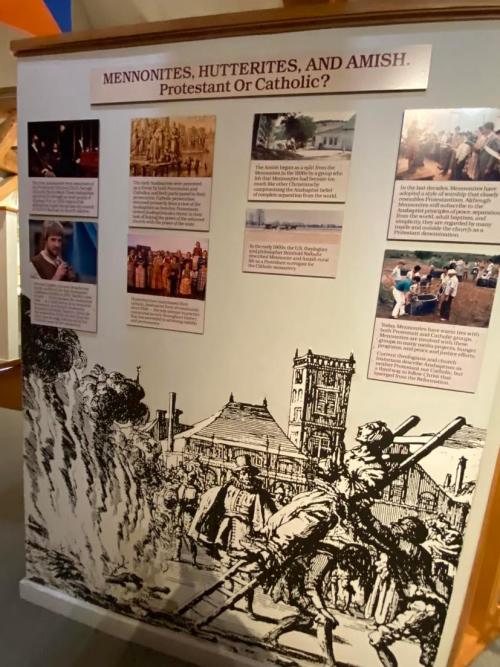 4. Take in a show at the Blue Gate Theatre
See big names in music at the Blue Gate Theatre's Performing Arts Center, which opened just before the pandemic after a $4 million dollar renovation. There's not a bad seat in the 1500-seat theatre where you can see a comedy show, hear popular country and gospel artists, dance to the sounds of earlier decades from tribute bands and more. The lobby is filled with memorabilia from artists who have played in Shipshewana over the years. It's located next to the Blue Gate Garden Inn, making it a perfect weekend getaway or overnighter.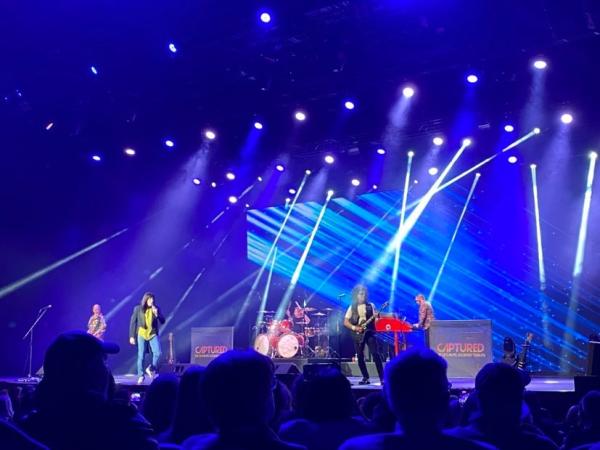 5. See an Amish-themed Musical
The Blue Gate Music Hall is located at the Blue Gate Restaurant and is a great way to take in dinner and a show. The current musical is set in the 1950s when an Amish girl writes to soldiers in the Korean War. See it through June 23.
6. Do Some Shopping
If you want to shop 'til you drop, there's no better place to do so than in Shipshewana. There are so many places to explore, from independent shops around town to larger centers with several shops under one roof, like Yoder's Red Barn Shoppes and Davis Mercantile. Be sure also to visit Yoder's Shopping Center, the Town Shop & Antique Mall and Yoder's Meat & Cheese Co.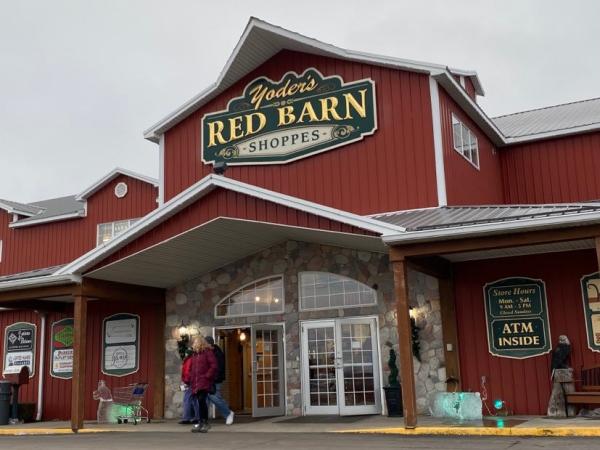 7. Stay at the Blue Gate Garden Inn & Conference Center
A stay at the Blue Gate Garden Inn is such a different experience from a standard chain hotel stay. It has all the amenities you'd expect from an inn - like a fitness center and a pool and hot tub - and then some. There's an outdoor basketball court, patio and fire pit, an arcade and an onsite ice creamery and pizzeria (both serve up delicious food that exceeded my expectations). There are a number of room options with suites to accommodate families. Perhaps the best part is the hot breakfast buffet that is included in your stay and gives you a taste of Amish cooking.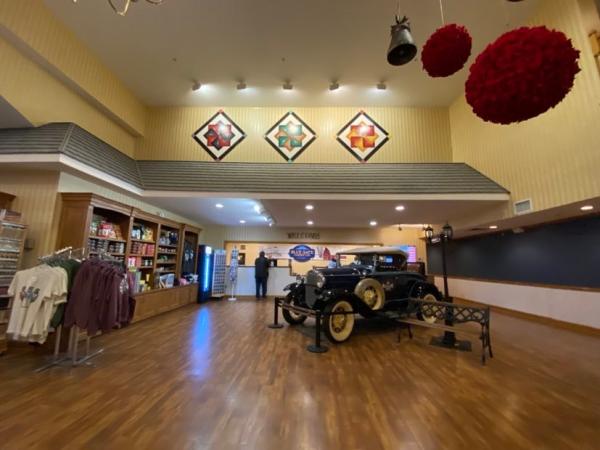 8. Get Ice Cream at the Vanilla Bean Creamery
Not only will you get delicious, high-quality homemade ice cream when you're at the Vanilla Bean Creamery, but you can also get a freshly made waffle cone and have the option of getting an ice cream flight so that you can sample several different flavors. Perfect for those people who just can't decide or a great dessert to share.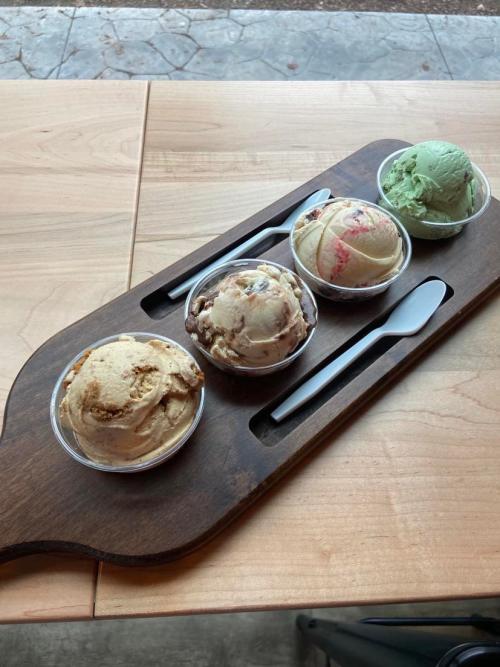 9. Tour an Amish Farm
Get an up-close look at the operation of an Amish dairy farm. Stutzman Dairy Farm in Shipshewana is where Amish Country Dairy milk is produced. See farm animals, meet an Amish farmer and get a tour of the facility where old-world meets new - and milk is made the old-fashioned way to meet current USDA regulations. The award-winning flavors are amazing and you'll want to get a few pints to take home.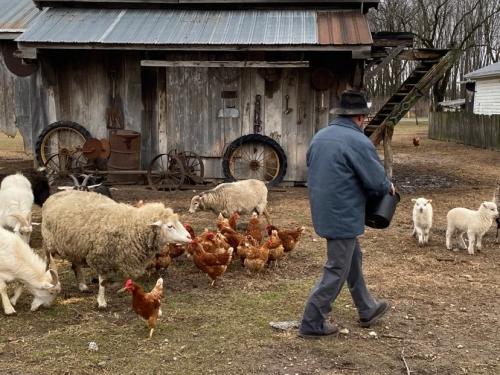 10. Take an Amish Buggy Ride
Ride like the Amish in a horse-drawn buggy via Buggy Lane Tours. Choose from a brief 8-minute ride that circles the downtown area, a 30-minute ride through the farmland or an extended tour that includes a working farm tour or one that works in an Amish dinner.