Christmas shopping got your toy sack in a pinch? There are free things to do in downtown Indy, from Friday, December 13 to Tuesday, December 24, for the Free 12 Days Of Christmas. For more information, visit the Downtown Indy website.
Friday, Dec. 13
Kurt Vonnegut Memorial Library, noon – 6 p.m. Indianapolis' famous son, Kurt Vonnegut. See some of his personal items and artwork, or pick up one of his books. All guests will receive a FREE bumper sticker. I usually don't put bumper stickers on my car, but that's one I'd be happy to.
Saturday, Dec. 14
Pan Am Pavilion, noon – 8 p.m. Free skating in the same arena where the Indiana Ice play. When you're done here, scoot on over to the Georgia Street City Sidewalks event.
Sunday, Dec. 15
Elevator rides to the top of the Soldiers and Sailors Monument on Monument Circle and Colonel Eli Lilly Civil War Museum, 10:30 a.m. – 5:30 p.m. The first and only time we visited the Monument, we rode the elevator to the top. It usually only costs $1, but there's a fine line between fitness and being comfortable. Take the ride, enjoy the view.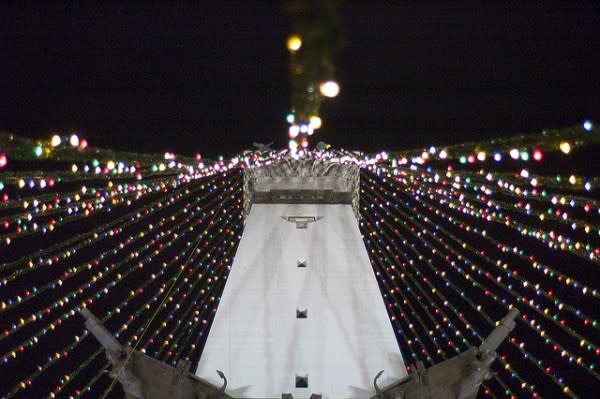 The Soldier and Sailors Monument, all decked out with Christmas lights, making it the world's largest Christmas tree.
Monday, Dec. 16
Indiana State Museum, 10 a.m. – 5 p.m. Take a ride on the L.S. Ayres Santa Claus Express Train, and visit Santa and Mrs. Claus in their home on level 3.
Tuesday, Dec. 17
James Whitcomb Riley Museum, 10 a.m. – 3:30 p.m. Visit the museum in Lockerbie on East Street and New York. See what life was like for the Hoosier Poet in the early 20th century.
Wednesday, Dec. 18
Morris-Butler House, noon – 3 p.m. The Morris-Butler house is a restored 1865 home and lets you see what life was like when William Conner (of Conner Prairie fame) was setting up shop just a few miles north. The home includes sculptures, paintings and lithographs from around the world in the 19th century.
Thursday, Dec. 19
The Indianapolis Museum of Art, 5 – 8:30 p.m. The IMA is showcasing decor ideas from the 1900s and 1910s to celebrate the 100th anniversary of the Oldfields (aka the Lilly House and Gardens). You may not be able to see the garden in all its splendor at this time of year, but you can still see what Indianapolis looked like when the gardens were first installed.
Friday, Dec. 20
Indianapolis Motor Speedway Hall of Fame Museum, 10 a.m. – 4 p.m. A definite must for any open-wheel racing fan. There are 75 vehicles on display this month, including The Marmon "Wasp," which won the very first Indianapolis 500 in 1911. There's also an exhibit to honor Parnelli Jones, the 1963 winner.
Saturday, Dec. 21
Indiana Historical Society, 10 a.m. – 5 p.m. Check out the latest items in the IHS' displays, including Destination Indiana and You Are There. You can even get your family photo taken next to the leg lamp from A Christmas Story. Just don't run your hands on it.
Sunday, Dec. 22
Benjamin Harrison Presidential Site, 12:30 – 3:30 p.m. This is a restored 1875 Italianate home where President Benjamin Harrison lived, and it features Victorian holiday decorations.
Monday, Dec. 23
National Institute of Fitness and Sport (NIFS), 5:15 a.m. – 10 p.m. If you're feeling bloated from all the Christmas candy and eggnog, you can visit NIFS for a free day of exercise. They've got a regulation-sized basketball court, a Pilates studio, a 200-meter indoor track, a weight room, and more than 100 pieces of cardio equipment.
Tuesday, Dec. 24
The Children's Museum of Indianapolis, 10 a.m. - 2 p.m. Wear your kids out on Christmas Eve so you can get them in bed at a decent time. They can ride the giant Yule Slide, visit the Jolly Days Winter Wonderland, skate in their socks on an indoor pond, go ice fishing, and climb on the Snow Castle.
Photo credit: Big Whiskey (Flickr, Creative Commons)