Summer is upon us, and that means one thing; it's time for ice cream! Our state has incredible frozen treats, from monster sundaes to an array of bountiful flavors. These 20 Indiana ice cream shops will have you screaming for more!
This list was part of The 20 IN 20. Even though 2020 is behind us, you still have to see our 400 must-see, must-do Indiana experiences! Find images shared by visitors and the full ice cream shop list below!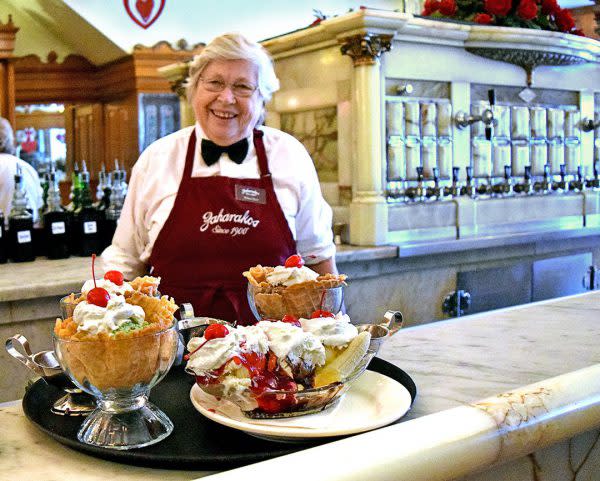 Grab a counter stool and take a step back in time at Zaharakos in Columbus. The ever-popular lime-flavored ice cream soda, Green River, is a best seller. But that is not what makes this place truly unique. It is a must to see this meticulously restored ice-cream parlor and soda fountain dating from 1900. Zaharakos is home to the Welt Orchestrion, a self-playing pipe organ that provides the rich sound of a full orchestra. Indianapolis Monthly magazine put Zaharakos Ice Cream Parlor at number 1 on its list of "The Top 50 Things Every Hoosier Must Do".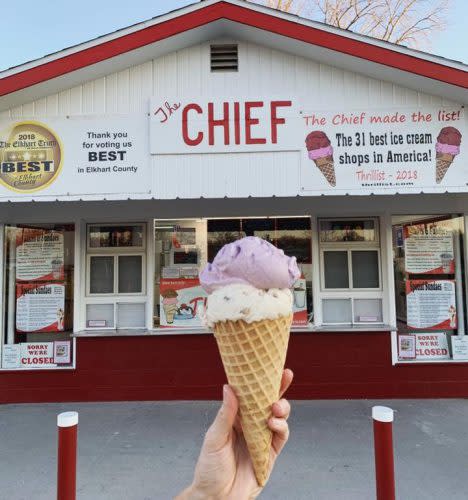 Thrillist has rated The Chief as one of the top 31 ice cream shops in the nation. The Chief started as a small ice cream shop in 1962, and still today, batches of homemade, premium ice cream are made fresh daily. The owners say they need to make between 65 and 100 gallons a day every day during the summer months when they are open. It is no wonder our readers named it the Best of Indiana!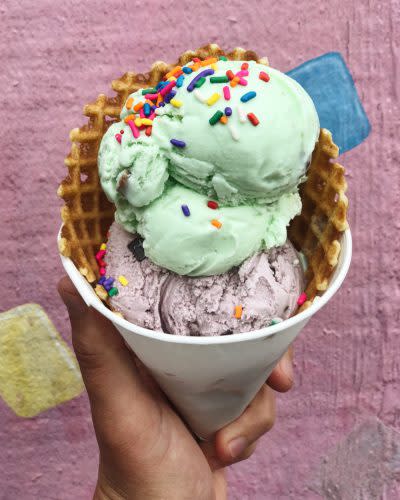 Four generations of the Brown family have whipped up fresh ice cream at Valpo Velvet. With approximately 50 flavors of ice cream, frozen yogurt, sherbet, and sorbet to choose from, you'll have a tough choice to make. The staple treat at Valpo Velvet is "The Old Fashioned Banana Split," but you can't go wrong with their five scoops "Viking" sundae either. With all of these savory menu items, it's no surprise they were voted the 2nd best ice cream shop in Indiana!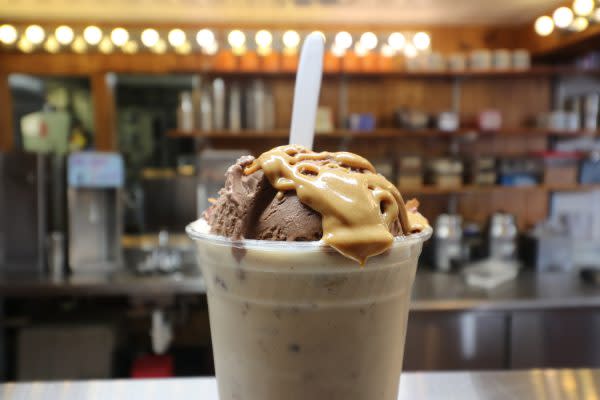 Ivanhoe's Drive-In has been featured in travel magazines, as well as USA Today. Ivanhoe's is in Upland, near the campus of Taylor University. What puts Ivanhoe's on the map is their "100 Club", made up of 100 different shakes and 100 different sundaes! Once you have tried 100 of their unique flavors, you become a member of the exclusive Ivanhoe's "100 Club". Members receive a free t-shirt and have their names added to a plaque.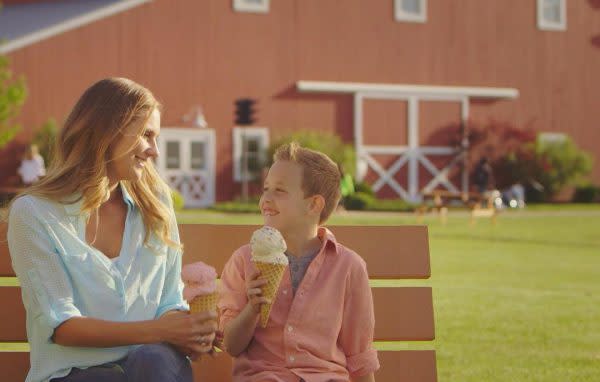 Fair Oaks, affectionately named the "Disney World of Agriculture," seems like the perfect place to get farm-fresh ice cream. The Fair Oaks Cowfé allows you to pick from 8 ice cream flavors. We recommend the Brown Cow Sundae; ice cream, waffle cone pieces, brownie, hot fudge, caramel, whipped cream, and a cherry on top. Yummy! After you finish chowing down on your ice cream, take one the three Fair Oaks Adventures to learn about animals and our planet!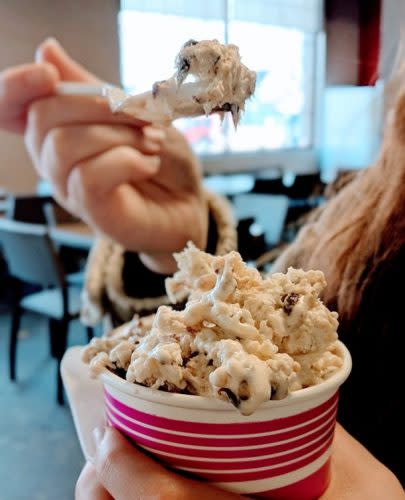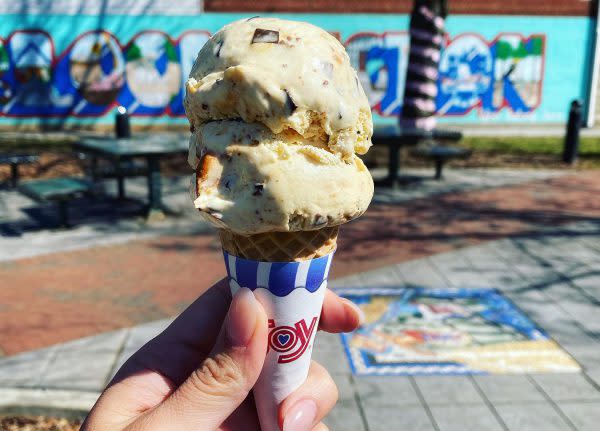 All of the ice-cream at Hartzell's Ice Cream is made by Hartzell Martel himself! These desserts come in your option of a cup or cone with one to three scoops. A "Spinner," the Hartzell's version of a Blizzard, are available as specialties or are up for customization with 58 mix-ins available. To make their menu more inclusive, they also have nonfat frozen yogurt and Carbolite, which is water and whey-based ice cream.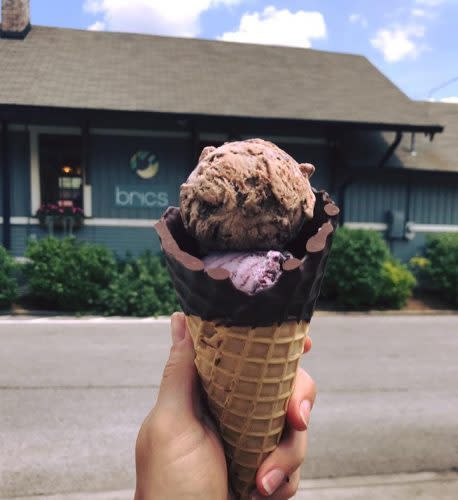 BRICS is located in the historic Monon Railway Station, built over a century ago and formerly known as the Broad Ripple Station. You may not be surprised to know that "BRICS" stands for "Broad Ripple Ice Cream Station." The history and culture of the Monon Trail permeate through this ice cream shop each day. There are always 36 flavors of ice cream here, as well as waffle cones, sundaes, and shakes.
Nestled on the shores of beautiful Sylvan Lake, this cute shop in Rome City offers more than 30 flavors of premium ice cream. Since Sundaes on Sylvan overlooks the lake, the back porch is the best place to enjoy an ice cream cone. It's even accessible from the boat ramp!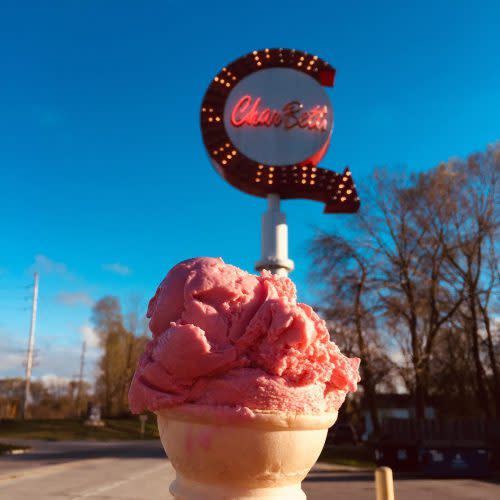 Photo by @makinziemnies on Instagram
Char-Bett began as a grocery store and filling station in the 1950s. After outgrowing the building at the tail end of the decade, it evolved into a drive-in restaurant. Today, all kinds of ice cream treats line the menu at Char-Bett Drive In including cones, artic swirls, parfaits, freeze whips, and malts.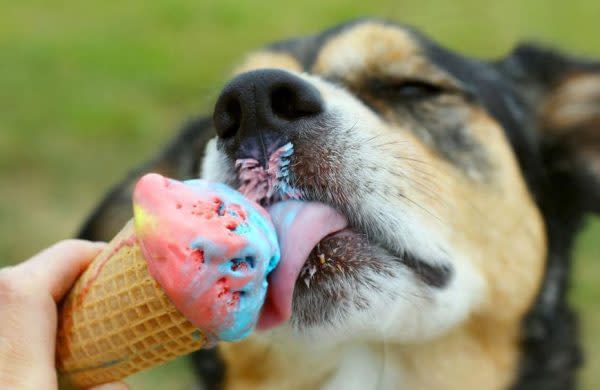 Berry Twist has been family owned for over 40 years, but moved to a new location 9 years ago! It has gained a reputation for having some of the best sherbets in the state with over 24 flavors. The offerings rotate daily, so be sure to follow them on social media to see which flavors are available. Even dogs love Berry Twist!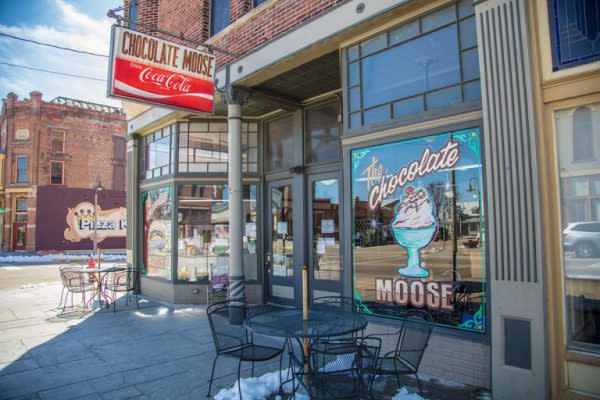 The Chocolate Moose is a staple in downtown Farmland's historic 1890s International Order of Odd Fellows Building. Get immersed in 1950s nostalgia with the vintage 50-year-old soda fountain original to the building and sweet ice cream counter. Cheryl and Budd Sturm have own and operated the Chocolate Moose for years, serving up ice cream, one of a kind burgers, tenderloins, and fantastic service.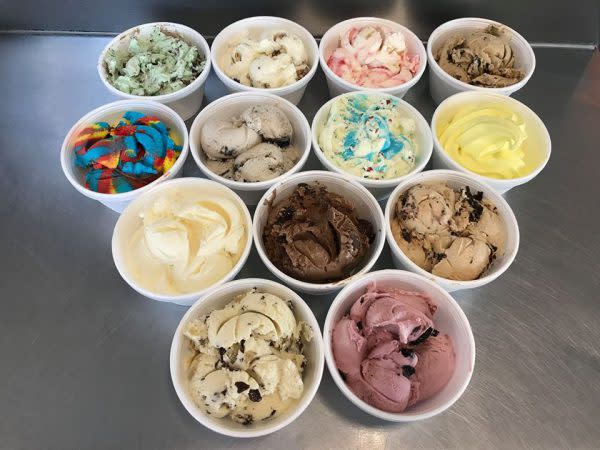 When the temperature starts rising this summer, an igloo could really help you cool off. While Igloo Ice Cream Shop in Silver Lake may not be made out of snow, 34 hand-dipped flavors of soft serve should do the trick.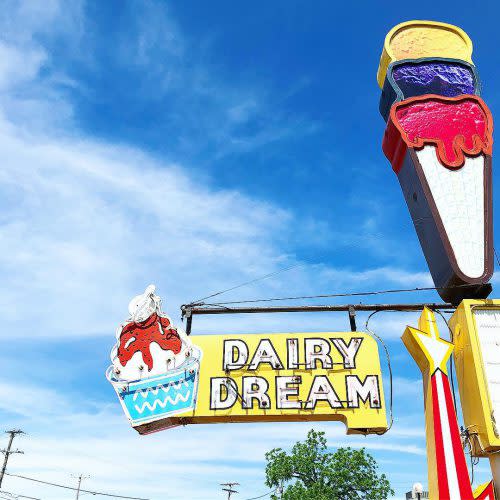 Photo by @kennedy_ormsby on Instagram
Visitors suggest the yummy cake batter ice cream flavor for your cone at Dairy Dream! Beyond ice cream, it is said to have an amazing secret recipe for Sloppy Joes. It is currently running drive-thru only until further notice. Check their website or social media pages for more information.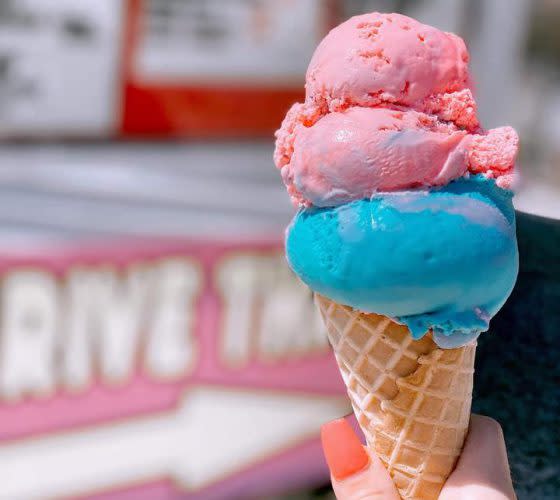 Six Scoops Ice Cream Shop's boutique setting is enjoyable for ice cream lovers of all types. There's no downtime here, as it's open 7 days a week. Six Scoops Ice Cream's signature menu item has to be the Banana Split, although Banana Bottom Sundae is just as savory.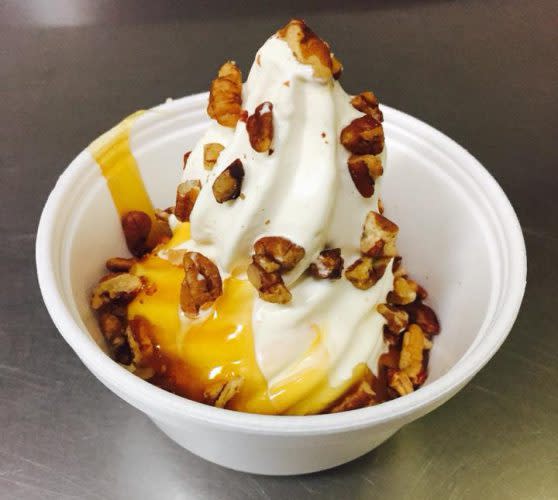 A Clinton County classic, Milky Way has been championed by locals and visitors for 70 years. Its chocolate sundaes and mouthwatering milkshakes will have you and your companions itching for a trip back. The menu also includes incredible tacos, coneys, tenderloins, and meatloaf.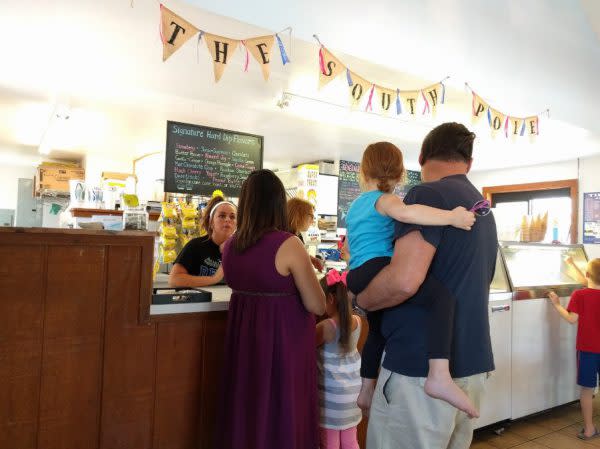 No, not the South Pole you're thinking about. This one is better! The South Pole in Tipton has 16 flavors of hand dip ice cream along with soft vanilla. The menu is rounded out with the classic Hoosier tenderloin, onion rings, and fried pickles.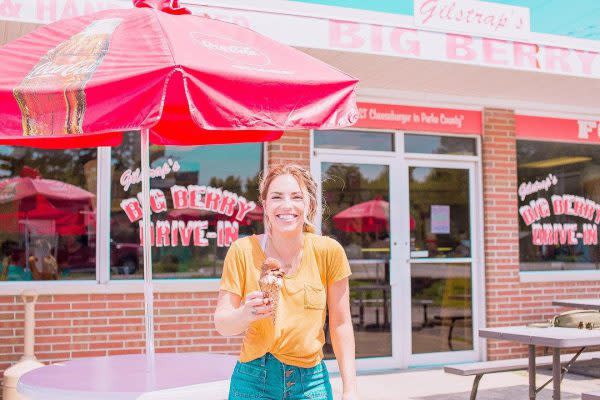 You won't regret the drive to Big Berry in Rockville. The ice cream is worth raving over and the cheeseburgers are the best in town! The charming old-style environment takes you back in time.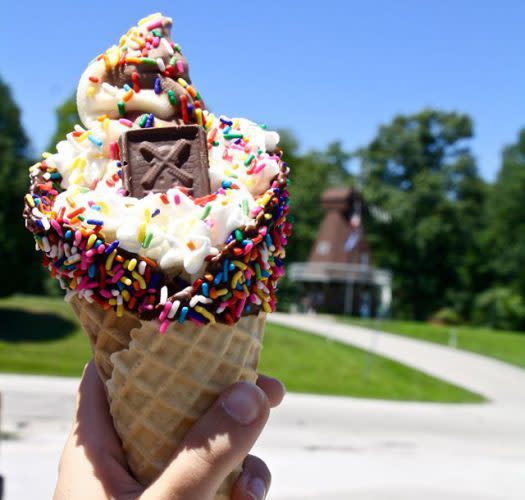 Windmill Chill pairs incredible sweet treats with views of a beautiful windmill across the street!
Windmill Chill
provides a fun environment to enjoy your frozen dessert. The menu includes soft-serve ice cream, handmade waffle cones, snowstorms with a variety of mix-ins, banana splits, and some amazing food. All ice cream at
Windmill Chill
is bought locally from Prairie Farms.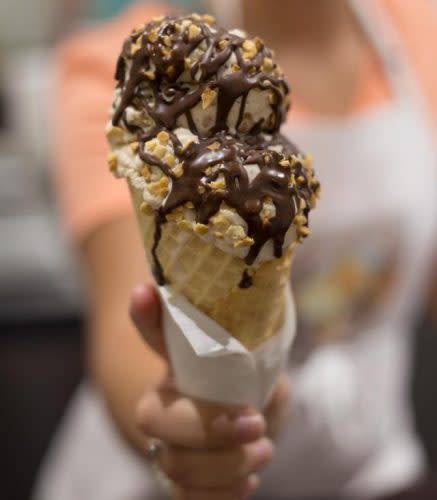 Sallie's Small Batch Ice Creams in Winamac is a true ice cream destination with a unique and nostalgic atmosphere. Its small-batch, handcrafted ice creams are made from the finest ingredients! A second location can be found in Culver.
Did your favorite ice cream shop get left off? It might be included on our lists for Destination Dining and Sweet Shops!
Plan your #The20IN20 trip by checking out the map of the Indiana Ice Cream Shops below!