From canyons and caves to waterfalls and wildlife, Indiana's wilderness is simply breathtaking. We've created a list of 20 Natural Wonders in the Hoosier State that you'll need to see to believe. This list was part of The 20 IN 20. Even though 2020 is behind us, you still have to see our 400 must-see, must-do Indiana experiences! Find images shared by visitors and the full natural wonders list below!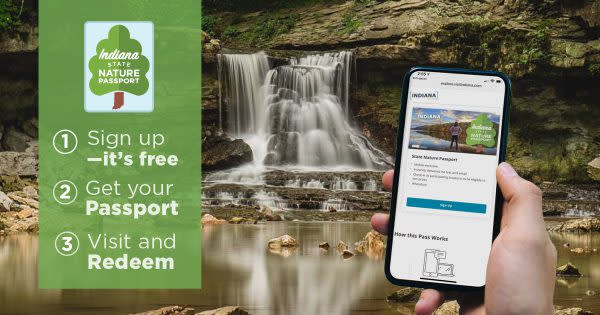 Many of the destinations listed below are part of the Indiana State Nature Passport! Check-in and explore participating locations throughout the state to earn great prizes! The more you visit, the more you win. This program is 100% free, but property entrance fees apply when you visit. Learn More.
Natural Wonders in Indiana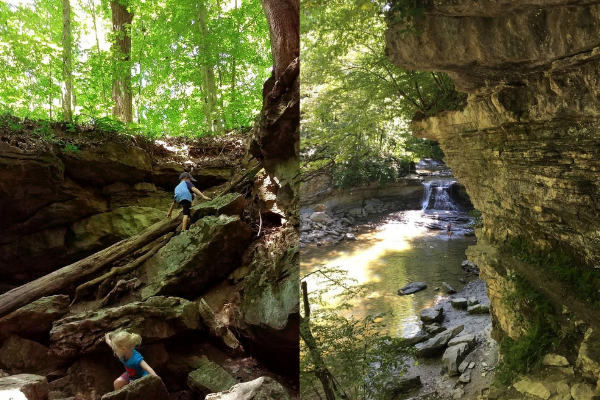 Indiana's first state park, McCormick's Creek State Park, has amazed visitors with its natural features since opening in 1916. From unbelievable canyons and a picturesque waterfall to a cave that will freak out the claustrophobic and natural bridges that will take your breath away, there's a reason that McCormick State Park is a must-visit for outdoor enthusiasts. Learn more.
This location is part of the Indiana State Nature Passport. Learn more about how to start earning prizes for FREE!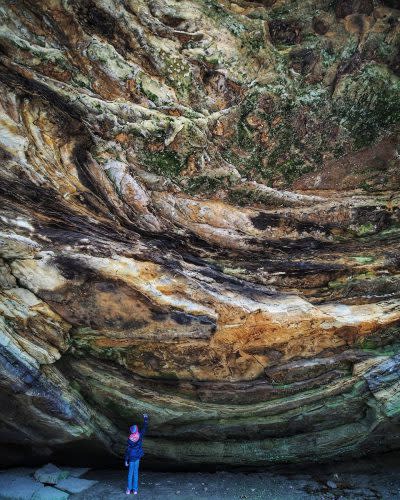 Photo by @kyledoles on Instagram
Dedicated as a State Nature Preserve in 1972, Portland Arch in Fountain County is beautiful with its dramatic sandstone gorge and the meandering creek that follows the well-worn path of the preserve. Also found are an assemblage of natural communities and features including cliffs, forests, open prairies, spring-seep wetlands, and savannas—all offering an abundance of plants, wildflowers, and trees. The preserve's calling card is an incredible natural archway, located on the North Trail. The North Trail is currently closed for trail and boardwalk rehabilitation and is scheduled to reopen on October 1. The South Trail at the preserve remains open to visitors. As this property is a nature preserve, this property protects vulnerable plants and animals that call the ecosystem home, so visitors must do their parts to conserve this natural resource, including carrying out any garbage they bring in and not removing anything from the property that is there naturally. Learn more.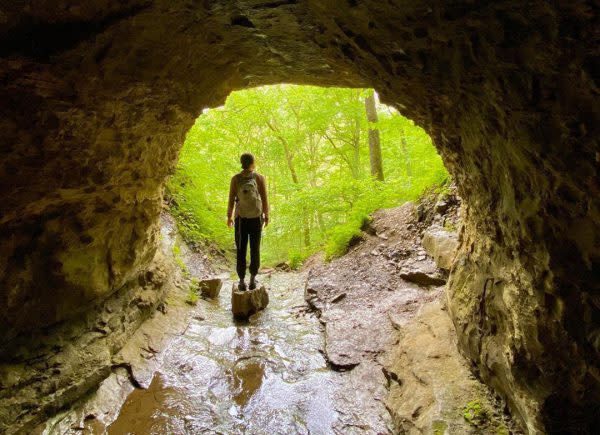 Photo by @kayla_holst on Instagram.
The Charles C. Deam Wilderness area is located within the Hoosier National Forest and covers nearly 13,000 acres. It is a protected wilderness area, to preserve the natural surroundings, and provide a place for guests to find solitude. There are 37.3 miles of trails for hiking and horseback riding. Primitive camping is allowed in the Deam Wilderness, with certain restrictions. Since its designation as a wilderness, visitor use in the area increased to the point that significant damage was occurring. Special restrictions are in place to protect the wilderness character. Visitors to this special place are asked to follow these restrictions to lessen your impact and share responsibility in preserving this unique natural resource. Learn more.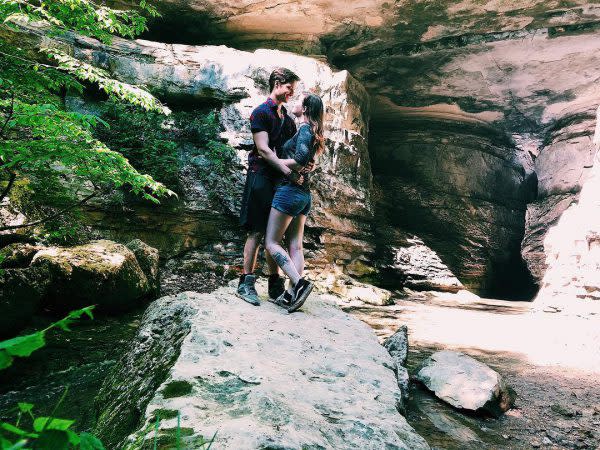 Photo by @ohmickieyousofine on Instagram
Spring Mill State Park provides an incredible link between the natural and cultural worlds. Pioneer Village, founded in 1814, is full of 20 historic buildings to explore. However, it's the caves that are truly breathtaking. Trail 3 winds past Donaldson Cave overlook, then Bronson Cave, and lastly on to Twin Caves. Spring Mill's location on the  Mitchell Karst Plain allowed the caves to form in the limestone through the years. A hike is the only way to experience the caves for now since the Twin Caves Boat Tour won't be offered again until 2021. But be sure to put it on your bucket list! Learn More.
This location is part of the Indiana State Nature Passport. Learn more about how to start earning prizes for FREE! 
Comprised of two waterfalls about a mile apart, Cataract Falls is the largest waterfall by volume in the state. It's Upper and Lower Falls have heights around 45 and 30 feet, respectively. Two pre-glacial bedrock ridges buried beneath ancient lake sediments of the Illinoisan glacier developed the falls, making them true natural wonders. Thus, it's no surprise that voters chose Cataract Falls as Indiana's best waterfall! Note that the falls are located near in Cataract Falls SRA which is part of Cagles Mill Lake and near Lieber State Recreation Area.
This location is part of the Indiana State Nature Passport. Learn more about how to start earning prizes for FREE!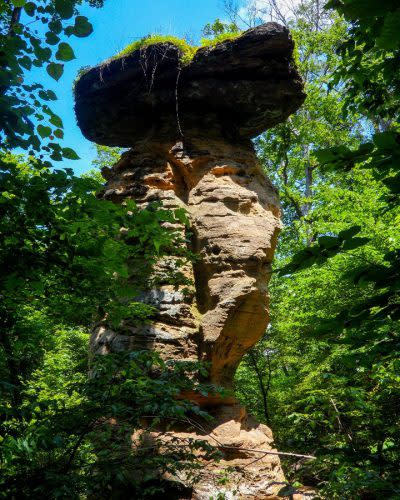 Photo by @todd.mathis on Instagram
Just outside of Shoals, the sandstone' Jug Rock' is the largest tea-table rock formation east of the Mississippi River. Don't worry about it tipping over, as it has stood tall and proud for approximately 300 million years!  Jug Rock is preserved in the Jug Rock Nature Preserve, with a small parking lot just off Albright Lane. Marvel and maybe even take a photo in front of this genuine natural wonder.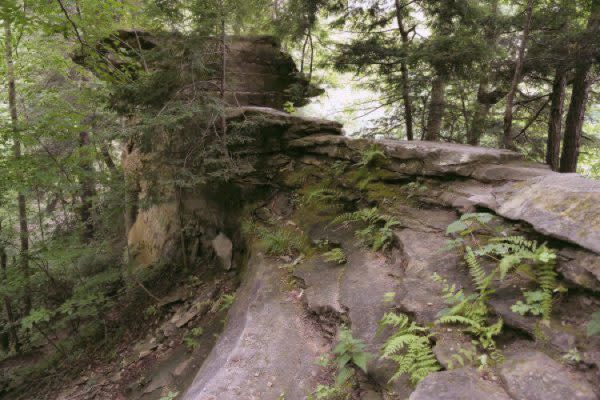 Devil's Backbone at Pines Hill Nature Preserve
Steep ravines, cliffs, and sandstone bluffs feature a diverse forest at Pine Hills Nature Preserve. Indiana's first dedicated nature preserve is famous for the Devil's Backbone. After passing through 'the slide', hikers will be entranced by the steep-sided wall that sits about 6 feet wide and towers almost 100 feet wide. Honeycomb Rock is arguably the second most breathtaking feature, which gets its name from small pockets n the sandstone cliff. Pine Hills can be accessed through Shades State Park. Read More.
This location is part of the Indiana State Nature Passport. Learn more about how to start earning prizes for FREE!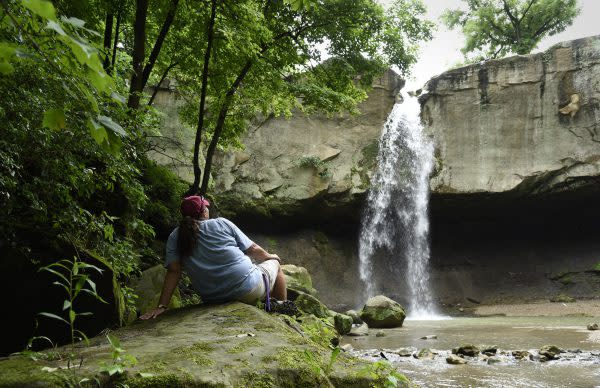 A height of 90 feet makes Williamsport Falls the second tallest waterfall in Indiana. A wide trail leads down to the streambed. Upon arrival, the spectacular falls and sandstone 'amphitheater' will be begging your camera for a flash. Many adventurers love to meander behind the falls to get an up-close view of this roaring beauty. Warning: You will get wet!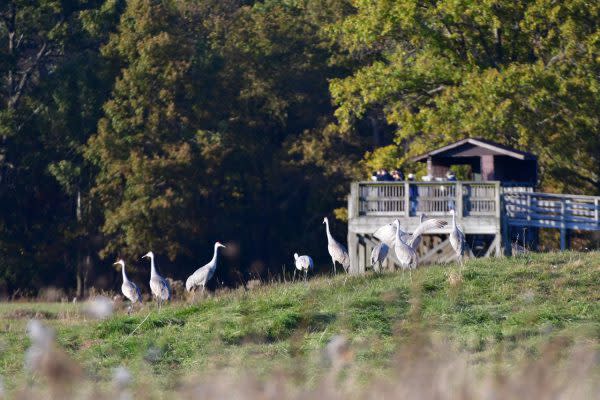 Indiana's diverse habitats are home to over 400 documented bird species, making it the perfect place for a birding adventure. The Indiana Audubon Society recently created the Indiana Birding Trail, featuring 64 great bird watching locations throughout the entire state. The experiences won't disappoint, from the one-of-a-kind migration of Sandhill Cranes to rare bird sightings among the dune and swale habitats of Indiana Dunes National Park. For the complete Indiana Birding Trail Guide, click here.
Some locations on the Indiana Birding Trail are part of the Indiana State Nature Passport. Learn more about how to start earning prizes for FREE! 
Photo by @the_timetravellers_memories on Instagram
Thistlethwaite Falls was voted one of the top 10 waterfalls in Indiana and there's no secret why! Timothy Thistlethwaite blasted a new channel in the West Fork of the Whitewater River to direct water over the rock formation in the 1800s. Even though the falls itself is humanmade, it's an excellent spot to search for ancient fossils! Collect loose fossils along the trail or in the stream bank at the base of Thistlethwaite Falls.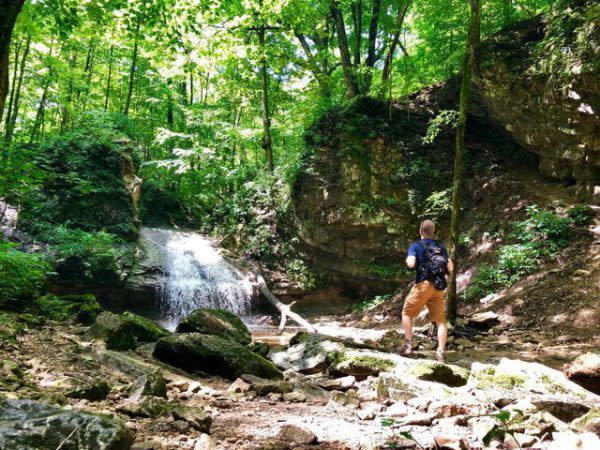 Photo by @the_walkabout_t4r on Instagram
Ravines, overlooks, rocky gorges, and waterfalls line the
Salamonie River State Forest
. Enjoy 9 miles of hiking trails and 15 miles of horse trails. The state forest was created to reclaim the land that had become eroded by the river. The Civilian Conservation Corps reforested several hundred acres of land in the 1930s. The forest encompasses 950 acres, offering many recreational opportunities for visitors.forest encompasses
This location is part of the Indiana State Nature Passport. Learn more about how to start earning prizes for FREE!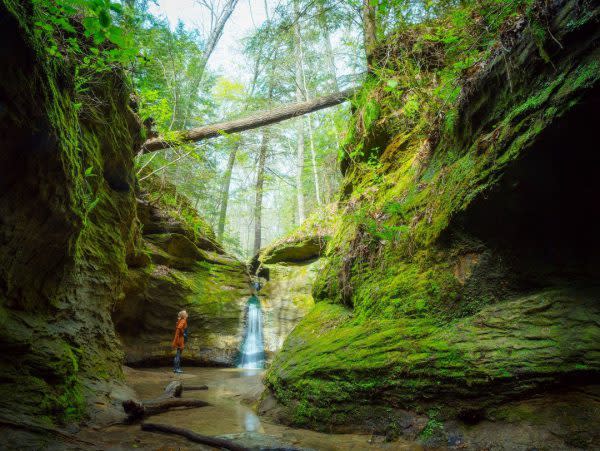 Our readers decided Turkey Run is the best state park in Indiana, and there is no secret why. A walk north on the suspension bridge of Sugar Creek takes visitors to Rocky Hollow-Falls Canyon Nature Preserve. The first step into the preserve feels as if you've been transported into another Avatar-like world. Deep mossy sandstone ravines, waterfalls, monstrous cliffs, ladders, and streams will amaze even the most well-traveled visitors.  This section of 1,609 acres might be Indiana's most beautiful topography.
This location is part of the Indiana State Nature Passport. Learn more about how to start earning prizes for FREE!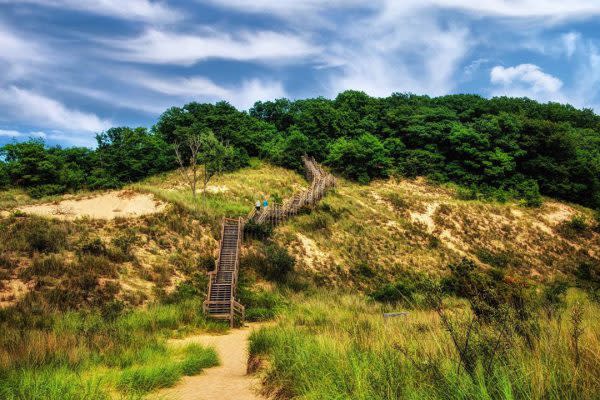 Photo by @allwhoroamarenotlost on Instagram
The beaches along the Indiana Dunes are second to none and perfect for a daytime escape. However, be sure to take in the enchanting, towering dunes.  The sand dunes at both Indiana Dunes National Park and Indiana Dunes State Park have taken thousands of years to form. Some even tower nearly 200 feet above Lake Michigan! A challenge like none other, the 1.5-mile 3 Dune Challenge features the three tallest dunes at Indiana Dunes State Park, which combine for a height of 552 vertical feet.
Indiana Dunes State Park is part of the Indiana State Nature Passport. Learn more about how to start earning prizes for FREE!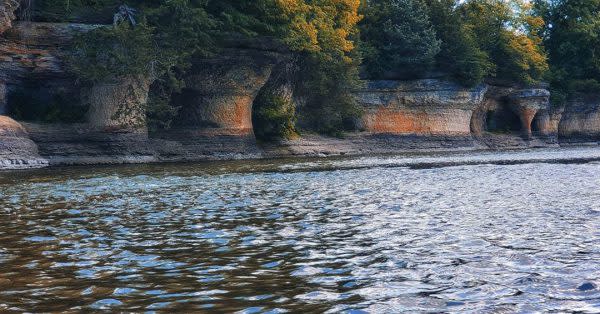 Photo by @dangore667 on Instagram
One of Indiana's most beautiful natural formations may be one of its most underappreciated. The magnificent Seven Pillars sit along the Mississinewa River about four miles south of Peru. Its "pillars" were formed over hundreds of years as water and wind eroded the limestone. Round buttresses and alcoves were thus carved into the rock, making them what they are today. The Frances Slocum Trail runs along the top of the formation. Read more.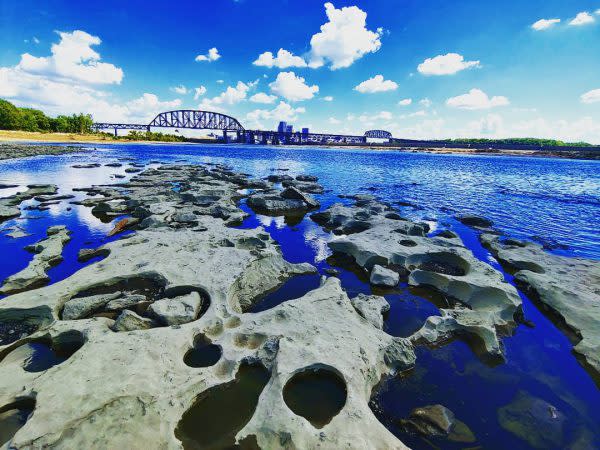 In Southern Indiana, the Falls of the Ohio presented the biggest natural challenge for early travelers on the Ohio River. But underneath the flowing water sits a 390-million-year-old Devonian-era fossil bed, one of the oldest of its kind in the world. These days, guests can stop by a state park interpretive center to learn more about the region's topography and a treasure trove of findings through interactive displays and exhibits before walking out into and onto the bed itself at the edge of the river. Although you can't take any fossils you find home with you (collecting is prohibited), visitors are certainly welcome to observe and admire the different types on display.
This location is part of the Indiana State Nature Passport. Learn more about how to start earning prizes for FREE!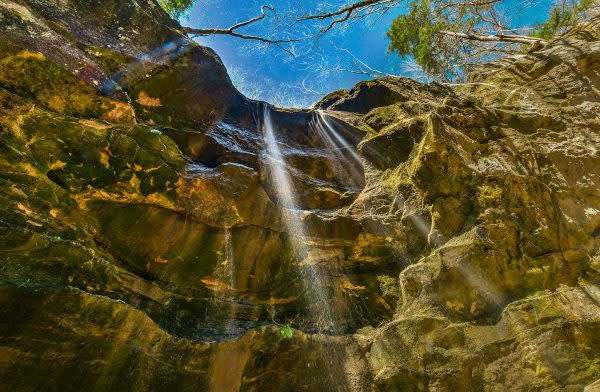 Photo by Frank Oliver
Hemlock Cliffs is a box canyon showcasing unique beauty in southern Indiana. A cool climate, sandstone rock formations, and seasonal waterfalls are responsible for the unique trees and plants that grow here. The area features sandstone rock outcrops, overhangs, cliffs, rock shelters, and ravines. Much of the sandstone is "Honeycombed" by weathering of iron ores. Springs, small caves, and subterranean drainage conduits are in the underlying Glen Dean Limestone.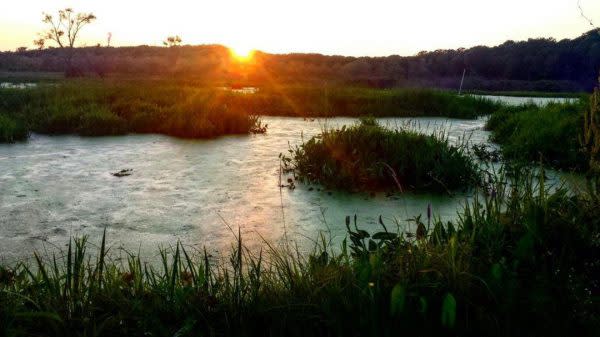 Indiana Dunes National Park's biodiversity ranks 7th out of all 400+ National Park Service destinations. Two of the best way to experience the incredible environment of the Dunes are Cowles Bog and Pinhook Bog. The 4.7-mile Cowles Bog trail including ponds, marshes, swamps, black oak savannas, and beaches. Steep sand dunes near Lake Michigan make Cowles Bog an arduous but rewarding journey. The Pinhook Trail System features two very distinct habitats. The Upland Trail highlights a rich beech and maple forest growing on top of a glacial moraine formed about 15,000 years ago. The second habitat, known as the Bog Trail, leads to a depression in the moraine created when a large piece of ice broke off the melting glacier. Pinhook Bog Trail is only open on scheduled days with rangers present. Learn more here.

The Nature Conservancy introduced a herd of 23 wild bison from South Dakota to Kankakee Sands in 2016. The herd has grown steadily as the Bison give birth to calves, and more are brought from South Dakota. They happily roam free in the 1,060-acre pasture at Kankakee Sands, where the herd is now thriving. The Bison Viewing Area is the best spot at Kankakee Sands to learn more about and see the Kankakee Sands bison herd. The Viewing Area has four informational panels about bison and Kankakee Sands, and short graveled walking paths to the top of a sand top dune for good views of bison, prairies and the landscape. The Bison Viewing Area is open from 7 a.m. to dusk (Central Time). Learn more. 
Plan your #The20IN20 trip by checking out all 20 Natural Wonders in Indiana below!