Now more than ever, it is vital to get out of the house and explore. Get your pulse rate up, spike some adrenaline, or just get lost in nature. Put these 20 spots on your calendar this year for an incredible outdoor adventure in Indiana. This list was part of The 20 IN 20. Even though 2020 is behind us, you still have to see our 400 must-see, must-do Indiana experiences! Find images shared by visitors and the full outdoor adventures list below!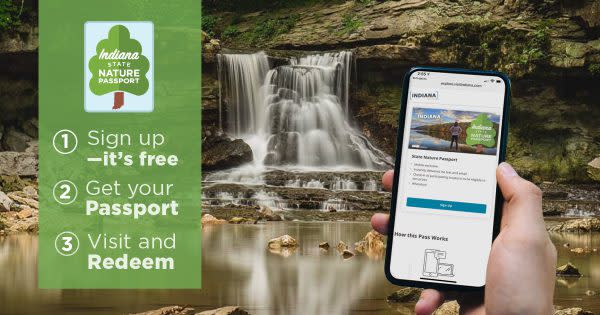 Many of the destinations listed below are part of the Indiana State Nature Passport! Check-in and explore participating locations throughout the state to earn great prizes! The more you visit, the more you win. This program is 100% free, but property entrance fees apply when you visit. Learn More.
Outdoor Adventure in Indiana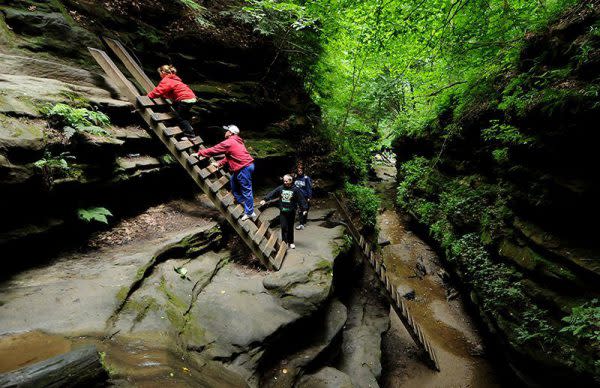 Turkey Run State Park's Ladders Trail was voted the best hiking trail in Indiana in 2019.  The trail is a part of the 5-Mile Challenge. The rugged hike covers 5.56 miles, including a ladder and ~1,500 human-made steps. The trail visits the Coal Mine, the Narrows Covered Bridge, Lusk Home, the Punch Bowl, Camel's Back, "140" steps, Boulder Canyon, Falls Canyon, and many stream crossings, making the approximately six-mile hike very worthwhile. Parts of the trail require hikers to travel along as well as in the stream, so hikers should dress appropriately! Hiking boots and walking sticks or trekking poles are suggested. After completing the challenge, you can purchase a $1 "5 Mile Challenge" sticker for your car, water bottle, or wherever you'd like to put it! Learn more.
This location is part of the Indiana State Nature Passport. Learn more about how to start earning prizes for FREE!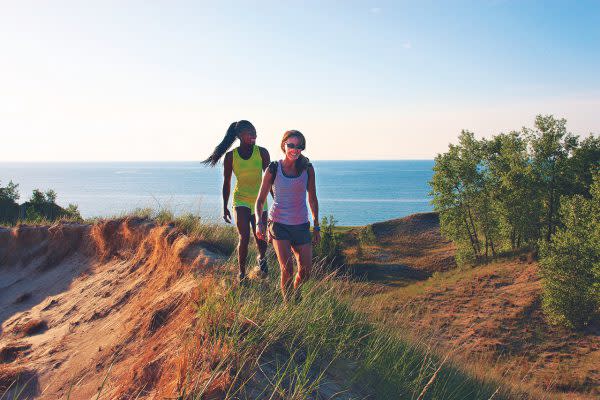 A challenge like none other, the 1.5-mile 3 Dune Challenge features the three tallest dunes at Indiana Dunes State Park. Mount Tom, Mount Holden, and  Mount Jackson combine for a height of 552 vertical feet. Once at the top of the dunes, breathtaking views of Lake Michigan take over the line of sight. Visitors can go casual and walk up the towering dunes or go extreme by running the race with a friend. After completing the 3 Dunes Challenge,  hikers are rewarded with a free sticker at the Indiana Dunes Visitors Center.
This location is part of the Indiana State Nature Passport. Learn more about how to start earning prizes for FREE!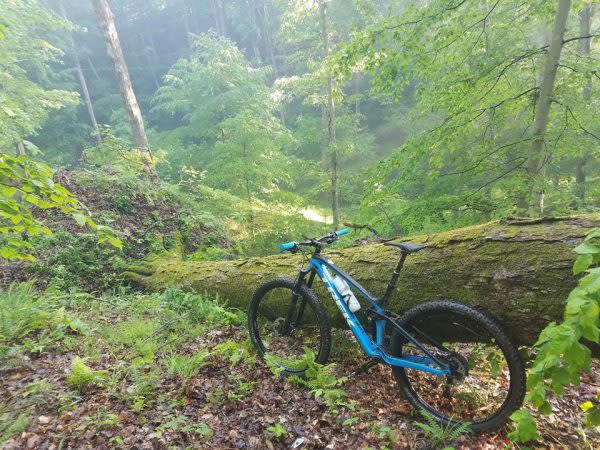 If you're looking for an outdoor adventure in Indiana, eXplore Brown County at Valley Branch Retreat offers over 1,000 acres of year-round fun. Fifteen world-class Zip Lines create a Tree Top Canopy Adventure for all ages, including the Explorer Tour (crossing the lake three times), the Screamer Tour (Indiana's fastest and longest tandem racing zip line) and the Super Hero (fly in the position of Superman). eXplore Brown County has 30 miles of ATV and 4Wheel trails, 30 miles of Brown County's most challenging mountain bike trails, hiking, and an incredible paintball set up. Learn More.
Ouabache isn't just the most commonly mispronounced state park in Indiana, it is also home to some really cool things to see. The name is a French spelling of a Native American word and is pronounced Wabash (WAH-bash). Located in Bluffton, the park is home to a herd of bison, who graze in a fenced-in area inside the park, and boasts one of Indiana's 13 still-standing fire towers (fire towers are currently closed in Indiana due to COVID-19, stay tuned to Indiana DNR's COVID-19 page for updates on what is open & closed in each park). The Ouabache Fire Tower was completely renovated and rededicated in 2019. For a detailed rundown of every tower open to the public in Indiana, visit here. Learn more about Ouabache State Park.
This location is part of the Indiana State Nature Passport. Learn more about how to start earning prizes for FREE!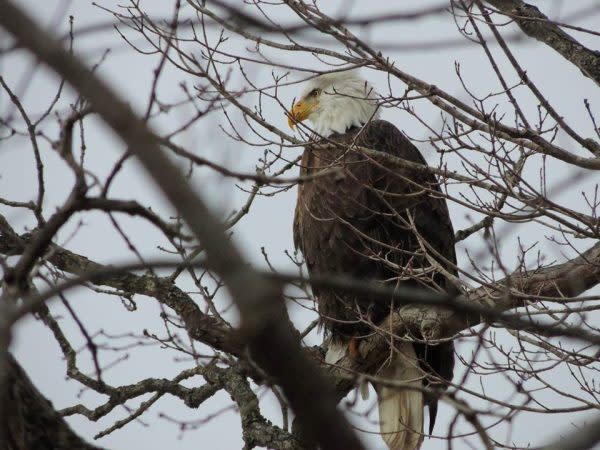 It would have been tough to find eagles in Indiana until the reintroduction program of bald eagles at Monroe Lake in the late 1980's. Now, the eagle population is flourishing in Indiana. Over 15 eagle nests can be found at Monroe Lake now, which means there are opportunities to watch the majestic birds in action! Depending on the time of year, there are chances to see both immature and mature eagles at the property. For more information about eagles in Indiana, click here.
This location is part of the Indiana State Nature Passport. Learn more about how to start earning prizes for FREE!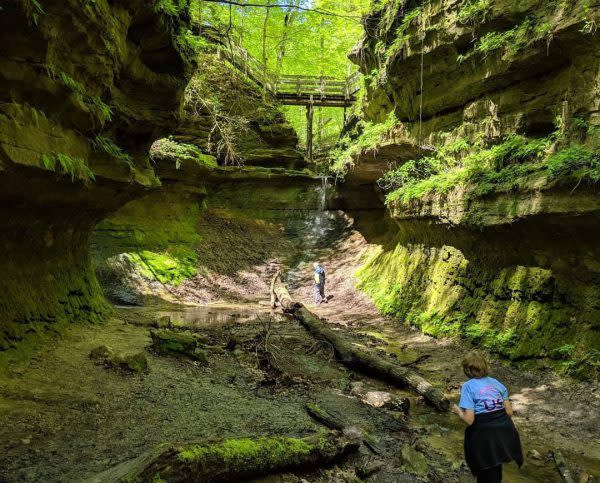 This rugged hike covers 4.42 miles, three ladders, and ~570 human-made steps. Trekking through six incredible ravines at Shades State Park, you'll climb 1,110 feet and descend 1,030 feet. Hiking boots are required, and walking sticks or trekking poles are suggested. Once you have completed your adventure, make sure to show photos of all six ravines to a naturalist so you can purchase a "6RC" sticker for $1.  After the challenge, make sure to explore other amazing areas in the park, including Pine Hill Nature Preserve. Learn more.
This location is part of the Indiana State Nature Passport. Learn more about how to start earning prizes for FREE! 
The longest—and perhaps most famous— mountain biking trail in Indiana is within Brown County State Park. Bike magazine named it one of the best 33 trail systems in North America! At 27.9 miles, the trail has a 2,432' ascent and -2,431' descent. Challenging? Yes! And also a beautiful, invigorating ride. The editors of the magazine said its singletrack has some of the most varied terrain east of the Mississippi: berms, steep switchbacks, tight trees, and rock gardens. The International Mountain Bicycling Association named Brown County a Bronze Level Ride Center, making it one of the best places to ride in the world. Learn More.
This location is part of the Indiana State Nature Passport. Learn more about how to start earning prizes for FREE!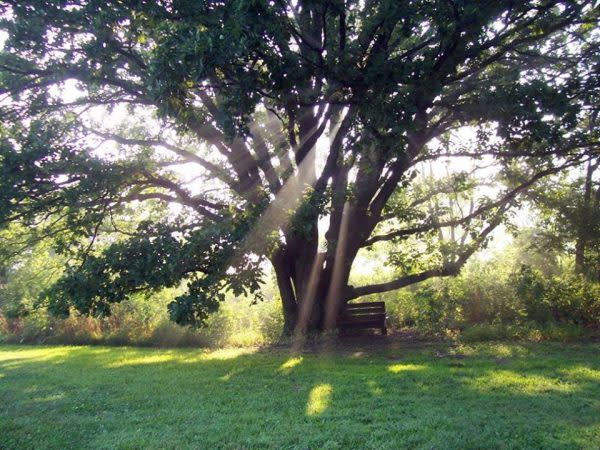 An Arboretum is very similar to a botanical garden but features a broad collection of trees. Gabis Arboretum in Valparaiso preserves 330 acres of prairie, forest, and wetlands along with an extensive collection of oak trees. The attraction also features an incredible Railway Garden, which is an outdoor g-gauge model train garden that sprawls an acre and tells America's steam engine history. The train does not run in inclement weather. Any adventurer who loves hiking and/or trains will be in heaven at Gabis Arboretum.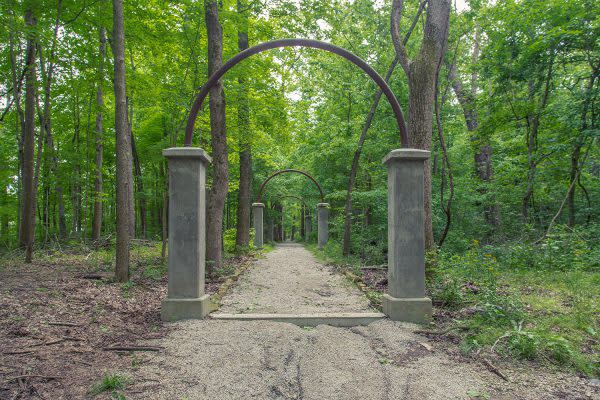 On the north bank of the Ohio River in Charlestown State Park, the remains of the Rose Island Abandoned Amusement Park serve as a ghostly reminder of outdoor amusements from a century ago. The park now lies in ruin in the dense woods as a spooky testament to an era gone by. Visitors can explore the ruins of the state park on a hiking path with signs identifying the remains of the former park. Read more about the history of the eery park here.
This location is part of the Indiana State Nature Passport. Learn more about how to start earning prizes for FREE!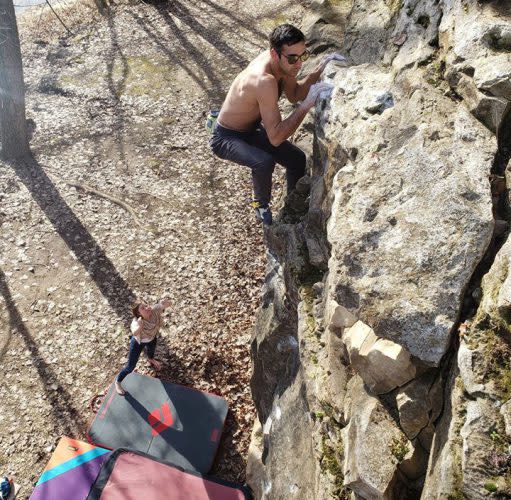 Muscatatuck Park in Jennings County is one of the only places in Indiana where you can rock climb, making it a unique outdoor adventure in Indiana. The climbing is primarily bouldering, although some taller climbs tend to be top-roped. The rock is dolomite limestone. The rock angle goes from dead vertical to completely horizontal roofs. This county park is also an excellent place for hiking, mountain biking, camping, fishing, and more. Learn more.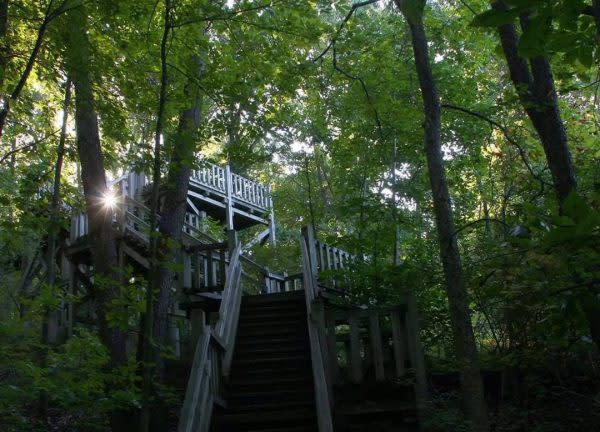 This challenge is an 8.5-mile loop trail connecting many of the Pokagon State Park's trails—including a visit to Hell's Point, the park's highest peak. Route maps can be picked up at the nature center. Along the way, hikers need to photograph six specific waypoints and show these photos to the nature center staff at the end of the hike. Finishers will receive a sticker and a water bottle while supplies last. Learn more.
This location is part of the Indiana State Nature Passport. Learn more about how to start earning prizes for FREE!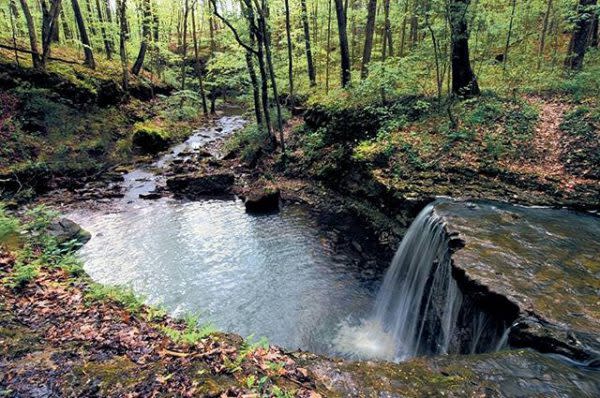 Some would say that Calli Nature Preserve offers a glimpse into heaven. Go for an outdoor adventure on the two-mile loop trail around the preserve that leads to limestone cliffs and gorgeous waterfalls. Make sure to be on the lookout for Red-Shouldered Hawks and Hooded Warblers along with rare plant species.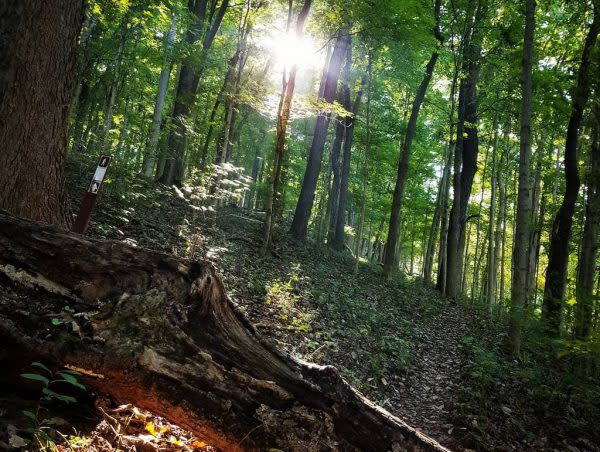 The Knobstone Trail, often called the Little Appalachian Trail, is Indiana's longest trail and perhaps one of the toughest between the mileage and elevation changes. Backpackers will be rewarded for conquering several steep climbs with great views of Clark State Forest as well as Jackson-Washington State Forest.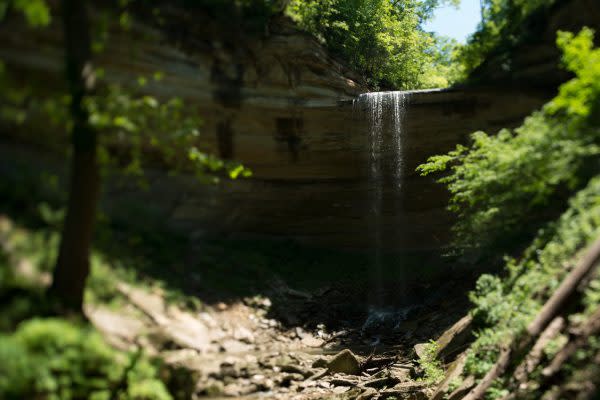 Enjoy the rugged cliffs and canyons of Clifty Falls State Park along with the park's four major waterfalls on this 4-mile hiking challenge. Hike part of the path of the old railroad that was once planned to cut through the park and see the 600-foot-long tunnel that was excavated through shale and limestone. See stonework completed by the C.C.C. on this 2-3 hour hike. Stop by the Nature Center first to pick up your map, and photograph seven specific waypoints along your journey. Show these photos to the nature center staff after completing the hike to receive your Four Falls Challenge sticker. Stop by the Nature Center or Clifty Inn front desk to pick up your map. Learn more.
This location is part of the Indiana State Nature Passport. Learn more about how to start earning prizes for FREE!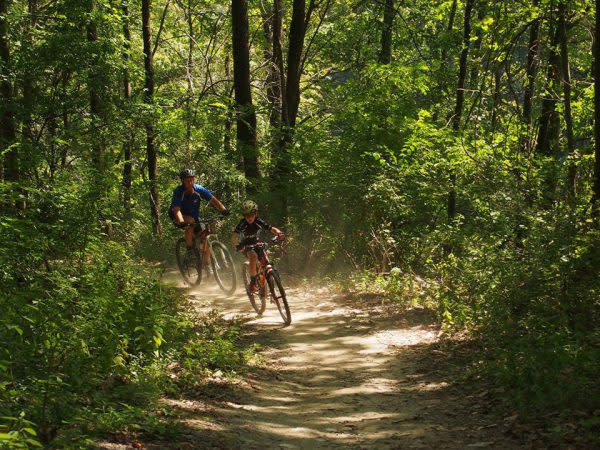 Griffin Bike Park is on the bucket-list of a lot of bike riders around the entire globe! The park provides a full spectrum of biking experiences for beginners up to professional riders—over 16 miles of single track twist in and around the terrain of Vigo County. The LZ Terrain Park features a variety of jump lines, a slalom track, and more. Riders can even jump into a lake at the water skills park!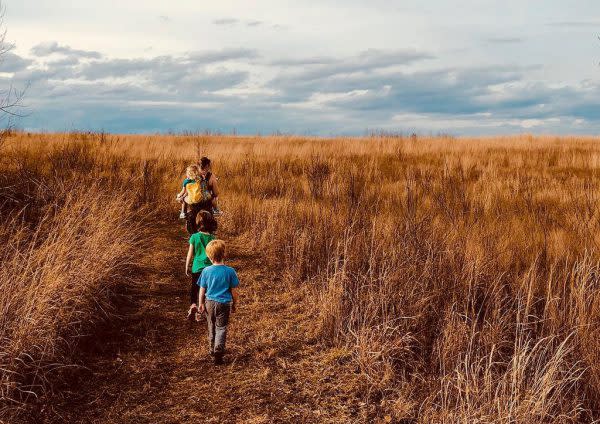 Are you searching for some fantastic wildlife viewing? Look no further than Patoka River National Wildlife Refuge, enveloped with 6,600 acres of wetlands, floodplain forest, and uplands. It was initially established to provide a habitat for migrating birds and to increase the biodiversity of the area. The refuge gives access to viewing spots to watch the rich diversity of animals. Fishing and hunting are also allowed.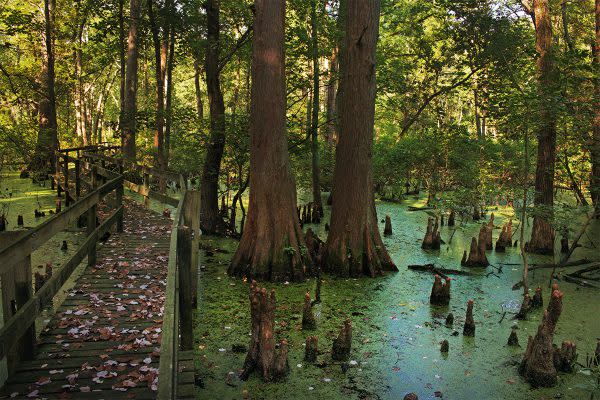 When most people think of Indiana, it is unlikely that they think of swampland. However, Twin Swamps Nature Preserve in Posey County changes that perception with an Overcup Oak and Cypress swamp. A long and winding loop trail features an elevated boardwalk that offers a walk into the Cypress swamp overlooking the one-of-a-kind nature.  The wetlands and sloughs of Twin Swamps Nature Preserve make up a diverse eco-system that is a prime location for an outdoor adventure.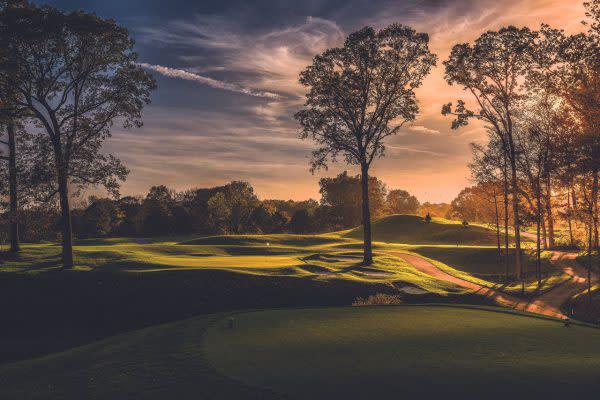 Your outdoor adventure in Indiana can also include a day (or several) on the links! The father of modern golf course architecture called Indiana home. Mr. Dye's designs left an unforgettable mark on golf's history. The Pete Golf Trail showcases his incredible collection of golf courses in Indiana while offering challenging golf experiences and unique destinations. The trail is made up of 7 courses throughout the state, including Ackerman-Allen Course, Brickyard Crossing, Kampen Course, Maple Creek Golf and Country Club, The Fort Golf Resort, The Pete Dye Course at French Lick, and Tippecanoe Country Club. An outdoor adventure like no other, this collection of courses will challenge your game with signature Pete Dye design elements like pot bunkers, small greens, and the use of railroad ties. Complete all of the courses on the Pete Dye Golf Trail and receive an official Pete Dye Golf Trail pin flag and bragging rights for life. Take the Pete Dye Golf Trail Challenge.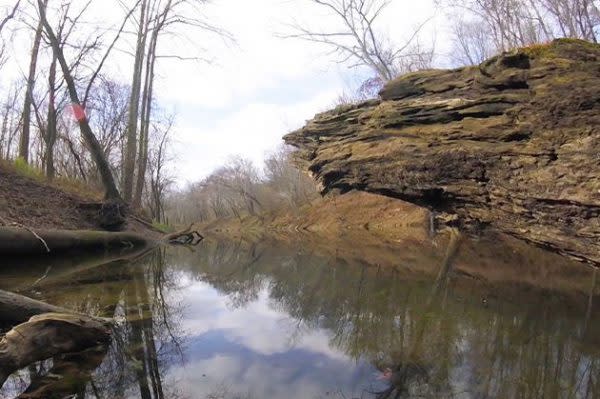 This 25-mile loop trail passes along forested river bluffs, ravines, sinkholes, and caves. Voted in 2019 by our readers as one of Indiana's best hiking trails, the Adventure Hiking Trail is the second-longest trail in the state next to the Knobstone Trail. The AHT travels through Harrison-Crawford State Forest and O'Bannon Woods State Park. Find a trail map here.
This location is part of the Indiana State Nature Passport. Learn more about how to start earning prizes for FREE!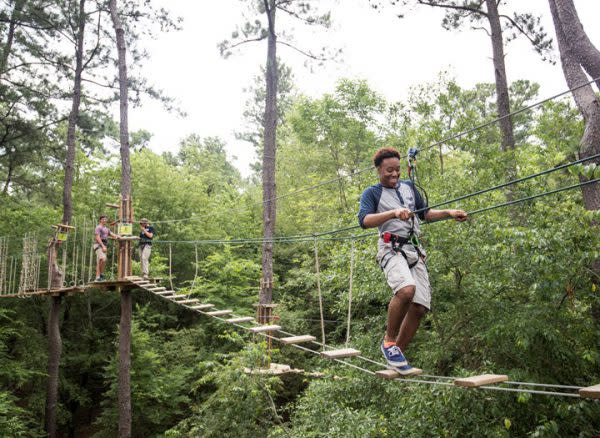 You'll feel as if you're miles away from the city as you zip through the woods at Eagle Creek Park on Indianapolis' northwest side. Go Ape! Treetop Adventures opened its first course in the Midwest in 2012. The course includes five zip lines plus numerous rope ladders with 39 crossings, including challenges called Log Balance, Flying Carpet, and Tic Tac Toe. Do your best ape-man call as you try out the two Tarzan swings, which take you into a net wall. The course is split into five sections. As you advance from one to the next, you'll go higher into the forest canopy, sometimes swinging as high as 50 feet above the ground. Plan on two to three hours for your Go Ape! adventure. Go Ape is scheduled to reopen for Saturday and Sunday adventures, beginning on June 14 with protocols in place to fit CDC guidelines. Learn more.
Plan your #The20IN20 trip by checking out all 20 sites for outdoor adventure in Indiana below!