Art is how humans add to our world's beauty, and the best way to brighten a community is by putting art on public display. You don't have to look hard to find incredible works of public art in Indiana. From murals and sculptures to art alleys and outdoor museums, we've compiled a list of 20 great destinations for public art.
This list was part of The 20 IN 20. Even though 2020 is behind us, you still have to see our 400 must-see, must-do Indiana experiences! Find images shared by visitors and the public art list below!
Indiana Public Art

Few small cities blend world-class architecture, art, and small-town charm along with genuinely unique family fun destinations quite like Columbus, Indiana, where art is a way of life and history colors the present. With sculptures abound and creative design implemented throughout the city, visitors from everywhere come to view Columbus's incredible architecture as well as its equally impressive art. Every other year (next in 2021), Exhibit Columbus features temporary public artworks around town during the fall months.  Plan a self-guided tour.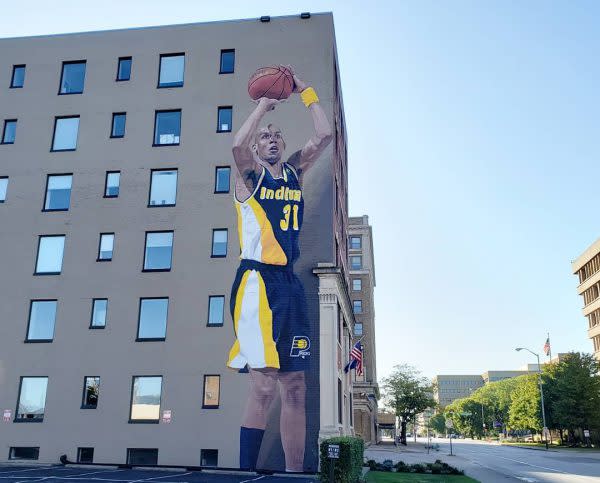 A mural depicting NBA Hall of Famer Reggie Miller in downtown Indianapolis. Photo by @indy.streetart on Instagram.
Indy's art scene is incredible and flourishing, even during the pandemic. Unique depictions are found in many parts of the city, from Downtown Indianapolis to Fountain Square, Mass Ave, and Broad Ripple. Downtown, a mural is dedicated to NBA and Pacers legend Reggie Miller with his iconic shooting form on full display. Head a little outside of downtown, and you can smell the roses at Chatham Passage on Mass Ave or view one of many modern-day murals and sculptures in Fountain Square. A public art tour in Indianapolis could take you days, literally. So if you're up for it, learn more here.
Roughly one-hundred exterior and interior art pieces are found throughout Muncie, including historical objects, religious statues, abstract installations, and more. Ball State University is an artist's paradise, headlined by First Symphony, a unique light painting found in the Music Instruction Building. Catalyst, a sculpture at Minnetrista, is undoubtedly one of Muncie's icons.  Learn more about public art in Muncie.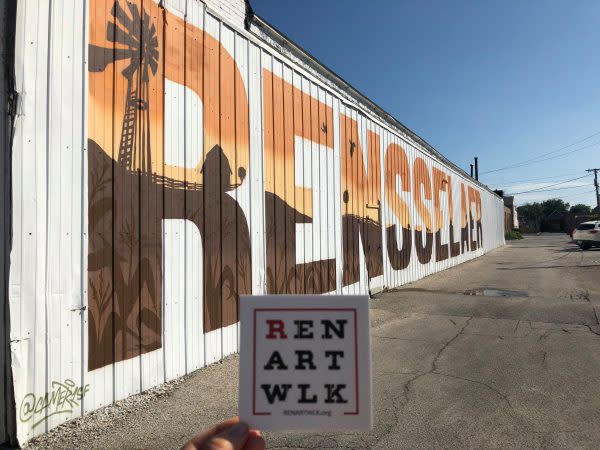 Five artists around the world, from Argentina to South Korea, helped developed the incredible RenArtWlk. Many alleyways throughout downtown Rensselaer are splashed with color and meaning, as artists brought their own unique style to the walking tour. RenArtWlk features a stunning wall of coneflowers, a typeface "Rensselaer" wall, interactive art, and more. Learn more about the tour!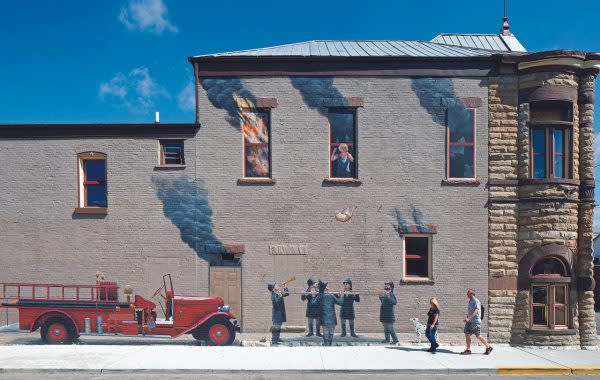 Did you know that Richmond is "One of America's Prettiest Painted Places"? That's according to the Paint Quality Institute, and we have to agree with that sentiment. The city of 36,000 residents is home to dozens of public murals woven along its city streets. Each one pays tribute to Richmond's historical past, creativity, culture. Most of the murals can be found in Downtown Richmond and at the Historic Depot. Read more about Richmond's public art.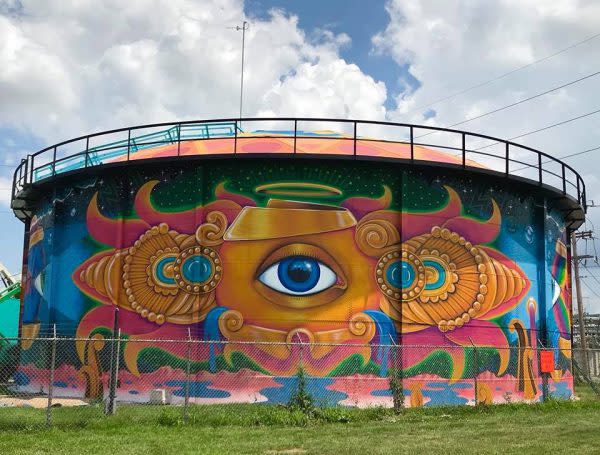 Photo by @nocoartsdistrict on Instagram
Art and culture are just one of the many reasons that Jeffersonville is a fast-growing city. The NoCo Arts and Cultural District is the town's whimsical point of interest, home to makers, historians, and inventors working to transform the area. Picasso Pointe is a gorgeous pocket park in the heart of the district perfect for inspiration, with all sorts of fun activities. You really can't miss the soul-piercing Water Tank Mural, painted by Wilfred Sieg III.

Seymour isn't just A small town; it is THE small town... where John Mellencamp was born! Pamela Bliss is the artist behind the mural on the side of This Old Guitar Music Store, which commemorates the Rock and Roll Hall of Famer. The larger image shows present-day Mellencamp with an acoustic guitar while the smaller one shows him with a Seymour FFA jacket. John Mellencamp gave his stamp of approval for the mural by adding his initials in 2019!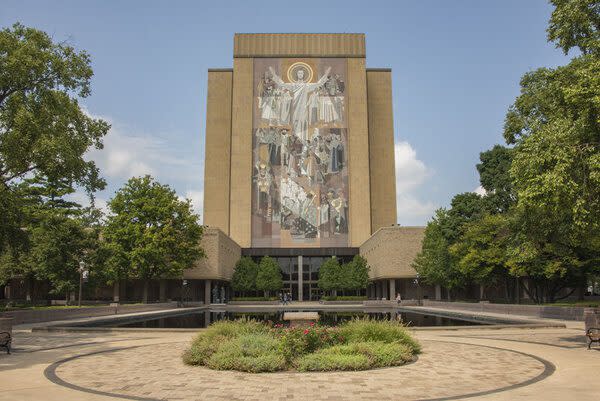 South Bend has no shortage of sculptures, art pieces, and land. In fact, Touchdown Jesus at the Hesburgh Library on the campus of Notre Dame is one of the most famous murals in the world. Jesus faces the north end zone and seems to have his hands raised, signifying "Touchdown"! In Seitz Park, the River Lights Plaza is a sight to behold. Color dances from two interactive light sculptures on either side of the river, amplifying the majestic cascade of water, joined with a third sculpture highlighting the exquisite Keeper of the Fire statue. The river lights have been removed for construction but will return in 2021. See more public art in South Bend.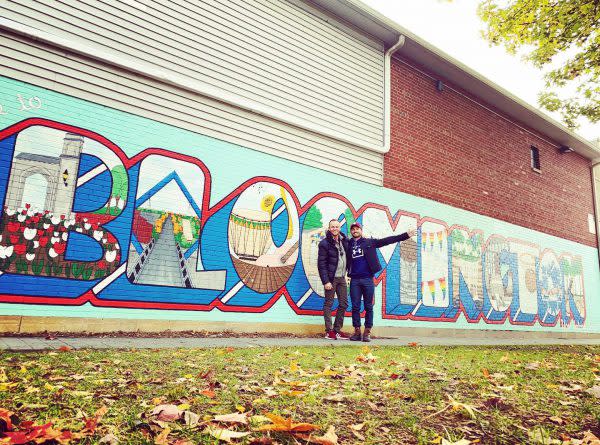 Photo by @markieclarke on Instagram
"You Belong Here." That's the message behind one of Bloomington's signature murals, painted by Eva Allen and pictured above. Bloomington is not only known for Indiana University and basketball but also for its public art. Three dozen murals are painted on the exterior of buildings, parks, and businesses throughout town. From the Maple Heights Bridge on Rogers Street to electric imaginations at Artisan Alley, culture is the name of the game. All 42 spots on the Bloomington Mural trail can be found here.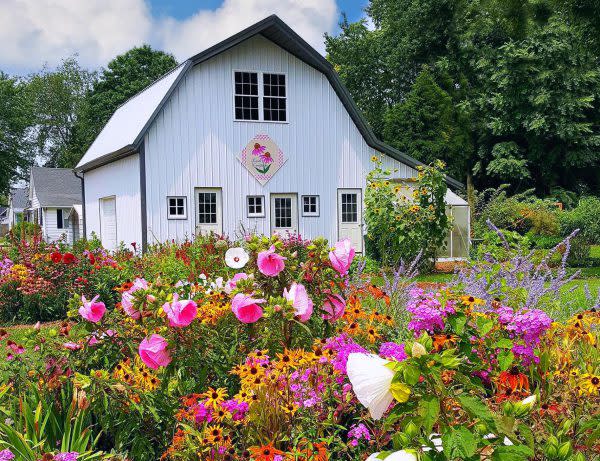 If you're ready for a relaxing scenic drive combined with art, Indiana's barn quilt trails are perfect for you. What is a barn quilt, you ask? They are 4ft x 4ft to 8ft x 8ft pieces of wood painted with unique quilt patterns. These barn quilts are then hung on beautiful buildings, sometimes private barns that can be viewed from the road and sometimes a local business! No two barn quilts are the same as they range in style, color, and size. There are three different barn quilt trails in Indiana worth checking out! The Gibson County Barn Quilt Trail features an incredible 225+ barn quilts! Gibson County's guide can be found here. The LaGrange County trail connects the culture and history of rural northern Indiana, with over 37 barn quilts. Learn more about it here. Lastly, Marshall County's trail is broken down into three loops, showcasing a total of 76 barn quilts! Download the Marshall County Barn Quilt trail here.
All alleys lead to art in downtown Kokomo! Many of its alleyways have been transformed by art installations thanks to the Greater Kokomo Downtown Association. These outdoor art galleries each have a unique atmosphere and highlight different types of art.  That being said, there's more than just alleys in Kokomo. The self-guided Kokomo Sculpture Walk features nine large-scale sculptures, guiding visitors along beautiful trails and waterways.  Learn more about Kokomo's art.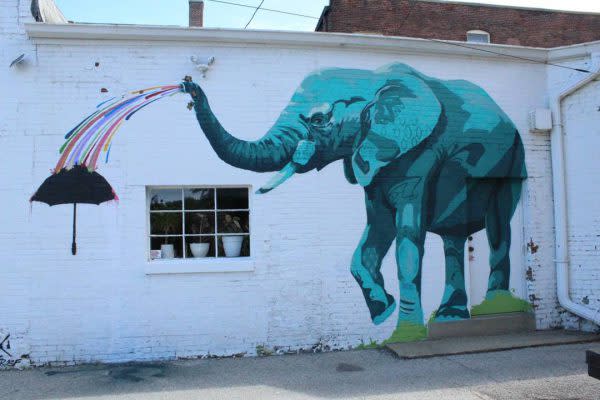 Photo by @godlovesbacon on Instagram
Lafayette-West Lafayette is home to 115+ works of public art that are all accessible in public spaces. Numerous fountains, murals, and statues can be found on the campus of Purdue University. Additionally, the Tippecanoe Arts and Cultural District encompasses the three districts of downtown; Chauncey Village, Wabash Riverfront, and Arts & Market. The Elephant in the Room mural, painted by Cameron Moberg and pictured above, is located on Ferry Street. See the whole public art trail for Lafayette-West Lafayette.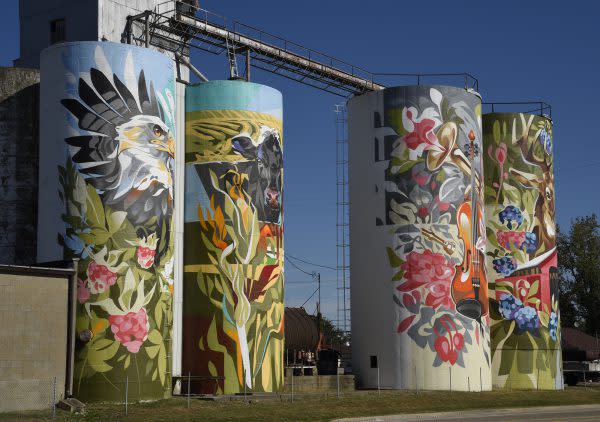 The Putnam County Mural Project created one of the largest and most eye-catching murals in Indiana! Four 1953-era silos became the canvas for mural artist Key Detail (Andrei Krautsou) in 2019. Over the course of two weeks, the 50-foot-tall silos were painted with farm animals, an eagle, a violin, and a covered bridge complete with morel mushrooms. Drive into Greencastle from the south on U.S. 231, and feast your eyes on this gigantic mural! Learn more about the Greencastle silo murals.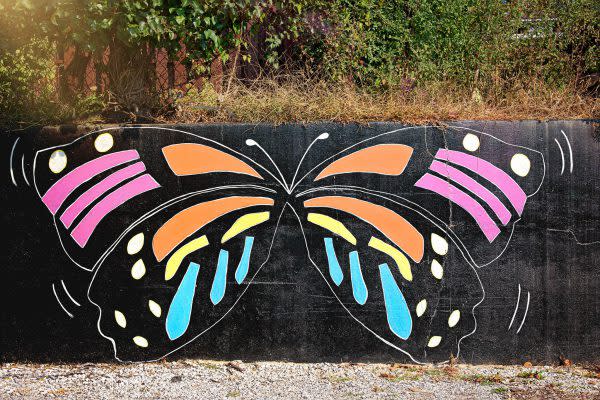 Part of the Interactive Wall Art in Brazil. Photo by Helen Meunier.
Given its name, there's not much surprise that Brazil is home to a bevy of murals. Three brick murals adorn business buildings through the city, including one that offers a nod to a gift given from the country of Brazil. If you really want to indulge in child-like imagination, head down to Brazil Main Street's Interactive Art Wall. Volunteers took an old, dilapidated area downtown and transformed it into a place where visitors can spread their wings like a butterfly, hold steady onto a grouping of balloons, and be the I in "Brazil"!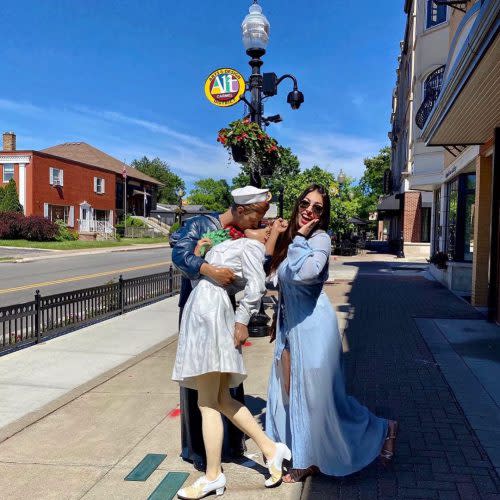 Photo by @raissafcunha on Instagram
Drive through the Carmel Arts and Design District, and you may have to do a double-take. Are those real people or just statues? Carmel is an incredible place to experience the arts, and it may be best known for its "Man-on-the-Street" series. Life-size sculptures designed by J. Seward Johnson Jr. are spread through the Arts and Design District in Old Town. Sculptures include a businessman reading a newspaper, an artist at work, and a recreation of the infamous "Unconditional Surrender" kiss from the end of WWII. Make yourself part of the scene by taking a photo with one of these many sculptures! Read more about the "Man-on-the-Street" series.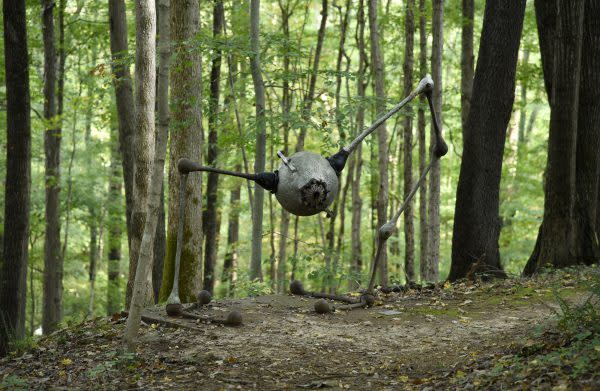 "Knowledge Has No Blind Side" by Katerina Nissa Sanerib, Milwaukee, WI
Nestled deep in the woods of Greene County is one of the coolest outdoor art experiences around! Take a walk around the well-marked trails at Sculpture Trails Outdoor Museum, and you'll find over 100 sculptures strategically placed to compliment both the artwork and setting. The incredible sculptures come from local and international artists alike! Your mind will be opened up like never before, as the peaceful solitude of nature and art flow together in a harmonious dance.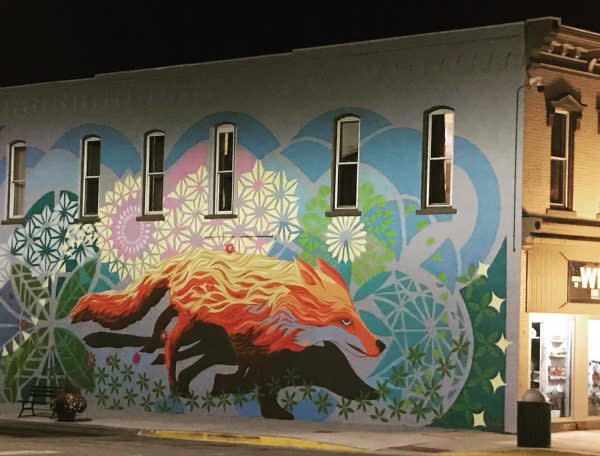 Mural in Albion. Photo by @ozma914 on Instagram
Northeast Indiana became a lot more colorful in 2020! Over the course of 11 days, 11 murals were developed in 11 different counties. A team effort between the Northeast Indiana Regional Partnership and Arts United of Greater Fort Wayne, Inc., the mural trail aims to encourage collaboration between counties, showcase the talents of the participating artists, and foster experiential interactions for residents and visitors to the area. The new murals are absolutely breathtaking and are begging for a road trip to big-city attractions in Fort Wayne, tempting restaurants in Decatur, world-class museums in Auburn, and more.  The counties included are Adams, Allen, DeKalb, Huntington, Kosciusko, LaGrange, Noble, Steuben, Wabash, Wells, and Whitley.   Learn more about the Make It Your Own Mural Trail.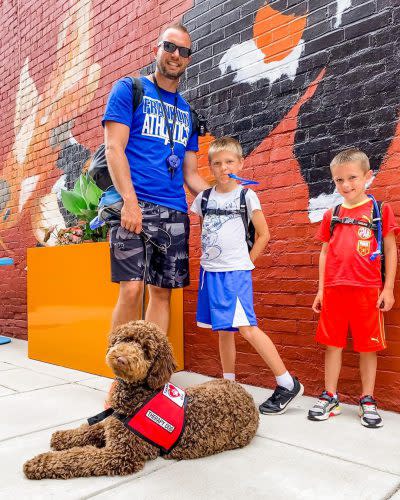 Photo by @jessicazook on Instagram.
Franklin was voted as having Indiana's Best Main Street, in part due to its local art. A sculpture named Flight signifies the expression of swooping and diving that makes a bird's airborne journey unique.  On the funky side, a groovy mural lies underneath a bridge underpass on the Franklin Greenway Trail. Plus, one of Franklin's newest murals is located in a downtown Alley next to Benjamin's Coffeehouse! Snap a photo, take a seat in the alley, and relax as you soak in everything Franklin has to offer.  Learn more about public art in Franklin.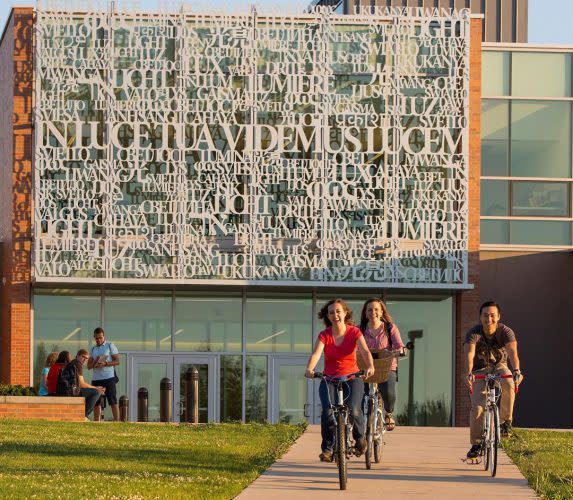 Photo by Valparaiso University
There's more than just beaches near the Indiana Dunes. Valparaiso has an abundance of art, with its art walk, utility box wrappings, and of course, the lovely Valparaiso University. The Valparaiso Art Walk is an outdoor sculpture exhibit at Cumberland Crossing consisting of 16 pieces. Valparaiso Unversity's motto, "In Thy Light, We See Light," is proudly displayed on the exterior of the Arts and Sciences Building. The word "light" written in many languages surrounds the motto, as the artwork allows natural light to shine into the building. Click here to learn more about Indiana Dune Arts.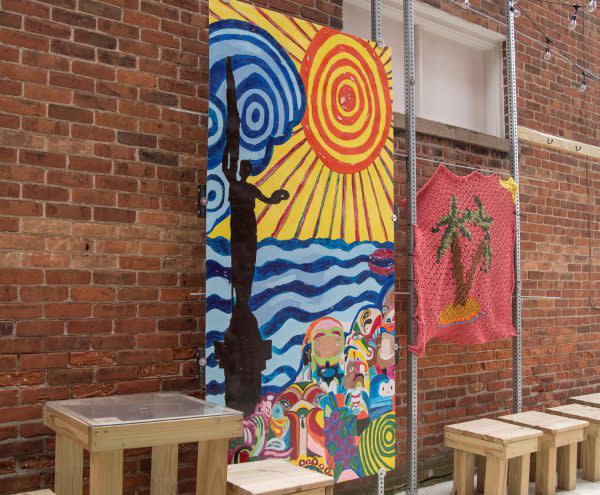 Photo courtesy of the Steuben County Tourism Bureau
Angola has a lot of history, including a 70-foot monument towering over its downtown that pays tribute to Hoosiers who served in the Civil War. The city is also home to an exciting new art installment with Imagine Alley, which sits between two businesses on the Public Square! Two high schoolers wanted to spruce up the town, and Imagine Alley certainly does with murals, hanging plants, tables, chairs, and stools.
Plan your #The20IN20 trip by checking out the map of Public Art in Indiana below!