Summer is now in full swing which means longer days, warmer temperatures, and more time for fun in the sun. A dip in the pool is great, but why settle when you can take your water experience in Indiana a step further? From kite-surfing along Lake Michigan to scuba diving in clear waters, splash into fun with these 20 water activities in Indiana! This list was part of The 20 IN 20. Even though 2020 is behind us, you still have to see our 400 must-see, must-do Indiana experiences! Find images shared by visitors and the full water activities list below!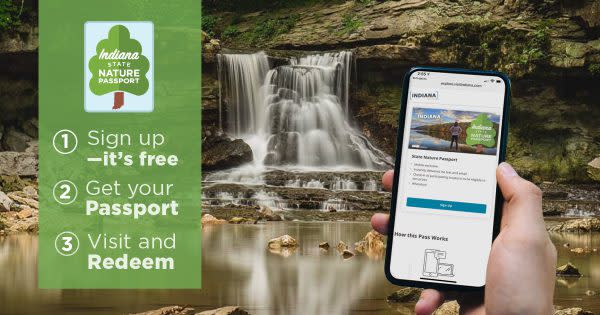 Many of the destinations listed below are part of the Indiana State Nature Passport! Check-in and explore participating locations throughout the state to earn great prizes! The more you visit, the more you win. This program is 100% free, but property entrance fees apply when you visit. Learn More.
Water Activities in Indiana
Stoke Riders in Michigan City
How are you catching your stoke? Experience the thrill of Indiana kitesurfing on the shores of Lake Michigan with Stoke Riders. Sign up today for professional Michigan City kitesurfing lessons with IKO (International Kiteboarding Organization) certified instruction.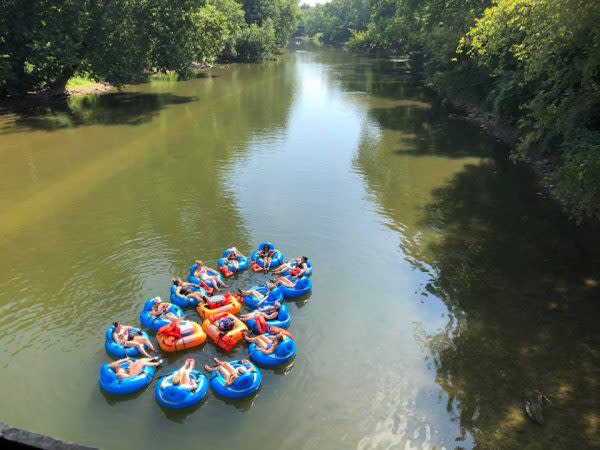 Just north of Indianapolis in Hamilton County, you'll find a cool place to quench your thirst for summer adventure. The White River is full of opportunities for water recreation, but only one promises total relaxation — the White River Canoe Company offers tubing trips that span from an hour and a half to four hours long. This livery is home to daily river tubing trips, kayaking expeditions, and canoeing, but you'll want to try the river tube trip, which can range from one to four hours! Learn more.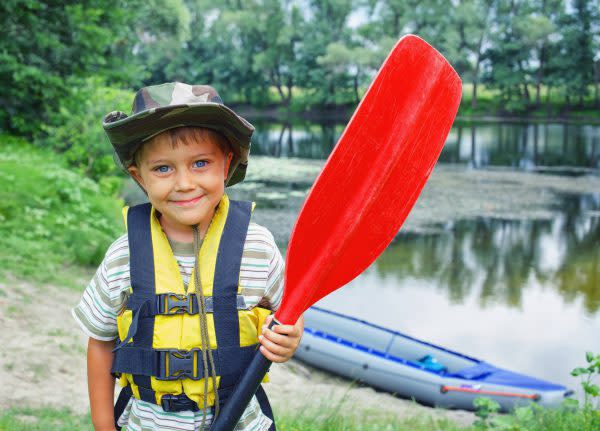 Wildcat Canoe and Kayak Too is a livery near Lafayette.
One of the best ways to explore nature is to hit the water in a kayak or canoe. Indiana is home to beautiful scenery that can be experienced on the state's creeks, rivers, lakes and streams. A day on the water can be a great adventure for family and friends, making memories that last forever. For a map of great liveries in Indiana, click here.
Some of the canoe liveries are part of the Indiana State Nature Passport. Learn more about how to start earning prizes for FREE! 

Kayak a stream 200 feet underground on the Deep Darkness tour at Indiana Caverns, part of the Binkley Cave system—Indiana's longest cave system, and the seventh-longest in the country. Each tour begins with a 93-foot climb down a ladder with belay, then continues with another descent down a slope to a subterranean river. The expedition continues upstream by foot, then by kayak as the water deepens. Wear comfortable clothing in layers and sturdy shoes, and the rest of the equipment will be provided for you. Tours last four hours. Learn more.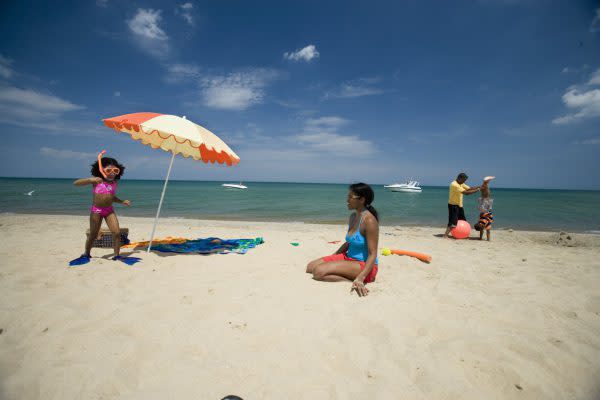 Stretching 25 miles east along Lake Michigan's south shore, the Indiana Dunes National Park and Indiana Dunes State Park welcome nearly four million guests to their sandy beaches and beautiful trails each year. Enjoy a family camping trip, an ecological study, or just a relaxing day at the beach. The Indiana Dunes National Park is comprised of more than 15,000 acres of dunes, oak savannas, swamps, bogs, marshes, prairies, rivers, and forests, offering a wide variety of activities year-round.
There are two water gems in St. Paul, Indiana! White Rock Park is your destination for cliff diving, swimming, camping, fishing, scuba diving, and more. The main lake is great for relaxing on a raft or jumping off a cliff for a thrill. There are four platforms to jump off, all at different heights. Learn more about White Rock Park. Truly the water lovers paradise, Hidden Paradise Campground surrounds Dream Lake, offering "Water Fun" in a designated swimming area within the quarry with a floating trampoline, climbing rock, large slide, and a series of lounging devices; along with swimming of course! Learn more about Hidden Paradise Campground.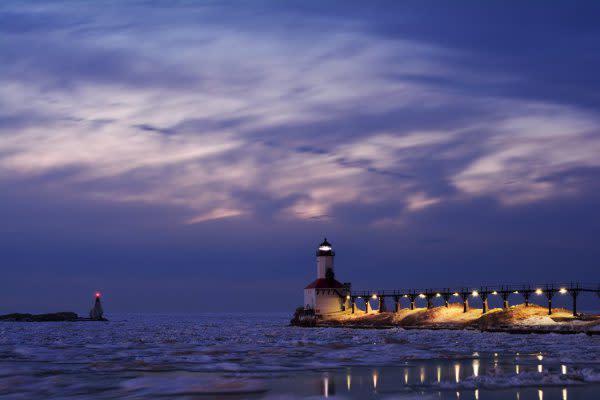 Built in 1904, the lighthouse has become the most popular symbol of Michigan City, and is the only public operating lighthouse in Indiana. The elevated walkway, known as the "catwalk", was used by lighthouse keepers for 29 years to access the light tower. In 1933, this light on the east pier was electrified, and in 1939, the U.S. Coast Guard took over the service. The catwalk, no longer in use, was threatened with demolition. Local citizens rallied and succeeded in saving this landmark structure. The pier is a favorite spot for fishing and watching sunsets, and is frequently painted and photographed by local artists. Learn more.

Indy Dive Center provides weekend scuba diving opportunities inside France Park. It is an incredible experience, from interesting dive attractions to dramatic local aquatic life to breathtaking cliff tops. These are just a few reasons why divers have been scuba diving France Park for more than 50 years.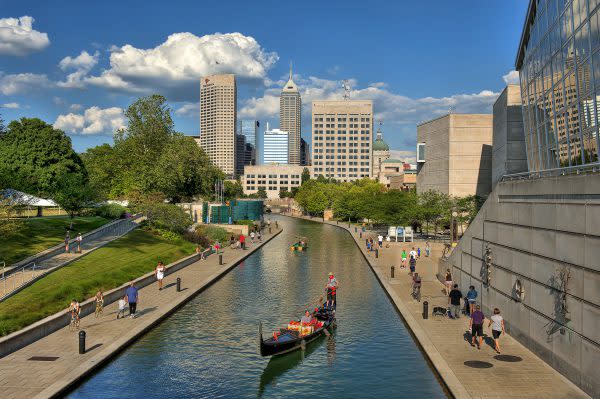 Explore the Indy Canal in many ways! Take a Gondola ride! Sit back and let your imagination take you to the canals of Venice, where you will be serenaded by your Gondolier as you are transported into the romance of Old Italy with Old World Gondoliers. Kayaks and pedal boats are also available for rentals. Learn More.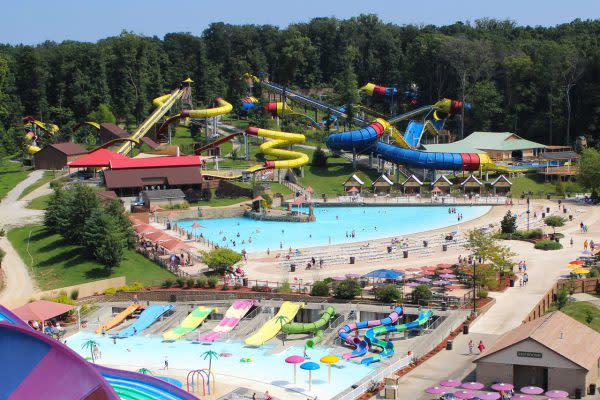 Located at Holiday World, Splashin' Safari is a world-class water park! Trip Advisor and USA Today have voted it as #1 in the Midwest repeatedly. You will also find the world's longest water coaster (Mammoth) and the #1 water park ride in the world (Wildebeest)!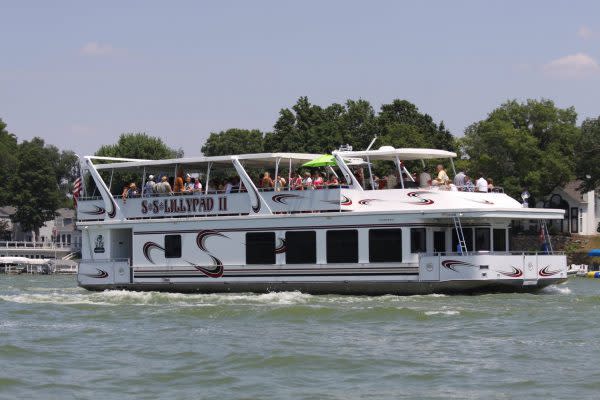 The SS Lillypad is a two-story, 110 passenger dinner boat on Lake Wawasee. Enjoy a brunch, lunch, or dinner cruise on the SS Lillypad as it takes you on a two-hour cruise of Lake Wawasee, the largest natural lake in the state of Indiana.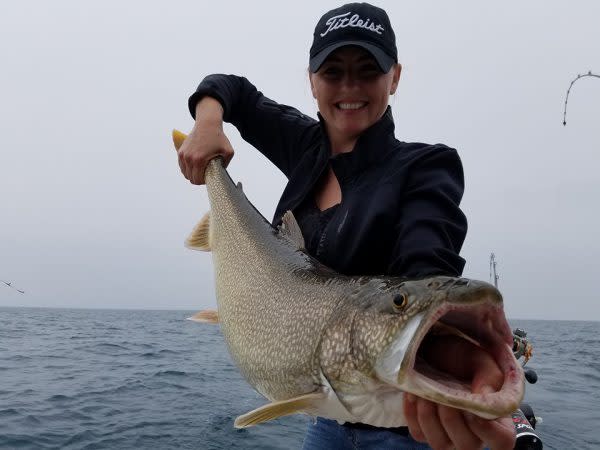 FIN FIRE Fishing Charter in Michigan City.
Proven each spring, summer and fall, Indiana's 3 percent ownership of Lake Michigan can be one of the most productive with the chance to join professional boat captains on a charter fishing trip. Members of Indiana's North Coast Charter Association bring in boatloads of happy anglers and coolers full of salmon, trout, and perch on half-day or all-day excursions. Taking a charter fishing trip couldn't be easier. Contact one of the captains and schedule a date and time to head out on the lake. The captain does the rest including furnishing tackle, bait, lures and licenses. They will even fillet the fish you can enjoy later at home.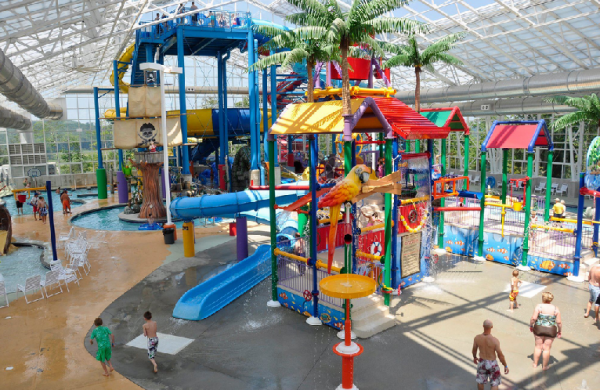 Ahoy, Matey! At Big Splash Adventure in French Lick, guests can enjoy the tropics year-round. This 40,000 square foot indoor water park and hotel is simply incredible. It is headlined by Buccaneer Bay; a three-story children's play zone with ten platforms and nearly 50 interactive play features that keeps all hands on deck. Pirates must then be prepared to slide down into a large bowl on Silverbeard's Revenge. Continue onto Scallywag Scuttle, Pirate's Plunder, Splish Splash Pool, Lost Treasure Lagoon, Jolly Roger Jetty, and Lost River for the full experience.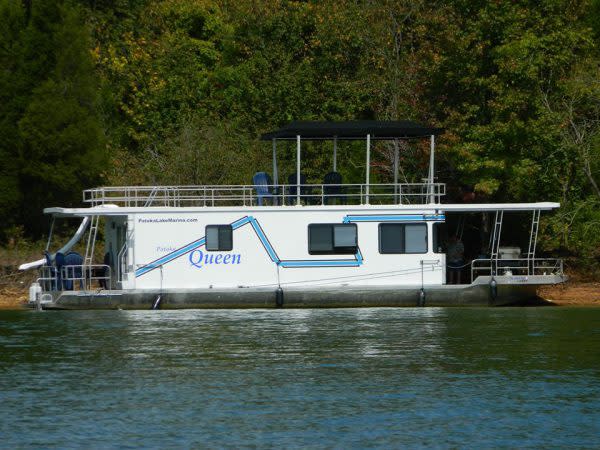 Patoka Lake is a beautiful 8,800-acre body of water surrounded by Hoosier National Forest, and Patoka Lake Marina turns the picturesque setting into your perfect getaway with floating cabins and houseboat rentals.
This location is part of the Indiana State Nature Passport. Learn more about how to start earning prizes for FREE!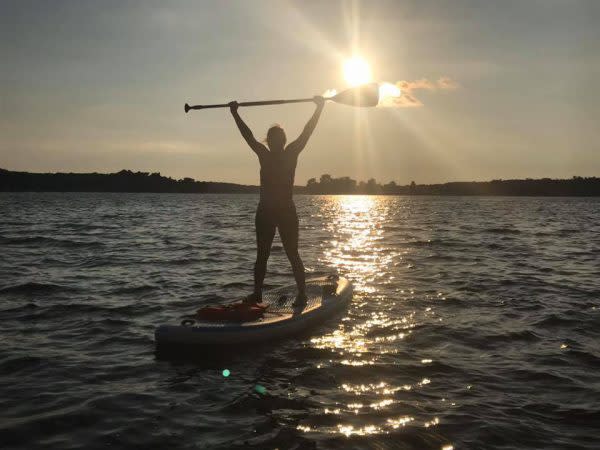 SUP 101 Lakes offers paddleboard rentals for lakes in Steuben County. All rentals come with a lesson from an experienced paddle boarder.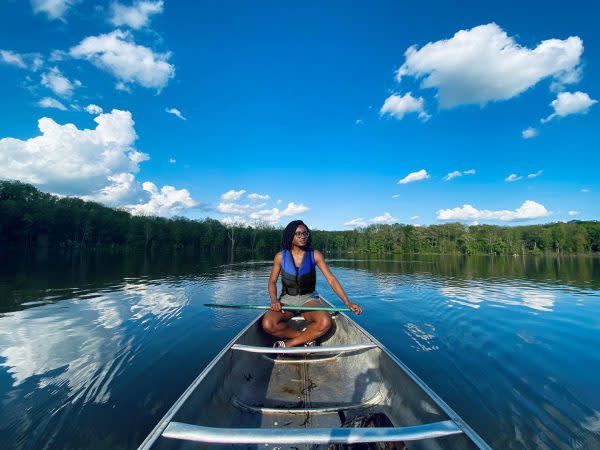 Photo by @toseeyououtside on Instagram
This nine lake paddle challenge will take you 5 miles across the park via nine connected kettle lakes. Enjoy the natural landscape from the unique vantage point of your boat. Download or pick up a paddle map to guide you, take pictures along the way at the nine designated locations, and then show your photos to the staff at park headquarters. Upon completion, get a free sticker and purchase your 9 Lake Challenge merchandise and be able to officially say "I PADDLED THE CHAIN!"
This location is part of the Indiana State Nature Passport. Learn more about how to start earning prizes for FREE!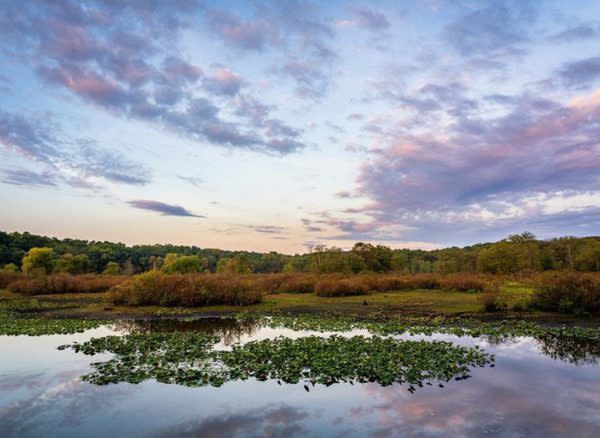 Photo by @mikeleakey on Instagram.
Created in 1943, the Tippecanoe River State Park in Pulaski County (Winamac is the closest community) is unique in several ways. The Tippecanoe River borders most of the east side of the park, offering fishing (bass and bluegill are popular catches) and canoeing (bring your own) on a seven-mile stretch.
This location is part of the Indiana State Nature Passport. Learn more about how to start earning prizes for FREE!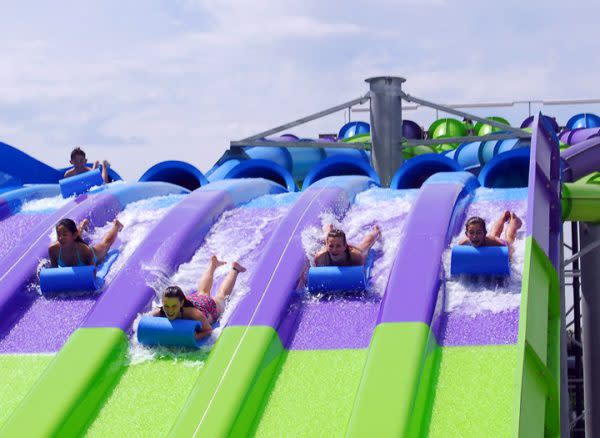 Deep River Waterpark is one of the Midwest's largest outdoor water parks and features activities for all ages. The park features a half-million gallon wave pool, 800-foot lazy river, children's water play area and multiple water slides. The water park is located in Deep River County Park in Crown Point. Learn More.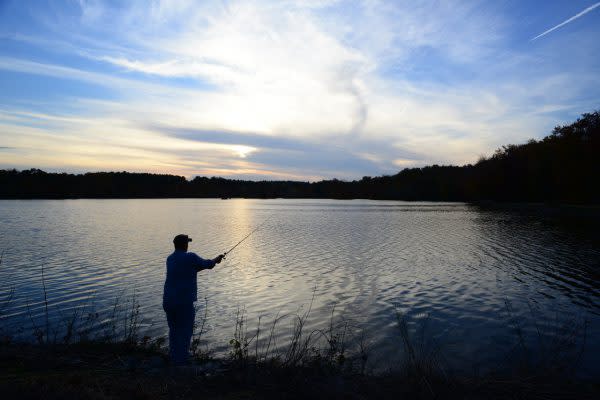 You might question why a state forest is included on our water activities list, but the 9,000-acre property includes more than 120 lakes, making it an anglers' paradise. Most of the lakes are stocked with largemouth bass, bluegill and redear sunfish. The state record bluegill, weighing 3 lbs. 4 ounces was taken from Reservoir #26 in 1972. In some of the lakes you can find channel catfish, bullheads, crappie and warmouth. Airline Lake is also stocked annually with rainbow trout as part of a statewide put-and-take trout program. Find a full list of the Greene-Sullivan State Forest Lakes by clicking here.
This location is part of the Indiana State Nature Passport. Learn more about how to start earning prizes for FREE! 

Pine Lake Water Park is sure to entertain the whole family, with four water slides, 10-, 20- and 30-foot jumps, a zipline, log walk, splash pad and more! Dating back to the 1920s, Pine Lake has been a "swimmin' hole" destination in Northeast Indiana for generations. Learn more.
Plan your #The20IN20 trip by checking out all 20 Water Activities in Indiana below!