Winter brings colder temperatures, but it also brings a whole new list of memory-making opportunities! From chills and thrills to sightseeing and "lightseeing," Indiana is a winter wonderland perfect for exploring, and we've compiled 20 of Indiana's best winter traditions.
This list was part of The 20 IN 20. Even though 2020 is behind us, you still have to see our 400 must-see, must-do Indiana experiences! Find images shared by visitors and the full winter traditions list below!
Winter Traditions in Indiana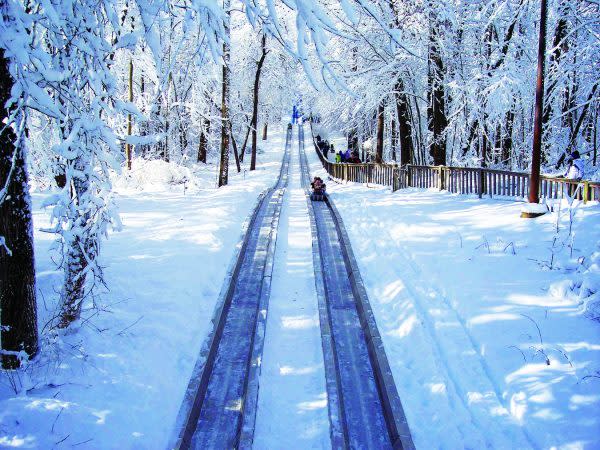 Whoosh! Weeeeeeeeeeeeeeeeeeeeeeeeeee! Whoaaaa! You'll hear those sounds a lot at Pokagon State Park's historic toboggan run that's up and running in northeastern Steuben County. Pokagon's toboggans can hold up to four people at a time. Launched from a 30-foot-high tower, sledders streak downhill at more than 30 mph. They skid to a halt a quarter-mile from where their thrill ride began. The record is 42 mph. Read More.

Paoli Peaks is located in the heart of southern Indiana. It's the perfect place for family and friends to experience the thrills and chills of skiing, snowboarding, and snow tubing! The Ski and Snowboard facility features 14 unique downhill experiences and two terrain parks, with something for every skill level! The Snow Tubing portion features 10 lanes, each 700 feet long, specially constructed for inner-tubes, and a 400-foot surface-carpet that brings you back up the hill.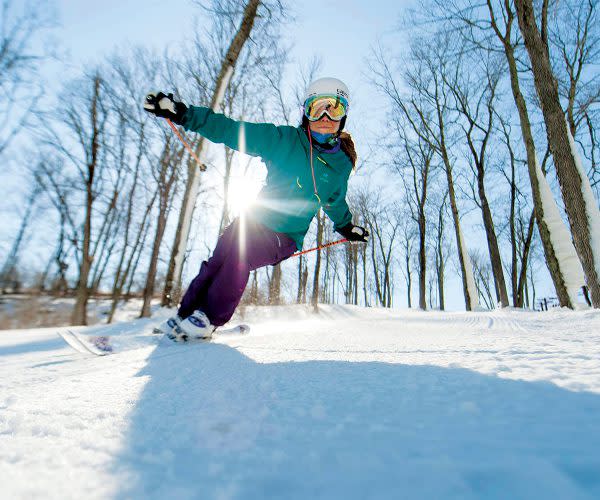 Perfect North Slopes is a ski area in Southeast Indiana offering skiing, snowboarding, and snow tubing. Perfect North features 19 trails of varying difficulty, as well as three terrain areas. It also boasts one of the largest snow tubing areas in the country! You can effortlessly ride back up the hill on the state-of-the-art moving sidewalk called a Magic Carpet.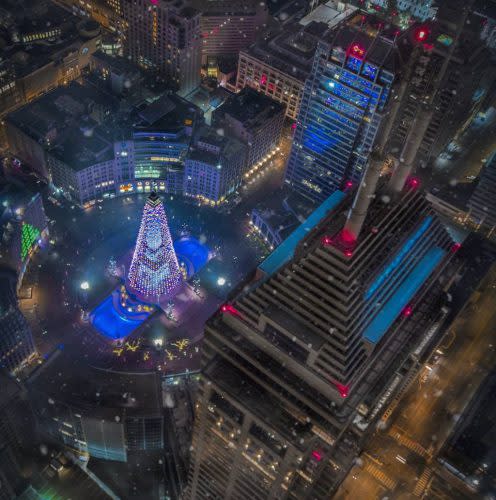 Photo by @matty.tatty on Instagram
If Spring, Summer, and Fall are for sightseeing, winter is for "lightseeing"! The Oooohs and Ahhhhs of Winter have arrived! Charlie Brown might not have liked Snoopy's decorated doghouse, but the rest of us have really come to love the festive illuminations. You'll definitely get into the spirit of the season when you check out this year's holiday light displays in Indiana. See our list of top displays in Indiana.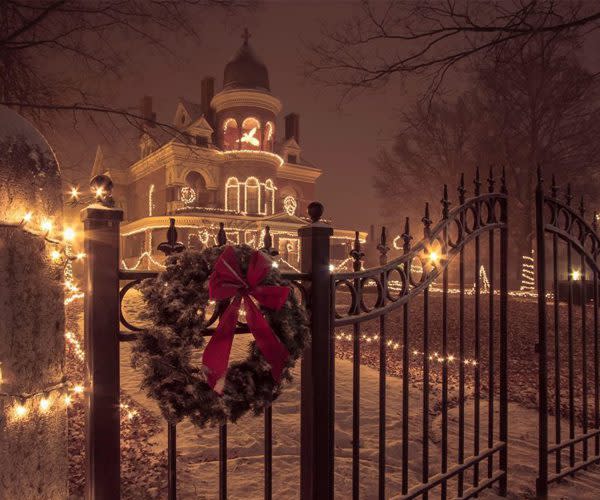 "Oh, fudge!" You know it's the holiday season when it's time to unwrap the "A Christmas Story" Comes Home exhibit, on display at Indiana Welcome Center in Hammond. If you have never been to this spectacular display, then you don't yet know what you're missing! This exhibit is completely free and is open from November 12 – December 30, 2022.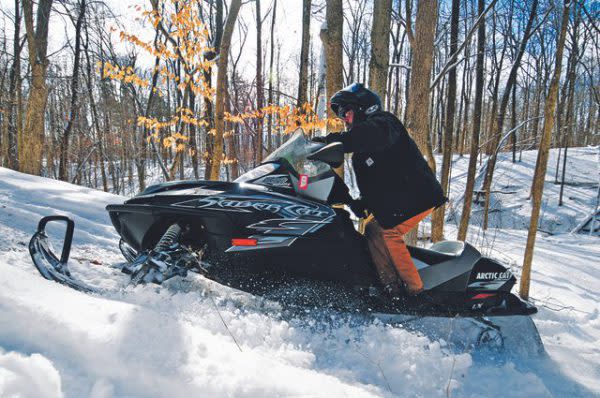 Snowmobiling is available in many places around Indiana, but the state's two longest trails are located in Northern Indiana. The 68-mile Buffalo Run Snowmobile Trail is in St. Joseph County, and the 60-mile Miami Snowmobile Trail is in Elkhart County. Learn more about snowmobiling in Indiana.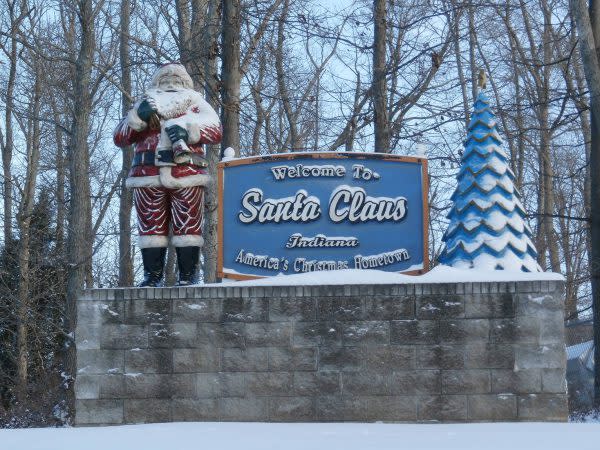 For many families, writing a letter to Santa before Christmas remains a treasured holiday tradition. The Santa Claus, Ind. Post Office makes the practice even more special by offering a new picture postmark stamp for letters and holiday cards each year. An appealing family-friendly destination to visit any time of year, Santa Claus really comes to life during the holidays with events like the Reindeer Experience at Santa's TOYS held over Thanksgiving weekend, the drive-through Land of Lights display at Lake Rudolph Campground and RV Resort, and (new in 2020) a Christmas-themed fireworks display on Dec. 12. Learn more.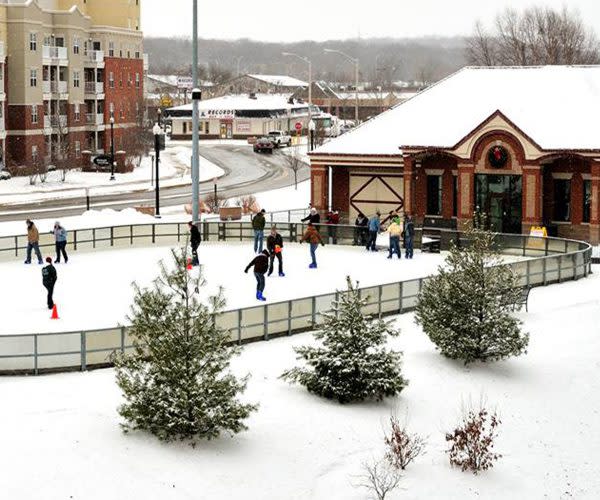 Ice isn't all that fun to walk on, but with a pair of skates, it can be delightful! Skating rinks around the state provide the perfect outdoor family experience each winter. Learn more.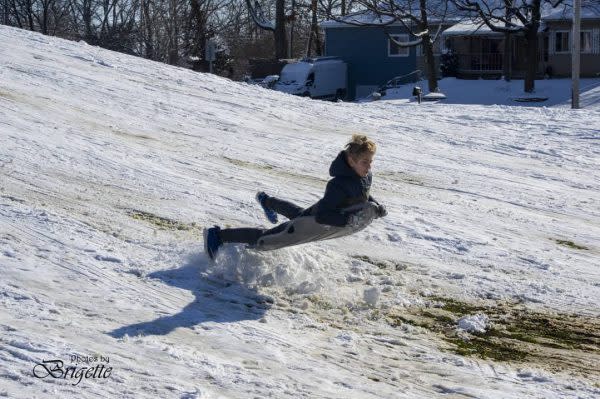 Photo by @brigettecookjones on Instagram
It almost feels like a rite of passage to look down that towering snow-covered hill and conquer it with incredible bravery. Seriously, who doesn't love sledding? There are so many great sledding hills in Indiana! Fort Harrison State Park features one of Indianapolis' largest, and Devil's Slide at Indiana Dunes State Park provides an unforgettable view of Lake Michigan. Read More.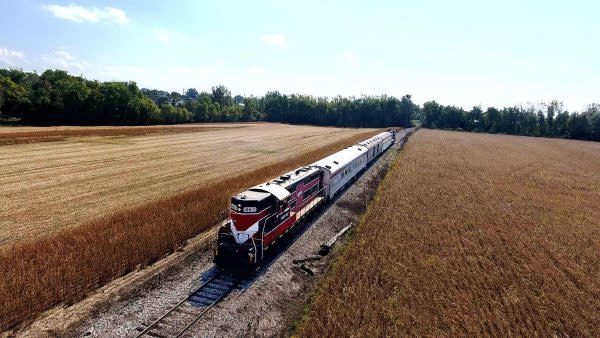 Train rides look a lot different in 2020, but there are still a few Christmas rides taking place safely! Hop on the North Pole Express down in southern Indiana. When the reindeer aren't pulling Santa's sleigh, Tell City Depot's takes over those duties!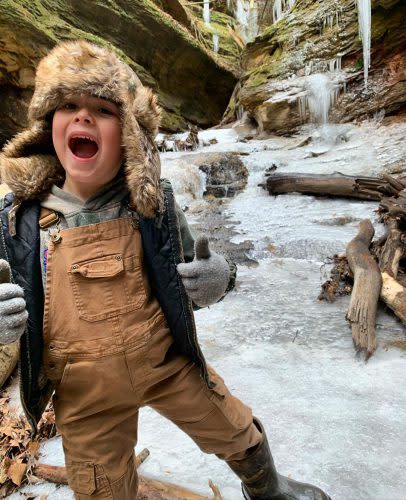 Photo by @evan_c_smith on Instagram
Did you know? Indiana's miles of trails are open in winter! Get a new perspective on Indiana's outdoor treasures on a winter hike. Fewer people are wandering in the woods this time of year. Icicles glisten in the winter sunlight. Birdwatching, tree identification, and animal tracking skills are easy to develop after leaves have fallen. Slow down and notice winter's details. Cold-weather hiking is fun! Learn more.

Christmas Casino provides one of the most magical holiday settings with incredibly decorated trees, animated scenes, and a Bavarian-style market.  Outside, Santa has 8 of his personal reindeer on display! Santa will also be providing virtual visits in the Christmas Market Village. Social distancing and masks are mandatory. Read More.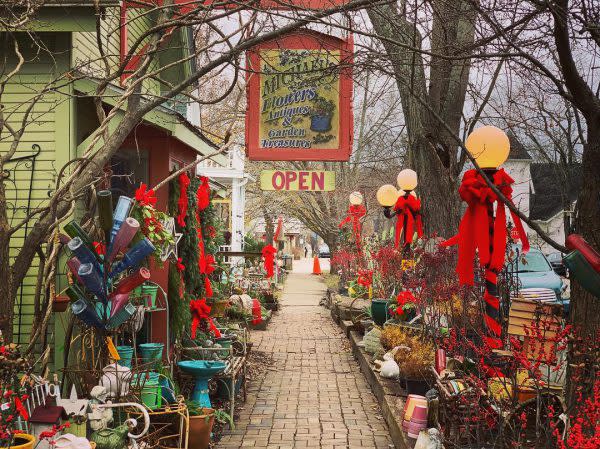 Explore the Village of Nashville as it twinkles with holiday lights. Find unique gifts for everyone on your list as you shop the one-of-a-kind, artisan galleries, craft studios, stores, and boutiques. Sink your teeth into some old fashioned treats. Let the brisk holiday air invigorate you on a hike in the State Park. Warm up by the fireplace in your very own private cabin. No matter how you choose to spend the holidays, Brown County is the perfect spot to create magical memories! Learn More.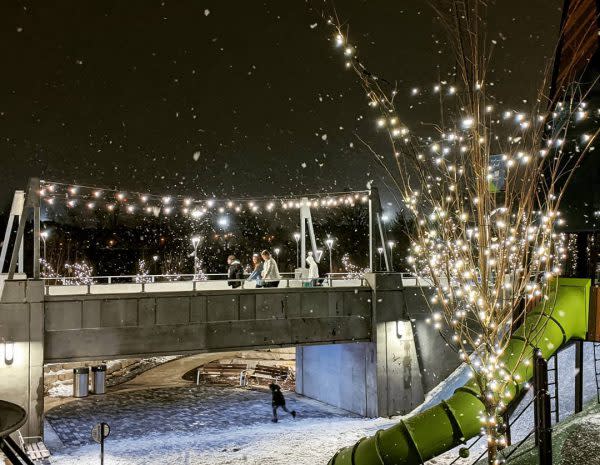 Home to a unique 16,000 square foot ice trail, South Bend's Howard Park becomes a winter wonderland! The loop of ice takes skaters features rolling hills and soft curves and attaches to an ice pond for a more traditional skating experience. Learn more. A new and unique winter market will make its debut in 2021! The 2020 Holiday Market has been cancelled due to COVID-19.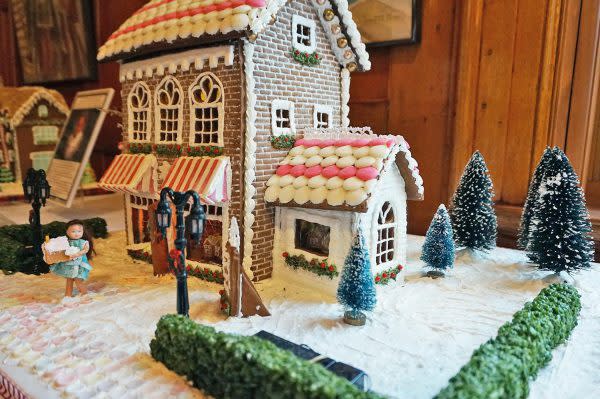 There is nothing that compares to the tradition of building gingerbread houses. However, the Festival of Gingerbread in Fort Wayne has taken this holiday classic to the next level. Professionals, local artists, and students all enter their gingerbread creations and display them at the History Center in an incredible show of talent. To maintain social distancing, tickets are being pre-sold in 15-minute staggered tour start times. Buy tickets here.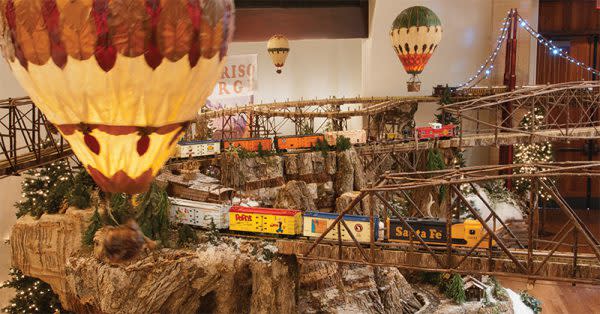 The Eiteljorg Museum presents a G-scale model train wonderland containing nine working model trains that wind through a stunning miniature landscape. The Jingle Rails exhibit features miniature versions of downtown Indianapolis's local treasures, including the Eiteljorg Museum, Monument Circle, Union Station, and Lucas Oil Stadium. The trains then head through the national parks of the American West, passing legendary sites, including grand railway lodges, Northwest Coast Native villages, and wonders both natural and human-made—Mt. Rushmore, Grand Canyon, Yosemite Falls, Old Faithful, the Las Vegas Strip, Hoover Dam, and much more.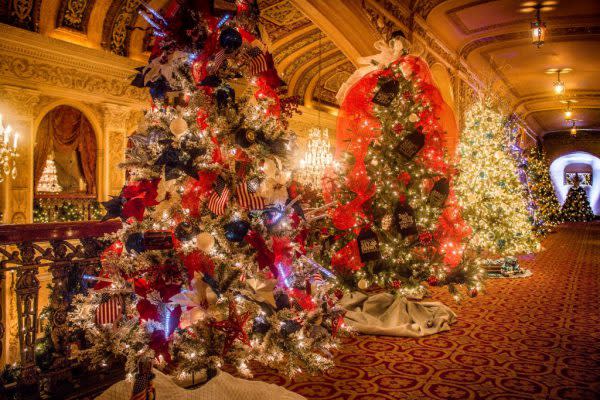 Photo by the Embassy Theatre in Fort Wayne
Festival of Trees events are one of the most iconic Christmas festivities, as trees are decorated in different themes, styles, and fashions. This year, the Embassy Theatre, Indiana Historical Society, and Lanthier Winery will morph into winter wonderlands! First floor lobbies of the Embassy Theatre and Indiana Hotel in Fort Wayne will be transformed into a dream-world of 45+ decorated trees under the theme of Comfort and Joy.  The Indiana Historical Society's 2020 theme is Life is a Gift, with over 50 elaborately decorated trees representing individuals, families, and organizations from around Indiana. Lanthier Winery's Festival of Trees premieres Thanksgiving weekend and will display a forest of glittering and gleaming trees towering over guests.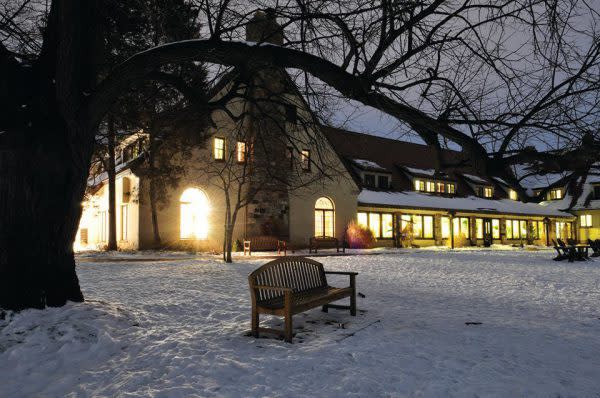 Potawatomi Inn at Pokagon State Park
Indiana's State Parks are full of adventure and natural wonder, even during the winter months! From toboggan runs and frozen waterfalls to delicious pies, they are the perfect place to get away this winter season. Choose from one of eight State Park Inns and experience a vacation like none other. And the best part, all of the inns offer pet-friendly accommodations, so you can bring your four-legged friend on your weekend away!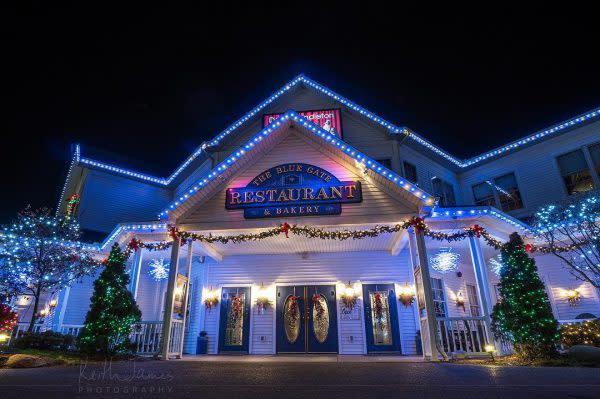 Photo by @indigokj on Instagram
The Holiday Light Parade has been canceled for this year, but Shipshewana is still an amazing place to visit throughout November and December. Shipshewana's Lights of Joy is a mile and half long drive-through with more than 2 million lights creating a symphony of colorful light scenes. When you arrive, tune your radio to the Christmas music broadcast and soak in the Christmas spirit! Blue Gate Theatre also has many socially distanced shows taking place this holiday season. The entire downtown shopping area in Shipshewana is always beautifully lit, and you can see the massive tree next to Shipshewana Furniture.
Plan your #The20IN20 trip by checking out the locations of Indiana's winter traditions below!