The Ohio River Scenic Byway winding through southeast Indiana is one of the prettiest drives in the country. The Byway follows the river through thriving small towns full of history and beautiful 19th century architecture. If you're a history buff, love great scenery and want a glimpse of another era, I'd suggest a road trip from Aurora to New Albany with stops at three historic mansions, all outstanding examples of life for the rich and famous in the 1800s.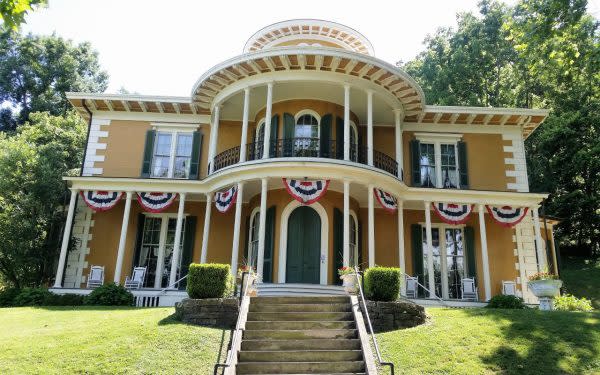 Hillforest Mansion
This Italian Renaissance beauty sits on a hillside overlooking the Ohio River in downtown Aurora. The first thing you'll notice is the impressive two-story front porch resembling the front of a steamboat. You'll see many custom steamboat-style features reflecting owner Thomas Gaff's involvement in the shipping industry. Hillforest was built for Thomas Gaff and his family who resided here from 1855 to 1891. I love the plasterwork, faux painting, all the furnishings and decor that actually come from Gaff descendants and the view of the river. The second-floor split staircase is my favorite.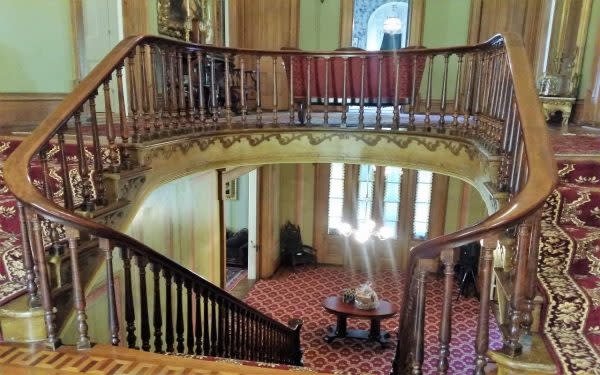 Love this staircase!
Take a Tour - Hillforest is open for tours from April 1 through December 30 from 1-5pm (last tour begins at 4:30) The first floor is handicapped accessible (if you need a wheelchair ramp - call ahead) and there is a video tour of the second floor so you don't miss anything! $10 Adults & Students over 13; $4 Children 7-13; Free Children 6 and under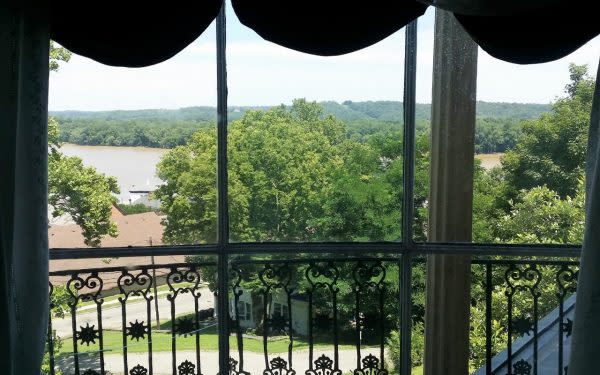 What a View!
ANN'S TIPS: Hillforest has a robust calendar of events for the whole family. Here are just a few examples - An Evening of Design & Wine, Lingering Spirits Paranormal Investigation, Teddy Bear Tea Time and Home for the Holidays Historic Tour. Check out the full calendar!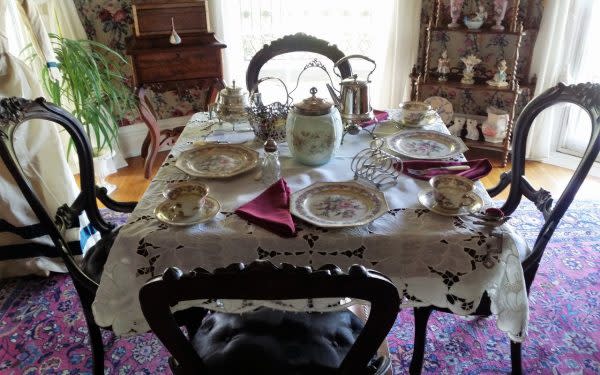 Ladies' Morning Room
If you have a group of 10 or more, you can make arrangements for Tea Time, a three-course tea served in the elegant parlor. My pinkie finger is standing straight out in anticipation!
Lanier Mansion State Historic Site, Madison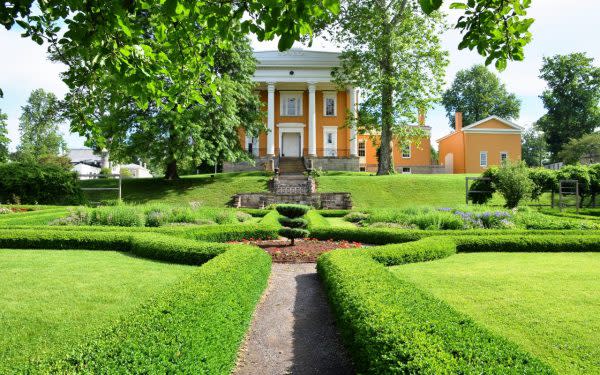 Lanier Mansion State Historic Site*
Built in 1844 in the Greek Revival style for financier James Franklin Doughty Lanier, Lanier Mansion is known as Madison's crown jewel. What surprises me about Lanier is the use of bold color and pattern: patterned wallpaper, patterned carpets, patterned window treatments - love it!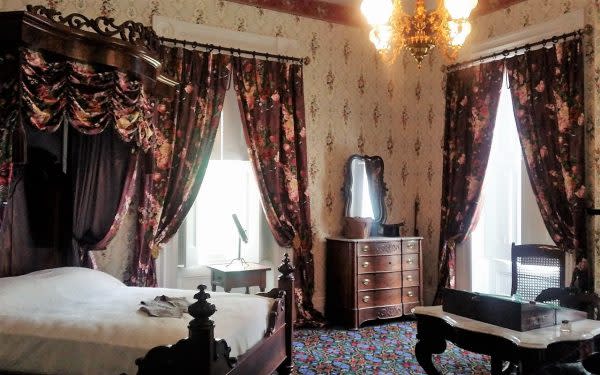 How many patterns can you count?
Lanier's beautiful moldings, trims and impressive columns seem to tie all the patterns together.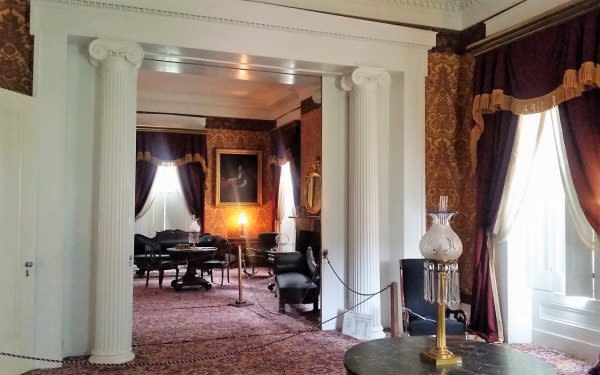 Beautiful
Check out the curved doors (they are a perfect fit - unlike my modern doors) and the spiral staircase. You'll be impressed. And notice the paint treatment on the first floor walls - there's a reason for this (you'll find out on your tour). Don't forget the formal gardens and great view of the Ohio River.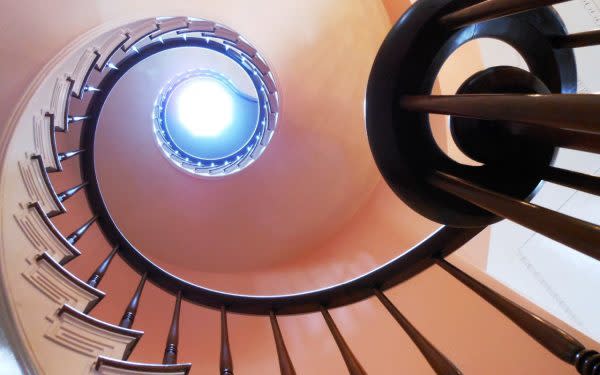 Look up!*
Take a Tour - Lanier is open year round, every day except some holidays. Guided tours are on the hour (in the am 9, 10, 11 and 1, 2, 3, 4 in the pm). $10 Adults; $8 Seniors 60+; $5 Children 3-17; Free Children under 3
ANN'S TIPS: If it's summer, check out Lanier's Music at the Mansion series. It's on the lawn so bring your lawn chairs, picnic and favorite beverage. It's the second Saturday of every month now through September, 7-9pm.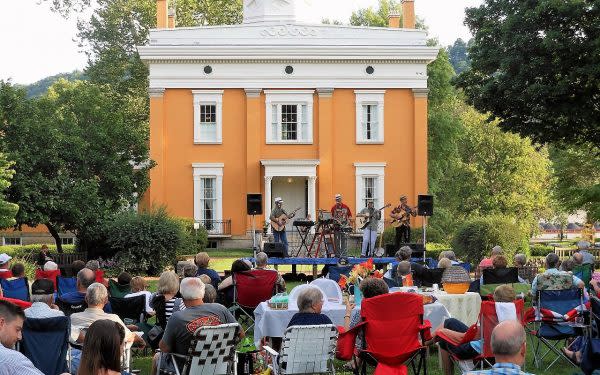 Music at the Mansion*
In September & October, you'll want to sign up for the Ghost Tours - a walking tour of 4 rumored to be haunted locations in Madison. The tour begins inside Lanier Mansion with a costumed guide. Reservations required. Call 812-273-0556.
Go where no tourist ever goes! Try the Behind the Scenes Tour on the second Saturday of every month, 4-5:30pm. Call ahead to reserve your spot.
SCOOP: I caught the wallpaperers finishing up the east wing kitchen and breakfast rooms. I hear they are getting ready to open them to the public in late August!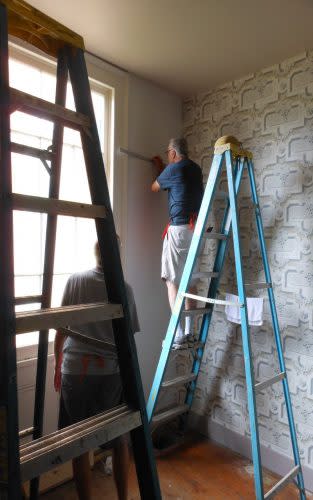 Hard at Work*
*photos courtesy of Lanier Mansion
Culbertson Mansion State Historic Site, New Albany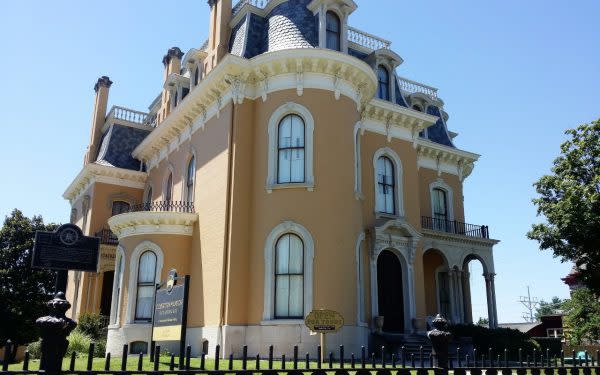 Culbertson Mansion State Historic Site
Built in 1867 in Second-Empire style for William Culbertson, renowned philanthropist and one of the wealthiest men in the state, Culbertson Mansion is a must see for decorative painters and art aficionados.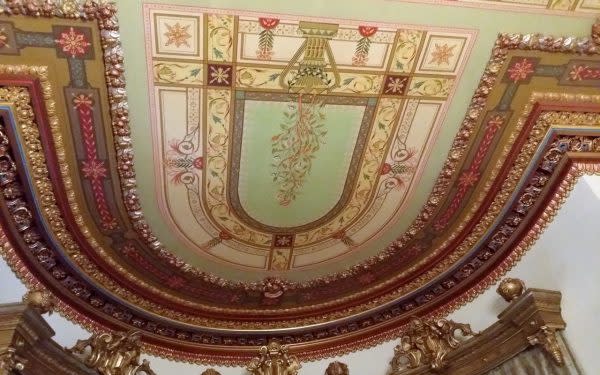 Amazing!
I was blown away at the decorative painting and plaster work; it is everywhere! I don't think there is an unembellished surface at Culbertson (20,000 square feet with 25 rooms) - the walls, ceilings, floors, doors – all beautifully painted; faux wood graining, trompe l'oeil and decorative.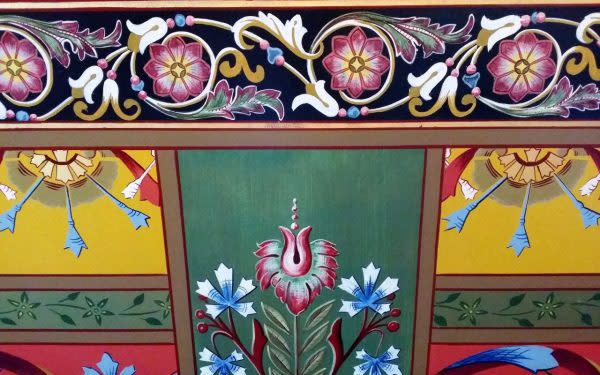 WOW!
This is a story of 2 wives, the reflection of their own styles during different time periods and amazing restoration. I have never seen anything like this!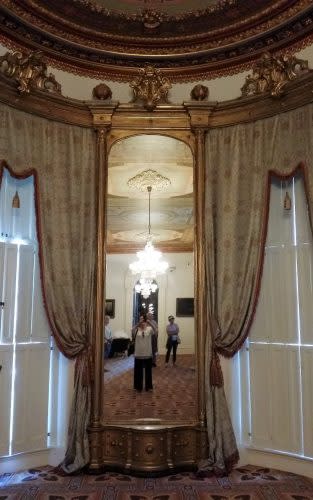 Take a Tour - Culbertson is open January-March, Mon-Fri 9am-5pm (weekends by appointment) and April-Dec, Tues-Sat 9am-5pm and Sun 1pm-5pm. Last tour begins at 4pm. Closed some holidays. $10 Adults; $8 Seniors 60+; $5 Children 3-17; Free Children under 3
ANN'S TIPS: Murder & mayhem seem to be popular at Culbertson Mansion, they host several Murder Mysteries and Clue Parties throughout the year. The next Clue Party (costumes encouraged) is August 18, 2017 and reservations are required. Call 812-944-9600 to reserve your spot. Play detective at The Christmas Murder Mystery, December 8 & 9, 2017 and/or The Christmas Clue Party on December 16, 2017.
For you ghostbusters, you really need to try Literally, A Haunted House on Fridays & Saturdays in October, starting at 7pm at the Culbertson Mansion Haunted Carriage House! And if you're very brave, spend the night at Culbertson Mansion Ghost Watch: A spooky night at the mansion on November 4, 2017. Over 18 only and reservations required.
For the more timid among you, Culbertson offers a Christmas Open House, December 2-3, 2017.
Find Places to stay and more things to do in Aurora, Madison and New Albany.