Attending school five hours away from home only means one thing for me when it comes to school breaks; road trips. Many times people complain about having to drive for hours, but I actually enjoy it. I love driving down the interstate singing along to my favorite country songs and picturing in my head all of the activities I'm going to do when I get home.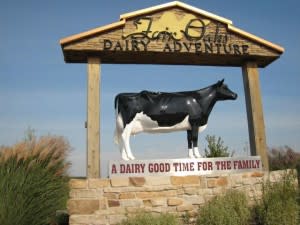 Road trips for me have always been a blast because we always determine a place for a "pit stop", as we call it in my family. A pit stop breaks up the drive and gives you something to look forward to when on the road. When adventuring home to Wisconsin, my favorite place to stop is right off of I-65, Fair Oaks Farms.
Fair Oaks Farms is not your typical dairy farm; it is an experience for the whole family, or in my case an experience for my friend and me. Upon driving up to Fair Oaks Farms, the little giddy girl inside of me appears. Every time I walk into the Fair Oaks Farms Café
I can't help but dream about the grilled cheese that has my name on it. Fair Oaks Farms has its own cheese factory, which makes for an extra special treat when diving into a delicious "Classic Almost Famous Grilled Cheese".
Fair Oaks Farms is packed full of activities for all ages to experience. It's a wonderful place to spend a day or to just stop for lunch at the café like I do. Check out the website to start planning a visit to Fair Oaks Farms!