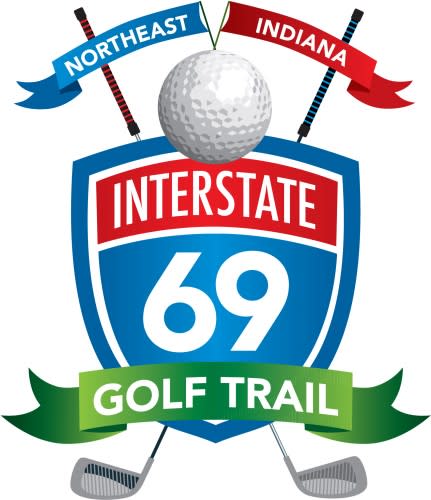 Work your way down I-69 to experience great golf in Northeast Indiana.  The I-69 Golf Trail is one way to take advantage of some of the premier golf courses in the area.  Travel south on I-69 and stop in DeKalb County, Fort Wayne, and Grant County and keep your travels above par.  Great Stay-and-Play packages allow you to play up to 72 holes in one weekend as you travel the courses of the trail.  These trail locations have some of the best golf courses in the region and lots of things to see and do off the course.
Come visit Auburn and DeKalb County and play at Bridgewater East Course and Bridgewater West Course.  The East Course was designed by Ernie Schrock and involves a great deal of water in the course.  The West Course opened in 1922 and is a great course for walking.  While you're in DeKalb County, visit the Auburn Cord Dusenberg Museum and other great attractions.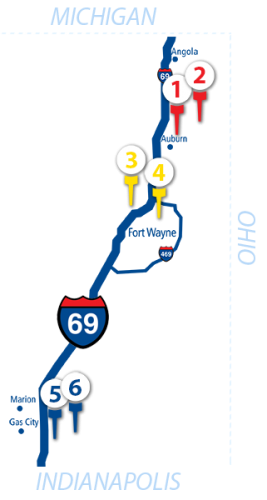 I-69 Golf Trail Golf Course Locations
Fort Wayne's stop on the I-69 Golf Trail features Autumn Ridge and Cherry Hill golf courses.  Autumn Ridge is a tranquil golf course that winds through one of Fort Wayne's most exclusive neighborhoods, while Cherry Hill has a signature island hole.  It has also been voted Fort Wayne's #1 public golf course.  After golfing, stop by the Embassy Theater to see an historic theater with great entertainment or attend a TinCaps game at Parkview Field.  Come dine in great downtown restaurants or visit the award-winning Fort Wayne Children's Zoo.
The last stop on the I-69 Golf Trail is in Grant County to play at Walnut Creek and Club Run courses.  Walnut Creek is a great golf course even for those who are not expert golfers.  There are two adjacent golf courses, so you don't have to travel far to play another game.  At Club Run, elements of the Hoosier landscape are included in the course, and a 1840s brick farmhouse stands as the pro-shop and golf museum.  In Grant County, don't forget to visit the Mississinewa Riverwalk for a stroll along the river.  If you're hungry, stop by The Potter's House for gourmet chocolate and gifts.
The locations on the I-69 Golf Trail are not far from many cities in Northern and Eastern Indiana, making a day trip to golf and enjoy local attractions and restaurants very easy.  You can also take advantage of package deals that include accommodations and golf at any of these six excellent golf courses.  For more information about the I-69 Golf Trail, click here.