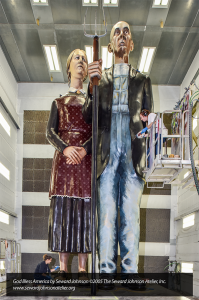 Seward Johnson's monumental sculpture, God Bless America, will tower over downtown Elkhart's Central Park this summer.
It's never been done before in Elkhart County and, really, only once anywhere in the world.
The Quilt Gardens and the downtowns of Elkhart, Goshen, Nappanee, Middlebury, Bristol and Wakarusa will be the site of the largest exhibition of American artist Seward Johnson's celebrated realistic life-size bronze sculptures, outside of his own personal retrospective.
The spectacular exhibit is comprised of 57 of Johnson's sculptures, depicting everything from everyday life to scenes from classic impressionist paintings to iconic American images, which will be sited at downtown businesses, parks and attractions as well as Quilt Gardens. The Seward Johnson exhibit is part of the Elkhart County Convention & Visitors Bureau's celebration of the Quilt Gardens' 10th anniversary.
It will all be topped off — literally — by the monumental-scale sculpture titled God Bless America. Johnson's interpretation of the well-known Grant Wood painting, American Gothic — at 25-feet-tall and 27,000 pounds — will tower over downtown Elkhart's Central Park.
The sculptures will be viewable to the public free of charge all summer and into fall, from May 30 to October 20, 2017. It's a great opportunity for families and friends to get together, explore the Quilt Gardens and downtowns, and take selfies with each of the sculptures. Many of the sculptures will be located at notable landmarks such as the Ruthmere Museum, Elkhart County Historical Museum, Elkhart County Courthouse and the Nappanee Pavilion. A map of the locations and more details on the sculptures can be found at EpicArtAdventures.com.
The public is also welcome to view the public installation of the God Bless America monumental-scale sculpture in downtown Elkhart on May 22. There will be designated viewing spots for people to take pictures and video of this 25-foot-tall sculpture being lifted into the air by a giant crane. The life-size sculptures will be installed throughout Elkhart County May 15-17.
"Public art brings so much vitality to a community. I'm excited for the many ways the Seward Johnson exhibition will bring together Elkhart County. We'll be able to enjoy our wonderful outdoor spaces and really see our downtowns and parks in a new light," said Brian Byrn, interim director and curator at Elkhart's Midwest Museum of American Art.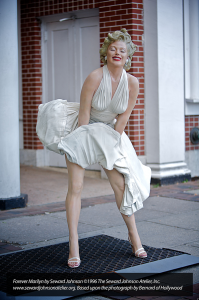 The Forever Marilyn sculpture is one of 57 of Seward Johnson's works that will be seen in Elkhart County this summer.
Byrn curated the exhibit, and the museum will be the host of a behind-the-scenes exploration of Johnson's creative process. It will be accompanied by one of Johnson's most recognizable pieces, Forever Marilyn. Both can be seen in the museum, also from May 30 to Oct. 20 (admission charges apply at the museum, except for Sundays).
The Forever Marilyn sculpture depicts actress Marilyn Monroe in the iconic scene from "The Seven Year Itch." That sculpture comes from Johnson's Icons Revisited series, one of three major series he has created during his 50-year career as a sculptor.
"This exhibition will be, above everything else, fun. But this is also a great reason for everyone in northern Indiana to explore our lively downtowns. There are so many fascinating stories here and we need to remind ourselves of that from time to time," said Diana Lawson, chief executive officer of the ECCVB.
Johnson began his career as a painter before turning to sculpture. He has long been considered one of the most widely recognized and popular sculptors of our time and his works have developed a large and loyal following. More than 450 of Johnson's life-size cast bronze figures have been featured in private collections and museums around the world and in prominent displays in places such as Times Square and Rockefeller Center in New York City, Pacific Place of Hong Kong, Les Halles in Paris, and Via Condotti in Rome. Johnson sculptures can be found across the globe in Kiev, Istanbul, Sydney, Osaka, Ibiza and Dalian, China.
A monumental scale sculpture of Johnson's is on display at Pioneer Court (Michigan Avenue at the Chicago River) in Chicago, and his life-size works have been on exhibition in recent years in Carmel, Crown Point and Warsaw. At 86, Johnson continues to add new sculptures to all of his series, this year working on Churchill painting at his easel for the Icons series, as well as Einstein playing chess.
Paula Stoeke, curator for the Seward Johnson Atelier, the foundation which owns the sculpture collection, said, "Seward Johnson is very much attuned to the experience of art in the landscape, and we know that this pairing of the Quilt Gardens, the Heritage Trail, the streetscapes and the art, will be outstanding."