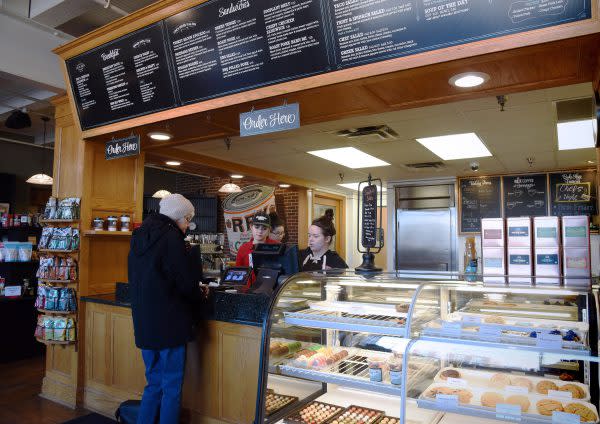 The aroma of warm sugar and fresh-brewed coffee meets you at the door of Indiana's only baking museum! Ladies and gentlemen, start your ovens! You have to visit this unique spot in Terre Haute.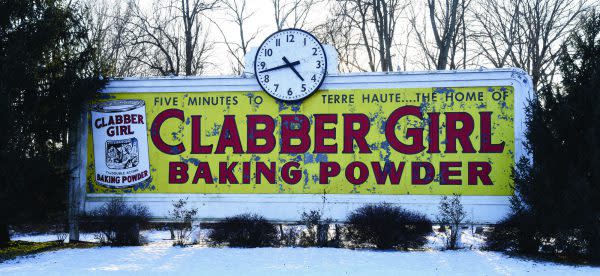 Clabber Girl Billboard, US 40, Terre Haute, Indiana
A visit to Terre Haute's Clabber Girl Museum is a step back in time to learn about the story of this historic Indiana company and taste some delicious treats!.
In an 1850''s kitchen, clabbered milk was mixed with pearlash (from hearth ashes) to leaven baked goods.
Clabber Girl Corporation's historic footprint grew from Hulman & Company. The wholesale grocery business was founded by Francis and Herman Hulman in the mid-1800's. Today the company boasts one of the most recognized staples in today's kitchens – Clabber Girl Double-action Baking Powder. The Clabber Girl Museum integrates the history of the Hulman family with the city of Terre Haute, two world wars, the Great Depression, and the development and rise of a lucrative little commodity called baking powder for home and industrial kitchens.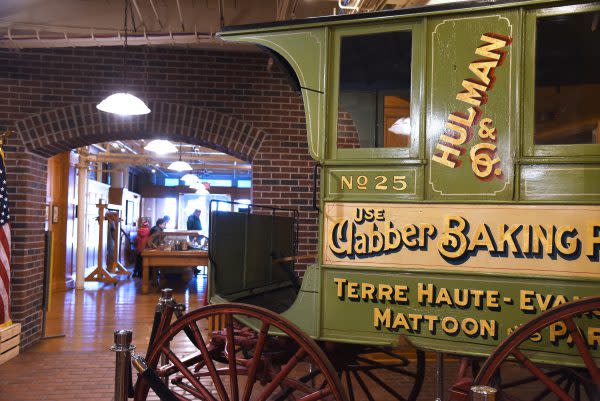 An original 1905-era horse-drawn delivery wagon
"Double-acting baking powder really changed everything," says chemistry professor Jeff Hansen of DePauw University. Hansen teaches a class in the chemistry of food.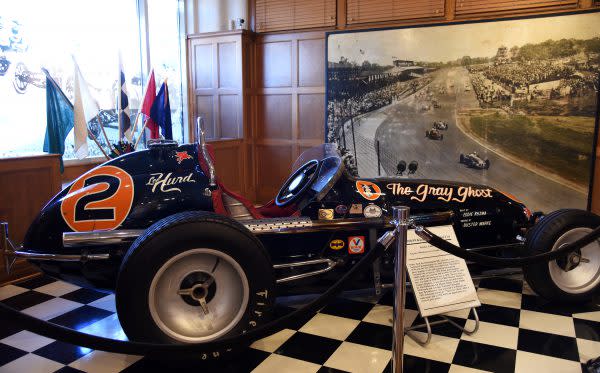 An auto racing exhibit greets museum guests.
The auto racing display is a nod to Tony Hulman, Jr. He bought the Indianapolis Motor Speedway from WWI flying ace Eddie Rickenbacker in 1945.  Some stories indicate he planned to use the venue to publicize Clabber Girl Baking Powder. The museum also features a Victorian parlor, grocery store replica, original company office fixtures and a saloon.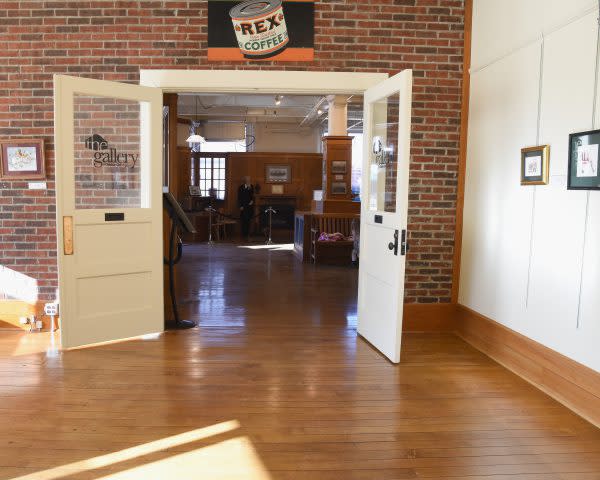 The community art gallery features local artists, including this exhibit of drawings by JoAnne Perigo Fiscus of Terre Haute.
The bake shop and café, store, community art gallery, gathering area and demonstration kitchen are bright, inviting spaces. Rex Coffee is roasted on-site. Drop by for a cookie or cup of coffee, meet friends for lunch or gather for first-Friday Chef's Nights.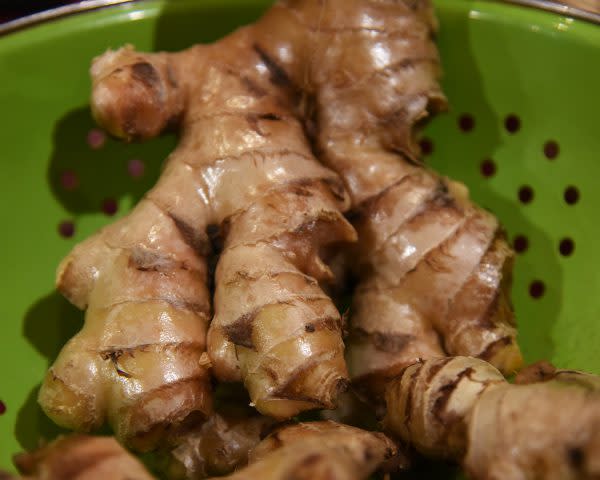 White Violet Center for Eco-Justice at Saint Mary-of-the-Woods, Indiana, sells certified-organic produce and other items at the Winter Farmer's Market and at the Center''s farm store.
The first-Saturday Winter Farmer's Market is a pleasant respite in cold weather – during the summer the market takes place in the west parking lot. Organic vegetables, fresh ginger and alpaca yarn are a few offerings from the White Violet Center for Eco-Justice. Daisy's Goat Milk Soap, teas, pottery and breads are a few of the regular vendor wares.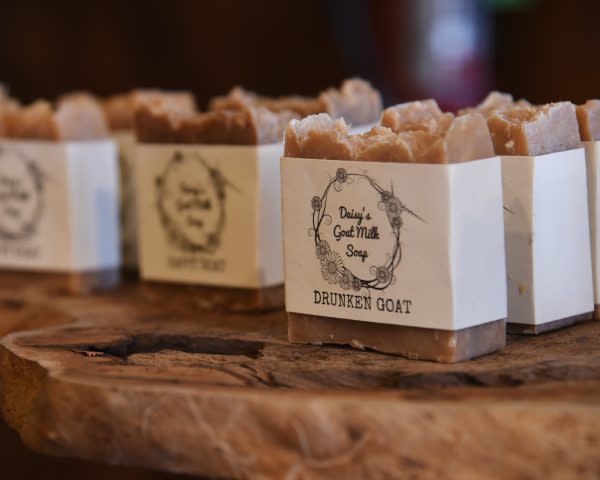 Daisy''s Goat Milk Soap owner Jamie Richey uses essential oils and ingredients like homemade blackberry wine for her wide array of soaps.
Fair warning: after wandering through the museum immersed in baking facts, pick up a fresh can of Clabber Girl Baking Powder on the way out. You'll want to go home and bake!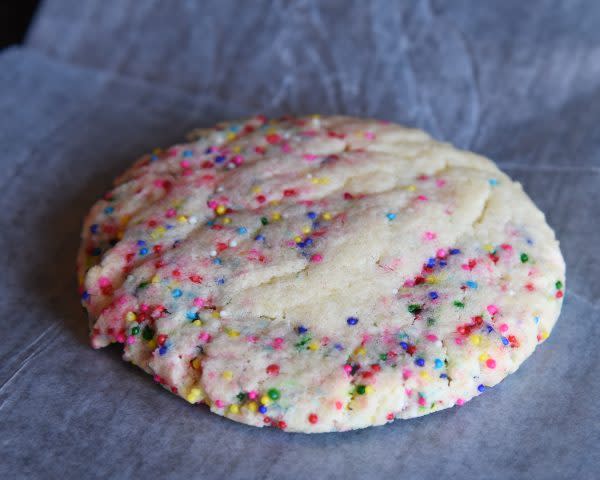 Almond Sprinkle Sugar Cookies are made with company products Nielsen-Massey pure almond extract and Clabber Girl baking powder.
The Clabber Girl Museum is free. Wander through the exhibits on your own, or­­ schedule a guided tour. The museum is open weekdays 8-5 and Saturdays 8-3. The Bake Shop Café is open weekdays 6:30-3 and Saturdays 8-3.  Address: 900 Wabash Ave, Terre Haute, IN 47807­­ Phone: (812) 232-9446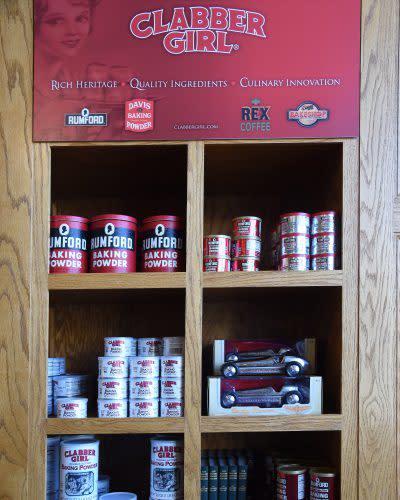 Clabber Girl products for sale in museum shop at the Clabber Girl Museum in Terre Haute, Indiana.