It seems like it was just a few weeks ago that I was writing about the Beef & Boards Christmas special, looking forward to last year's performance. Here it is a couple days before I get to attend again, and I've realized this is the fourth or fifth time I've previewed B&B's Christmas special (it's their 22nd year), and I get just as excited every time.
Every year, Kenny Shepard and Deb Wims dance and sing, and welcome the crowd. Every year, there's music and dancing, and good food. Every year, I get a little verklempt whenever we sing "Silent Night" or "O Holy Night" (or both), and I'm glad the theatre is dark.
This year, we'll be treated to performances from Bobbi Bates and Peter Scharbrough, who return from last season's production; Heather Patterson-King, who was Mrs. Banks in their show, Mary Poppins, and Christmas Special rookie Matt Branic will round out the feature quartet. The featured vocalist is Kendra Lynn Lucas.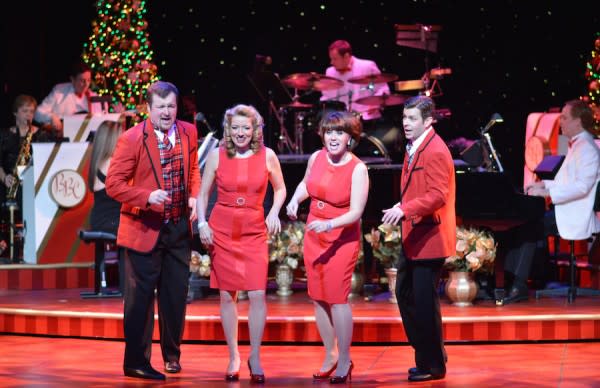 Peter Scharbrough, Heather Patterson King, Bobbi Bates and Matt Branic perform Jingle Bell Rock
Santa will take a break from all his other appearances — the Vevay, Indiana Christmas Kick-Off, the Santa Claus, Indiana Christmas Celebration and even appearances at the Indianapolis Zoo — to take the stage and do some singing of his own. Your kids can even get pictures with him at intermission.
Of course, no Beef & Boards performance is complete without the buffet by Chef Odell Ward. Doors open at 6:00 pm, and dinner starts at 6:30 pm.
There are only 30 performances of the show, from November 28 through December 23 (including weekday matinees on December 3, 4, 10, 11, 17, and 18, plus Sunday evenings on December 7, 14, and 21). Tickets range from $38.50 to $63.50, and include the holiday buffet, and select beverages. Parking is free.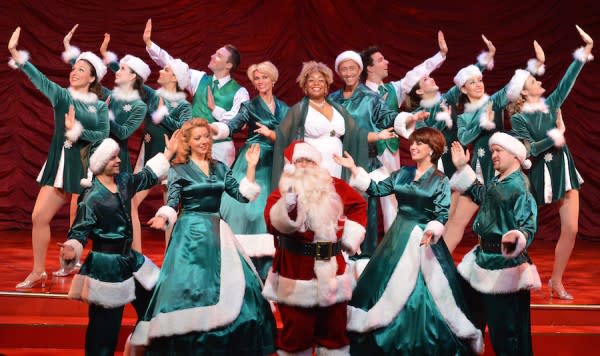 A Beef & Boards Christmas 2014
To make reservations, call the box office at 317-872-9664, anytime between 10 am – 7 pm Tuesday through Sunday, and 10 am – 5 pm Mondays. You can also visit the Beef & Boards website for more information.