It's a rare event for Beef & Boards Dinner Theatre to do a regular play with little to no singing. But when they do, it's always a special treat for me. This year, Beef & Boards kicked off their upcoming 2014 season with the romantic farce, Lend Me A Tenor. A couple years ago, they pulled out one of my favorites, The Foreigner, which I thoroughly enjoyed. And after seeing Lend Me A Tenor for the first time, it's one of my new favorite comedies.
It already plays like a classic, like The Foreigner, which is surprising, given that the play was actually only written in 1999 — making it a mere toddler among other classic stage comedies. But it already has the hallmarks of a classic: the play has already won three Tony Awards and two Drama Desk Awards.
Ken Ludwig's play is about the burgeoning opera scene in 1930s Cleveland — because if there's one place you think of when you think of burgeoning opera, it's 1930s Cleveland — and the disaster that threatens to befall it if opening night doesn't go just right.
World-famous singer Tito Morelli is set to perform with the Cleveland Grand Opera Company, but things don't go well when Tito seems to have, well, died just a couple hours before his performance. The general manager, Mr. Saunders, and his assistant, Max, try desperately to save the performance, the company, and their lives as they come up with a solution, or at least a scheme, to get them out of this mess.
Max is also trying to overcome his reputation of being an unromantic bore as he tries to win the heart of his boss' daughter, Maggie. Problem is, Maggie only has eyes for Morelli, who is constantly battling with his jealous harpy of a wife, Maria. Throw social celebrity climber Diana into the mix, and Max is going to have his hands full just trying to keep everyone away from Tito who's struggling — was struggling — with the fact that his Maria left him over an innocent misunderstanding.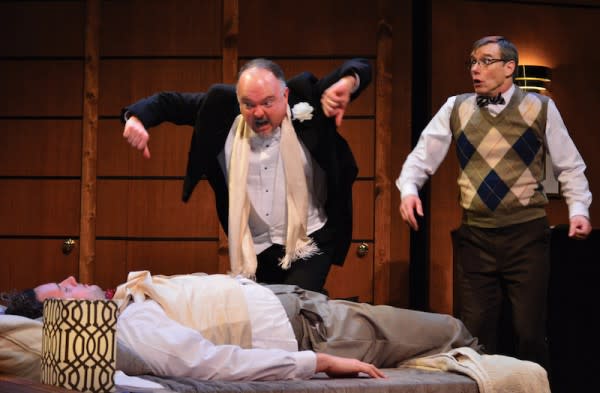 Mr. Saunders is slightly annoyed with Tito Morelli in Beef & Board's "Lend Me A Tenor."Throw in a little love, a little miscommunication (actually a lot of miscommunication), and some opera (Morelli and Max perform a little duet for us in the first half), and you have an outstanding play that will be performed for decades to come.
"Tenor," as I'm sure they call it in "the biz" (at least, that's what I tell myself so I'll feel cool), stars many Beef & Boards favorites, including Eddie Curry as Saunders and Jeff Stockberger as the star-struck bellhop, as well as returning veterans Craig W. Underwood (Morelli), Jill Kelly (Maria), Erin Cohenour (Diana), David Schmittou (Max), and Erin West (Maggie). These veteran performers have graced B&B's stage many times in the years past, and they bring years of acting chops from around the U.S. back to Indianapolis for one of my new favorite plays.
The rest of the season looks just as power-packed as the first month. Lend Me A Tenor runs until February 2. From there, the rest of the season sees some old favorites, as well as a couple new performances:
Cats - Feb. 6 – Mar. 30
Anything Goes - Apr. 3 - May 11
Mary Poppins - May 15 - June 29
The Church Basement Ladies: A Mighty Fortress Is Our Basement - July 5 – Aug. 17
Oklahoma! - August 21 – Oct. 5
Fiddler On The Roof – Oct. 9 - Nov. 23
A Beef & Boards Christmas 2014 - Nov. 28 – Dec. 23
A Christmas Carol 2014 – Dec. 6 – Dec. 22 (Select dates only)
You can find more information about the upcoming season, as well as ticket information, at the Beef & Boards website.