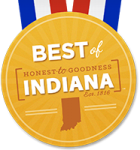 With over 22,000 votes, the results are in for Visit Indiana's Best of Indiana Fall awards. Hoosiers were asked to select Indiana's Best Winery Experience, Best Waterfall and Best Music Festival. The winners are:
"We had a record number of people vote online this year, showing that Hoosiers love their state's natural beauty, great agritourism destinations and fabulous festivals," said Mark Newman, Indiana Office of Tourism Development Executive Director. "We had over a hundred terrific nominees and all of them are worth a visit."
Newman appeared on FOX 59 Morning News to announce the winners. You can watch that clip here.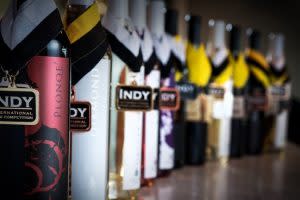 Two-EE's Winery. Photo by House of Public Notice Marketing
Nestled on a hillside in Huntington County, Two-EE's Winery is a relatively new vineyard. It was established in 2013 by Eric and Emily Harris. Eric is the head winemaker and within the first 18 months of opening, he was recognized twice as a rising star of his trade. Voters had many other award-winning wineries to choose from and they named Two-EE's Winery in Roanoke the Best Winery Experience in Indiana. Oliver Winery (Bloomington) and Country Heritage Winery and Vineyard (LaOtto) rounded out the top three. View the top ten here.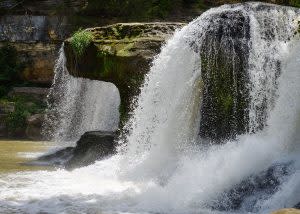 Cataract Falls photo by Jonathan Balash
Waterfalls are one of nature's most beautiful attractions and online voters named Cataract Falls near Cloverdale as their favorite. Located on Mill Creek, an upper and lower set of falls combine to create a cascade of water, dropping 86 feet. The view from Cataract Falls Covered Bridge is picturesque. Other top vote-getters in this category were Big Clifty and Tunnel Falls at Clifty Falls State Park (Madison). Indiana is home to more than 100 waterfalls and the winter and spring months reveal these natural wonders at their best. View the top ten here.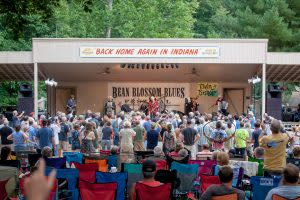 Bean Blossom Blues Fest photo by Thomas Dove
From blues to folk, music fans have spoken. Bean Blossom Blues Fest started as a small gathering for harmonica musicians and now brings the best in blues to the lovely rolling hills of Brown County. The festival is three days of big-name performances. Indiana is known for having a lot of festivals and the competition was close in this category. Voters picked the free, one-day, Ferdinand Folk Festival as their second favorite music festival, followed by the Hyperion Music and Arts Festival in Spencer. View the top ten here.
Nominees for all three categories were recommended by members of Indiana's travel, tourism and hospitality industry. The public could vote for up to five nominees in each category. VisitIndiana.com/Fall is a companion site to VisitIndiana.com, the official state travel website where discounts, trip ideas and helpful tips are easily accessible.