Indianapolis is one of the greatest sports cities in the United States, and no more was that on display than this weekend with the 2013 Big Ten Football Championship game in town. The Ohio State Buckeyes and Michigan State Spartans met Saturday night at Lucas Oil Stadium to wrap up a weekend of festivities around downtown.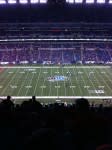 The 2013 Big Ten Football Championship Game was played in Indianapolis on Saturday, December 7.
Saturday night's crowd at Lucas Oil Stadium was the largest since Super Bowl XLVI was played there in 2012. Buckeye fans and Spartan fans packed in to cheer on their teams, and the game did not disappoint. Georgia Street, a three block stretch of outdoor gathering space in downtown Indianapolis, was turned into an outdoor fan gathering area featuring live music, plenty of beer and great atmosphere. Fans were packed up and down the street. Every once in a while, a chant of "O-H-I-O" or "Go Green, Go White" would erupt from the masses.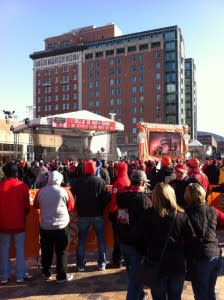 ESPN's College GameDay was broadcast nationally from Indianapolis, home of the 2013 Big Ten Football Championship, Saturday morning.
Not 25 yards from Georgia Street is Pan American Plaza, home to ESPN's College GameDay on Saturday. The nationally televised show featured many camera shots of Indianapolis and included many of the things that make Indianapolis unique, including the famous shrimp cocktail from St. Elmo's Steakhouse.
The atmosphere found downtown during one of these large sporting events is unmatched. Fans representing both teams, Indianapolis natives down for the day and many others all make up the thousands that descend upon downtown. Not to be overshadowed, hundreds of volunteers worked behind the scenes to ensure things ran smoothly and all enjoyed their experiences.
The Big Ten Football Championship Game returns to Indianapolis in 2014. I have been lucky enough to attend all three championship games in Indianapolis. A great atmosphere, wonderful experience and good football await all those that attend. Any sports fan out there should add a trip to Indianapolis and the Big Ten Football Championship to their bucket list.
"Hoosier Hospitality" was truly on display this weekend. I would encourage all of you, sports fan or not, to come visit Indianapolis and see what the city has to offer. From the fine art displays at the Conrad Hotel and The Alexander Hotel to the NCAA Hall of Champions, Indianapolis has something to offer many different audiences.