Most people only know Bloomington for Indiana University, basketball, and what's ever on the main strip, but if you travel just off the beaten path you'll find all of the delicious hidden treasures that Bloomington has to offer.  Bloomington's very own local food tour, Bites of Bloomington, is here to show you the way. Here's a little bit about the tour and the delicious food you'll find along the way.
The Tour
Bites of Bloomington holds weekly tours on Saturdays from April through November, and also offer private group tours. On the tour the local guides will take you off the tourist trail so you can experience Bloomington's architecture, food, and wine, just as the locals do. On the tour you'll visit diverse and ethnic restaurants, a winery, and learn about Bloomington's history. If the five star reviews on Trip Advisor and Yelp aren't convincing enough, maybe the exclusive restaurant recommendations and coupons given out at the end of each tour will convince you. Here's a little bit about each place along the tour:
Turkuaz is a mediterranean and Turkish restaurant famous for their authentic cuisine, friendly staff, and , of course, their famous pides. A pide is a Turkish style flatbread, a lot like pizza, that contains cheese, meat, and vegetables and is typically cooked in a brick oven.
The name may have sweet and bakery in it, but Sweet Claire's is famous for their savory dishes along with their sweet ones. Most raved about here are their Czechoslovakian kolaches and Babka rolls.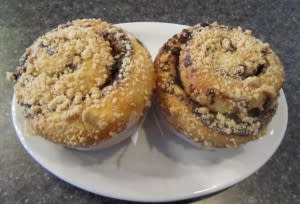 Sweet Claire's Bakery Babka rolls
Baked! takes cookie baking to the next level. Inside each cookie is a surprise of fillings ranging from a Kit Kat bar to craisins. Don't want the surprise? Make your own by choosing your dough and fillings. Create your ideal cookie at Baked! of Bloomington.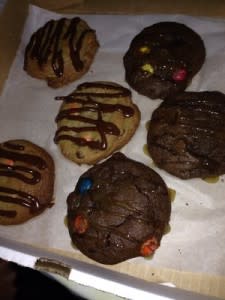 Baked! of Bloomington cookies
The Chocolate Moose is famous for their homemade and delicious regular and vegan ice cream. With the ability to get scoops of many different flavors, you won't have to decide on only one. You can also get a blueberry sundae or a frozen banana dipped in chocolate! How cool is that?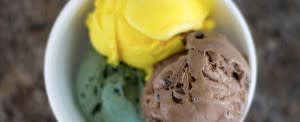 Chocolate Mousse ice cream
Get the chance to sip wine samples at Oliver's downtown wine bar location. All wines are locally grown and bottled so you can feel good about every last sip.
Pop in for a taste of delicious gourmet popcorn made from the finest ingredients. Flavors include caramel, caramel pecan, cheddar, white cheddar, caramel and cheese mix, and snickerdoodle.
Details
The tour typically lasts three to three and a half hours and costs $47 per adult. The tour capacity is 10, and all guests must be over the age of 21. Be sure to wear comfortable clothes and walking shoes!