This annual shopping event features independent artists, crafters and designers from across the Midwest who make jewelry and clothes, home decor, art and more.
The market is juried, meaning that artists apply to be a part of it. Halliday says she and the other organizers select independent artists who bring modern, contemporary flair to traditional types of art. You might find a framed piece of cross stitch, but it'll have an irreverent, snarky saying that makes you laugh.
This year's event features 54 vendors, and more than half are new to the market. Here's just a sampling of what you'll find at the Bloomington Handmade Market:
Rustic six-pack holders from Bloomington's The Wood Frog and crayons in all sorts of fun shapes from Fishers' Art 2 the Extreme:
Indiana-themed cutting boards from Dickinson Woodworking in Greenfield and apparel from Sunday Afternoon Housewife in Indianapolis: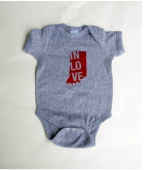 And because shopping works up an appetite, two Bloomington food trucks, Bea's Soda Bar and Gypsy Moon Nosh Wagon, will be right outside.
Whether you want to get a jump on holiday shopping or you're interested in a little retail therapy, the market is worth the trip, especially if you're on the hunt for something different that can't be found in chain stores.