Home to Indiana University's Jacobs School of Music, it is no surprise that Bloomington is a weekly hot spot for jazz. Bear's Place Ale House may look small from the outside. Big music awaits as you walk through the dining room booths and head to the back room on Thursday nights!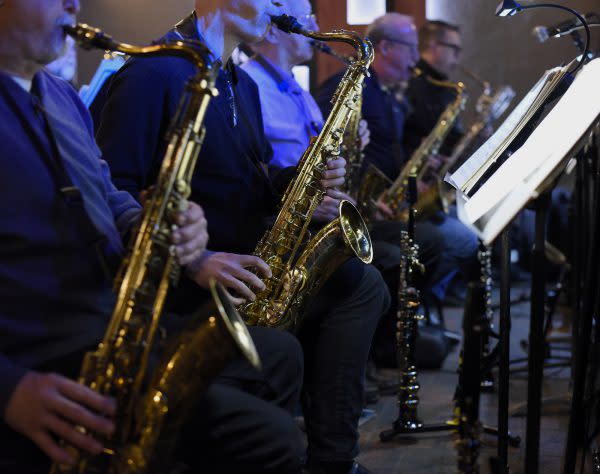 Bear's Place hosts "Jazz Fables" every Thursday night. The long-running series features jazz musicians "who may not be household names but who are playing at the highest level" says host/promoter Dave Miller. "Jazz Fables" began in September of 1989 as a house band, with jazz great David Baker as the first guest.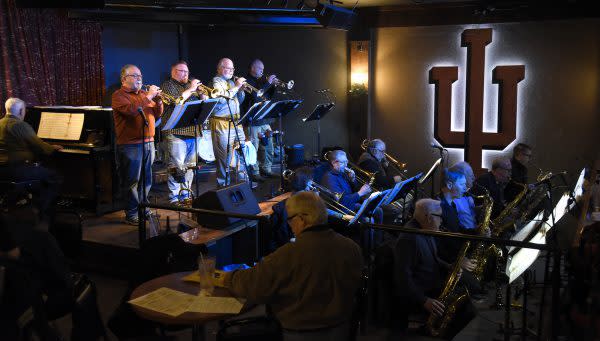 The Al Cobine Big Band
The Al Cobine Big Band, directed by Mike Lucas on piano, plays the "Jazz Fables" series several times a year. The band has been part of Bloomington's jazz scene since 1955. Lucas has been with the band since 1963. "Mike has the book" of big band standards arranged by the late Cobine, says long-time band saxophonist Randy Salman.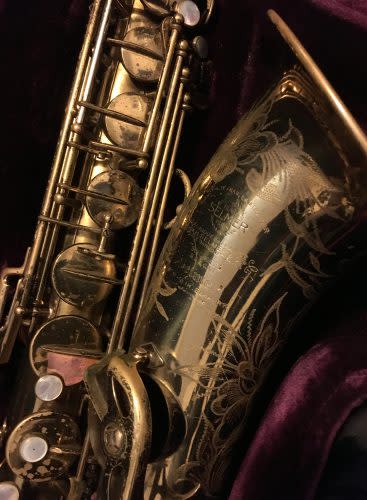 Sweet strains like "Georgia" by Bloomington's Hoagy Carmichael permeate the room. Other tunes on this particular night included Cobine-arrangement standards like "That Old Feeling," "Rhapsody in Blue" and "I'm Always Chasing Rainbows." The smooth, lyrical, wandering tones of trumpet and trombone, sax and clarinet, piano and percussion gave the crowd two-and-a-half hours of sheer joy.
Miller and his 14 band members ended the evening with a Cobine arrangement of "Miles of Blues" followed by "How Insensitive."
Food and drink
Order pub food and choose from a nice selection of beers and "frosty libations." Once the music starts, relax and enjoy! The setting is intimate and the band is close, just like you might experience in a big-city jazz club. Acoustics are great and while you can hear to talk, you won't want to miss a single note.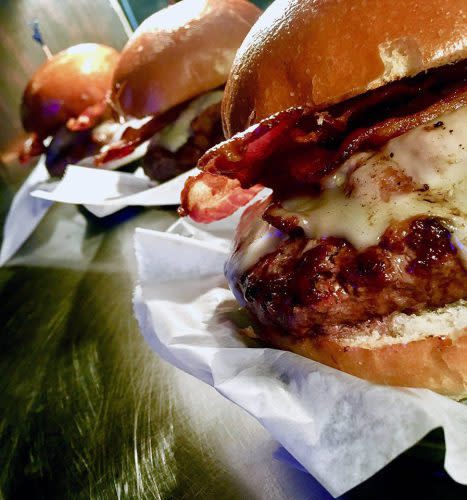 Bloomington's Jazz Scene
The Bloomington jazz scene is a mix of Indiana University Jacobs School of Music students, faculty, international world-class artists and jazz clinicians passing through town. Stop in at Bear's Place and you might hear traditional Dixieland, bebop, hard bop, Latin Jazz or tributes to jazz greats like Art Blakey and Nancy Wilson.
The cover charge for "Jazz Fables" is minimal. The music is big, the musicians are phenomenal and the experience is electric, bringing crowds back week after week.
Other events at Bear's Place include Open Mic Comedy on Mondays, Songwriter's Showcase on Tuesdays and Ryder Films on Sundays.