You may know I visited two of the four commercial caves in Indiana while in Corydon a few weeks ago. On my way home, I made a stop in Bedford to visit a third - Bluespring Caverns. (Now I just have Marengo Cave on my list, but that's for another day!)
If you haven't been to the caves before, you will be amazed by how different each one is. My favorite story at Bluespring was right at the entry point.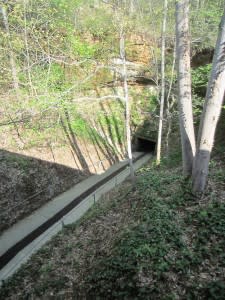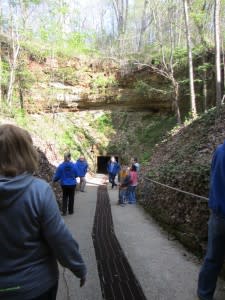 See, years ago, where we were all standing used to be a pond on a farmer's property. One morning he woke up to the water being gone - it all went down the opening of the cave. He was quite concerned with what might be down there, so he boarded it up, and it stayed that way for years. Only after it had been explored thoroughly did it open to the public.
The beauty of this cave is that the entire tour takes place on a boat. It is a HUGE underground river, and the only lights are the ones on the boat. Look ahead - dark. Look behind - dark. It certainly adds to the experience. There were areas where you had to duck your head because it was so low. And areas where our guide informed us the water was over 20 feet deep ... kinda hard to imagine! But it was beautiful. The gift shop offered an assortment of fun trinkets and treasures. We picked up a popcorn rock and had fun watching it grow after three weeks!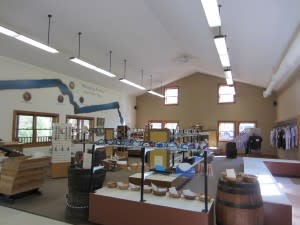 If you are feeling adventurous ... there is a half-mile adventure trail adjacent to the caverns. And if you are feeling even more adventurous ... sign up to spend the night in the cave! Can you even imagine? They did tell us you have access to working toilets.
A great adventure and another bucket list item to check off. For more information on Bluespring Caverns and everything else there is to do in the area, be sure to visit Lawrence County Tourism.