For years (and I do mean years) folks have been talking to me about Bonge's Tavern. Located almost an hour north and a little east of Indy this place is out in the sticks. Perkinsville, Indiana. Never heard of it? I'm not surprised. But, what you find there is amazing food, eclectic atmosphere and no matter who you are with ... a great time.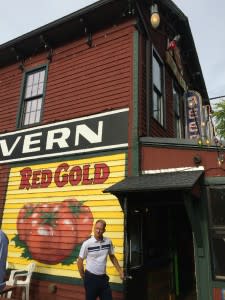 Now is a good time for me to tell you that part of the experience is arriving early, waiting for your table and hanging out in a sort of tailgate fashion. Drinks flowing, conversation going and fun being had. It may seem odd but this is what everyone does. Trust me.
Then, you enter ...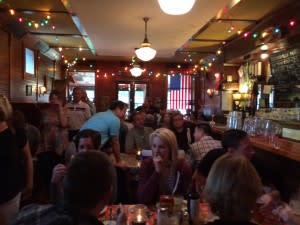 It is hopping, vibrant and energetic. And just a heads up:
You have to be 21 to enter.
You can only get reservations if your party is over 10 people (which we were and got a special room).
They are closed Sunday and Mondays.
And it is pronounced Bun-gees (soft u, hard g).
But now the food ... oh the food (excuse the blurry food photo because I was drooling!).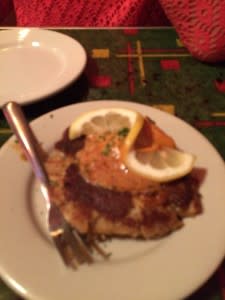 They have these chalkboards that show their feature items. The first three or four items are always in rotation (stuffed duck with cream cheese, Perkinsville Pork, New York Strip), but then there are the special items. Fish flown in that day, Bayou chicken and Berkshire Pork. We all had our pieces narrowed down until the waiter went through the others and then it was up for grabs. Lucky for me, I was with a party that likes to share.
After stuffing ourselves full, the waiter mentioned dessert. I didn't think I had it in me until he said "sugar cream cake". What? Not pie? That is what Indiana is known for. But this, friends, was out of this world. Think sugar cream pie on top of cake. Our table ordered both options ... one with blueberries and one with chocolate and cherries (pictured here) and another order of some deliciousness that had chocolate and caramel.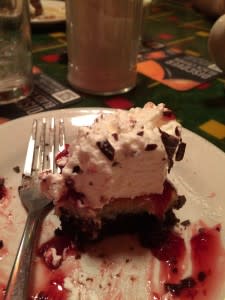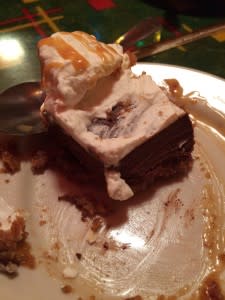 This is without me even mentioning the drinks (I got a margarita wine - yep and it was good). So yummy.
We left full of food that was out of this world and unexpected at a place so ... well ... rural. But, I'm here to tell you that it is a must stop for all foodies. Bonge's. Don't forget it.
Interested in more places to eat and drink in Indiana? Find more options here.