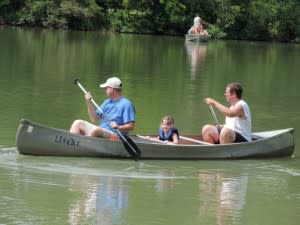 I am a far cry from am Olympian. But there is an event this weekend in which I might feel like one and even earn a medal!
Ouabache State Park in Wells County is hosting its third annual Ouabache Olympiad event on Saturday, August 2 from 8 a.m.- 6 p.m. There are scheduled events in which you and your entire family or group can participate and enjoy—and win!
The very best part – at least from this adult's POV – is that the entire day is FREE! The only thing you have to pay for is $5.00 entrance to the park property ($7.00 if out-of-state).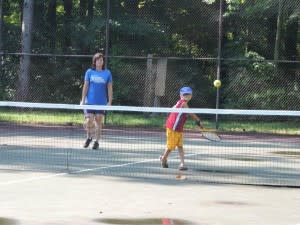 The Olympiad events include canoeing, running/walking, tennis, archery, cycling, swimming, playing volleyball, basketball and air-rifle shooting, hiking and climbing the fire tower.
The great thing you can participate in as many of the events as you wish individually or as a group. If your group participates in all ten events, you'll be awarded a Gold medal at the end of the day!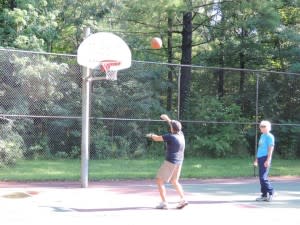 Groups that participate in 5 events will earn a bronze medal. Those that participate in 7 events will earn silver.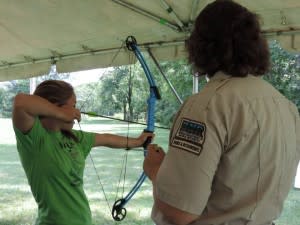 Here's a breakdown of the day:
8:00 a.m. Registration & Team Picture
Location: Pool Lawn under DNR tent.
Pick-up event punch cards, sign-up for Ouabache Olympiad events and pose for team picture.
8:45 am Opening Ceremony.
9:00 am – 9:30 am Run/Walk
Location: Lakeside Shelter.
Walk or run 1 mile around Kunkel Lake. Event cards will be punched at Lakeside shelter at end.
9:30 am – 11:00 am Archery (9:30 am - 10:15 am) and Air Rifle Shooting (10:15 am - 11:00 am)
Location: Pool lawn under DNR tent. Event cards will be punched after you shoot.
Note: This is held at a specific time due to limited supplies.
11:00 am – 11:45 am Swimming
Location: Park pool
This is a sweet deal— the traditional pool entrance fee is waived between 11:00 am and 12:00 pm for Olympiad participants! Participants must provide their own swim suit. Event cards will be punched upon exiting the pool.
12:00 pm – 12:45 pm Cycling
Location: Entrance south of the campground. Bring your bike or use one of the park's bikes.
Regular cruisers, children's, tandem, and 3-wheeled with baskets are available.
1:00 pm – 2:30 pm Basketball, Tennis, and Volleyball
Location: Pool lawn. Your group will compete against other groups in this friendly set of games.
These will be quick games if trying to earn all three sports. Cards will be punched at the end
of each game.
3:00 pm – 4:00 pm Canoeing
Location: Boathouse by lake. Pick up a life jacket and paddle and canoe around the island. Cards will be punched back at shore.
5:00 pm – 6:00 pm Hiking and climbing the fire tower
Location: Fire tower by bison pen.
Hiking around the Bison Pen and climbing the 105-step historic fire tower are some of the best features of Ouabache State Park (have I said this is my hometown park and so I know the exact number of steps after many trips up?).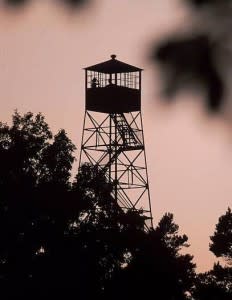 Take a minute to catch your breath at the top and look around for a great view, then trek back down and get your event card punched at the bison pen shelter. And don't forget to look for the baby bison born this past spring!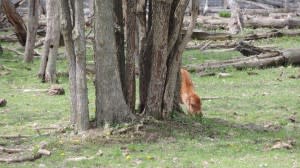 6:00 pm Closing Ceremony & Awards
Location: Pool Lawn under the DNR tent.
Gather with other groups for awards and the closing
ceremony to extinguish the endurance flame for the Ouabache State Park Olympiad!
Registration is requested. To register or for more information call 260.468.2127
Picnic tables abound in this relaxing, shady area so plan to pack a lunch. Or for those of you who are really outdoorsy, make a campsite reservation at camp.IN.gov and spend the weekend.
The Olympiad is sponsored by the Upper Wabash Interpretive Services and they're making it as easy as possible to encourage groups of all ages to get outside and have fun while spending little $$! Take your family or a group of friends and challenge yourself!
Note: If the weather looks uncooperative, check the DNR Facebook page or DNR website to check the status of the Olympiad: www.in.gov/dnr/uwis.
4930 E St Road 201
Bluffton
The End