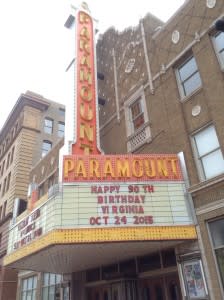 As part of our goal to get to know parts of Indiana that were new to us my husband and I traveled recently to Anderson in the central eastern part of the state.
We had always stopped at an Anderson exit on our way south off of I69, but this was our first opportunity to get to know the city of approximately 55,000.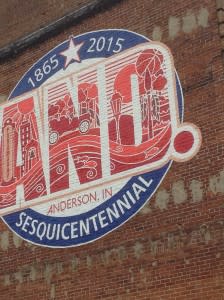 For a mid-sized city it has a good selection of attractions. And it's celebrating a birthday!
From Mounds State Park to Hoosier Park Casino and Anderson University, this is a diverse community celebrating 150 years in 2015.
Knowing we could not (but wanting) to do it all, we chose to attend a handful of events during our overnight stay. As is true for most places in Indiana, we could easily return to Anderson another day to finish the list. I'm grateful for the state's road system that allows us to easily get around.
We started with a tour of the historic Paramount Theatre in downtown Anderson. This building was constructed in 1929 and is listed on the National Register of Historic Places.
You may not be able to tell but the marquee stands 43 feet tall and 86 inches, seven feet taller and 17 inches wider than the original which was removed in the 1970s due to deterioration.
Inside was a dream of a venue. I've never seen anything like it in a theatre. It was like stepping into another world—maybe someplace in Spain.
The building was designed and built in the 1920s by architect John Eberson. He created a Spanish courtyard design inside the Paramount with details of elegant sculptures along the walls and a graceful trellis filled with floral and ivy. Colored lights shone on the structures surrounding the cushioned seats.
It was the image of a romantic night sky complete with hundreds of twinkling stars and mystical clouds that really caught my attention.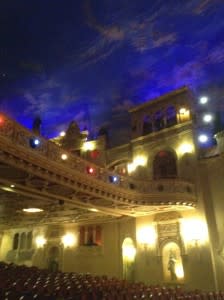 It appeared as though the roof of the theatre had been removed and I was viewing the outside sky, blue and filled with clouds and stars.
Honestly, I don't know if I could focus on a stage event while seated in such a place. I'd be distracted by the beauty around and above me rather than focusing on the entertainment in front of me.
The balcony is no less decorated, making the seating number around 1,700.
Thankfully, when this place was nearing the wrecking ball after years of neglect, the community banded together to save it. They are to be commended for such a gallant effort.
If I could time my return visit, I'd do it to coincide with the upcoming Christmas Festival of Trees to be held here from November 28 – December 5. It surely would be a breath-taking experience.
After our tour concluded, we checked into the Holiday Inn Express on Scatterfield Road.  It was classy and the desk help was efficient and friendly.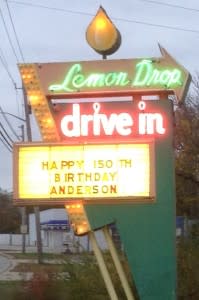 That evening we drove to another one of Anderson's icons, but of a different nature than the Paramount.
The Lemon Drop (1701 Mounds Rd, 765.644.9055) in Anderson is the kind of place you will feel comfortable and welcomed any time of the day. It is a small diner that had been recommended to us by a local.
My husband loves diners and so we spent an hour inside. It was crowded on a Friday night but after waiting 10 minutes two bar stools were freed up and we slipped in among the crowd.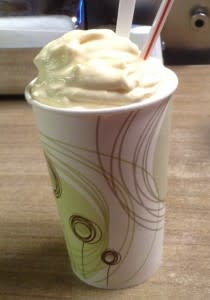 Menus were available, but we already knew what we wanted to order. I ordered a breaded tenderloin, fries and a lemon shake. We planned to hike at Mounds State Park the next day so I'd work off the calories then. The shake was made in front of us from lemon ice cream. Yum!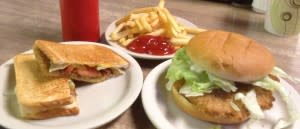 My husband ordered a toasted cheeseburger, a new type of sandwich for him. He loved it as much as I loved my tenderloin.
You do know the tenderloin sandwich is something that puts Indiana on the map, right? Apparently few other states feature this on menus.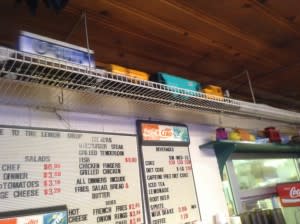 Our food was delivered in less than 10 minutes from an efficient, well-trained wait staff. We enjoyed watching a model train circle the interior of the restaurant during the wait.
I have no idea why a model train does this inside The Lemon Drop, but it was another quirky aspect of this retro place.
I noticed an old menu sign from the past—could food really have been that cheap?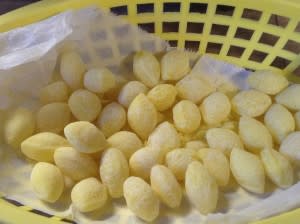 On our way out we noticed pieces of lemon drop candy in a bowl. Another friendly touch.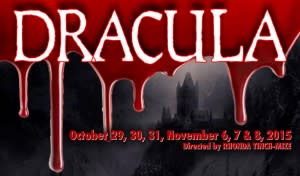 Next we headed to The Mainstage Theatre in downtown Anderson. Members of the community were presenting 'Dracula' (it was appropriate since it was close to Halloween).
The theatre was packed and we were impressed with the variety of ages in the audience, everyone from teens to seniors.
The quality of acting was super. I've seen a lot of community theatre and I have to say this was outstanding. The Mainstage was another place recommended to me and it was not a disappointment. I'm signing up for the mailing list to decide which of next season's shows I'll be returning to see.
Our stay at the Holiday Inn Express was perfect and we left for Mounds State Park the next morning. Unfortunately, the day turned drizzly so my planned photos never happened.
Another –sunnier-- visit to Anderson is definitely in our future.