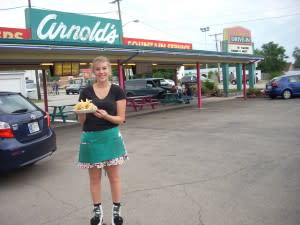 Arnold's Drive In in Decatur serves food via car hop!
Today is National Root Beer Float Day which makes it a great time to talk about drive-in's, those fun places where you order and eat in your car.
Remember Arnold's Drive-in from Happy Days TV show starring Ron Howard? OK, if you're too young to remember that fun sitcom, you need to check it out on TV Land.
But first drive yourself to Arnold's Drive-In, modeled after the TV show, in Decatur, Indiana.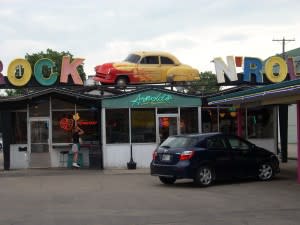 The customized 1952 Chevy on top of Arnold's makes a retro feel for the past.
Located at 222 N. 13th Street on US Highway 27, Arnold's owner Lori Collier designed the eatery to reflect the fun of the 1950s. The item that immediately reinforces that fact and grabs your attention as you approach this hamburger joint is the full-size 1952 Chevy on top of the building! Wow!
Since its summer, you'll want to eat in your car. The menu has lots of choices, most with names that remind you of the era when bobby sox and hula hoops were king.
The Leader of the Pack section has Ralph 'Malph-ful' fries—topped with Cheddar cheese, bacon and sour cream.
All Star Burgers include a Slaw Burger – a combination of steakburger and scoop of coleslaw straight out of the 50's! All burgers are served with fries.
The kids menu ('Little B-Boppers') serves meals in a cardboard container resembling a 50s/60s classic cruiser. The day I visited Arnolds recently with my two adult daughters my youngest daughter remembered her 'car' from a birthday party 15 years earlier!
No 50's diner would be complete without a frosted mug of root beer. Arnold's also features phosphate drinks and a Shirley Temple—Sprite mixed with cherry syrup.
The hot dog entrees are  named with the retro feel—'57 Classic Coney (served with coney sauce, mustard and onion); Wooly Bully (Sauerkraut dog).
This might be one of the only restaurants I know that serves Deep-Fried Funnel Cake Straws. As if they were not sweet enough, Arnold's serves them with vanilla ice cream and strawberries and syrup. My daughter ordered this and I swear her eyes rolled back in her head out of delight at the taste!
On my next visit I'd be tempted to try the Deep-Fried Cherry Cheesecake. I've never had it before but topped with vanilla ice cream and cherry topping might make it worth a trip to Decatur!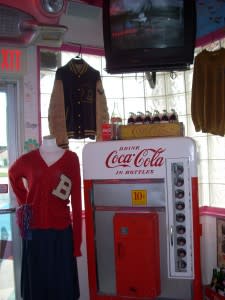 Locals donated letter jackets for decor at Arnold's.
The day I was there it started to rain so my daughters and I headed inside where we found a booth. Our 15-minute wait after placing our order flew by as we studied the walls and ceiling  covered with a collection of mid-20th century memorabilia. Some of it was local donations including letter jackets of former athletics of surrounding high schools.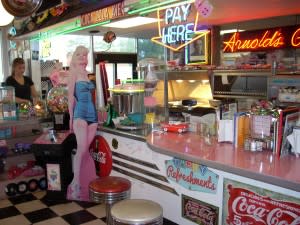 Movie stars from the past greet visitors to Arnold's.
The full-size cut-outs of James Dean, Marilyn Monroe and Betty Boop, combined with neon lights and bar stools completed the ambience.
Besides the Funnel Cakes, we ordered a Boston Cooler (ginger ale and vanilla ice cream drink) and a root beer float. All were frothy and delicious.
Hours:
Open daily 11am
Monday –Friday: Close 10pm
Starting August 11 they will close 9pm weekdays
Open until 10pm on weekends
260.728.4740
**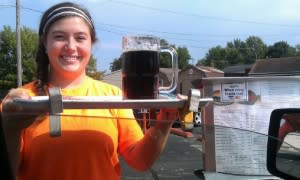 A car hop at B-K Drive-In in Huntington serves your order at your vehicle with a smile.
Another drive-in to bring back nostalgia are the B-K Drive-in at 1218 S. Jefferson Street in Huntington (260.356.6920).
This eatery has been open since 1949, first as A&W Drive-in, now as a B-K franchise. It has been independently owned since 2005.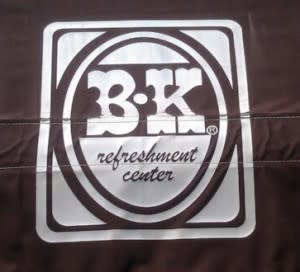 B-K Drive-In opens mid-winter for those who can't wait for spring.
This place's special is the B-K Burger—1/4 pound cheeseburger with bacon and special sauce.
The biggest seller is the Coney dog with chili sauce and onions. A popular complement to these entrees is the beer batter onion rings.
This place is different from Arnold's in that when you pull in, rather than give your order to a car hop, you push a button on a speaker on a stand. When someone inside the kitchen responds, you relay the order. A car hop brings the food to you on a tray when it is ready and hangs it on your vehicle's window.
What I find to be most unusual about this B-K is its LONG season. Believe it or not, this drive-in opens in mid-February – in the midst of winter! The locals told me the place had a lot of business last year, despite the low temps and mountains of snow. It closes for the season at the end of October so you've still got lots of time to order.
Hours: open 7 days 11am -- 8:30 pm.
260.356.6920
Facebook: Arnold's Drive in
**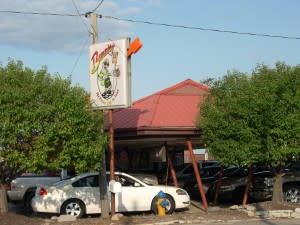 Bummies Drive-In in Bluffton has been a family-owned business for decades.
Bummies Drive-in at 1263 S. Main Street in Bluffton is one of my favorite childhood haunts. I remember pulling in here with our family of five on Friday nights. It was such a treat to sit in the back seat of the car and eat French fries and a root beer in a small glass mug! You could also look around to see if your friends were sitting in the car next to you!
Today, I prefer ordering a corn dog and Diet Coke. Other menu favorites are the Bummie Burger (DB cheeseburger with lettuce, tomato, onion), Swamp Water (1/2 orange drink and half root beer) and my daughter's favorite, Cherry Shake.
Parents who prefer not retrieving a zillion fries from the car floor can plop their brood on picnic tables. Take out orders keep this beloved family-owned business hopping.
There are no speakers or roller skates here. When you're done, flick on your headlights and the car hops retrieve your tray. You can order root beer floats here too so celebrate this fun holiday without getting out of your car!
Cash only.
Hours:
Mon—Saturday 11am- 10pm
Closed Sundays
260.824.3626
Facebook: Bummies Drive in, Bluffton restaurant