Did you know that Johnson County (also known as the home of Festival Country Indiana) and the city of Franklin are celebrating their bicentennials this year? That's 200 years of growth and fun. 
Ways to celebrate 200 years
The Johnson County Bicentennial Celebration will be on September 30 at the Franklin Amphitheater (in conjunction with the Franklin Fall Festival) and will feature a parade, food trucks, music, fireworks and much more. 
Put on your best dress for a black tie Bicentennial Ball, celebrating this historic year in high style. The gala will take place on November 10 at the Barn at Bay Horse Inn.
If you'd like to see historic homes and tour their immaculate backyard gardens, register for the Secret Garden Walk, happening July 8 and 9 in downtown Franklin.
The Old Town Greenwood Historic Home Tour is another great way to discover the history of local homes. Join this guided tour on September 23 to get a rare glimpse of history in a way you may not have yet seen.
If you'd rather soak up the history on your own time, stop by the Festival Country Indiana visitor center to pick up a copy of our self-guided historic walking tours through Franklin, Greenwood and Edinburgh. You can also find other tour themes like art, architecture, haunted sites and more.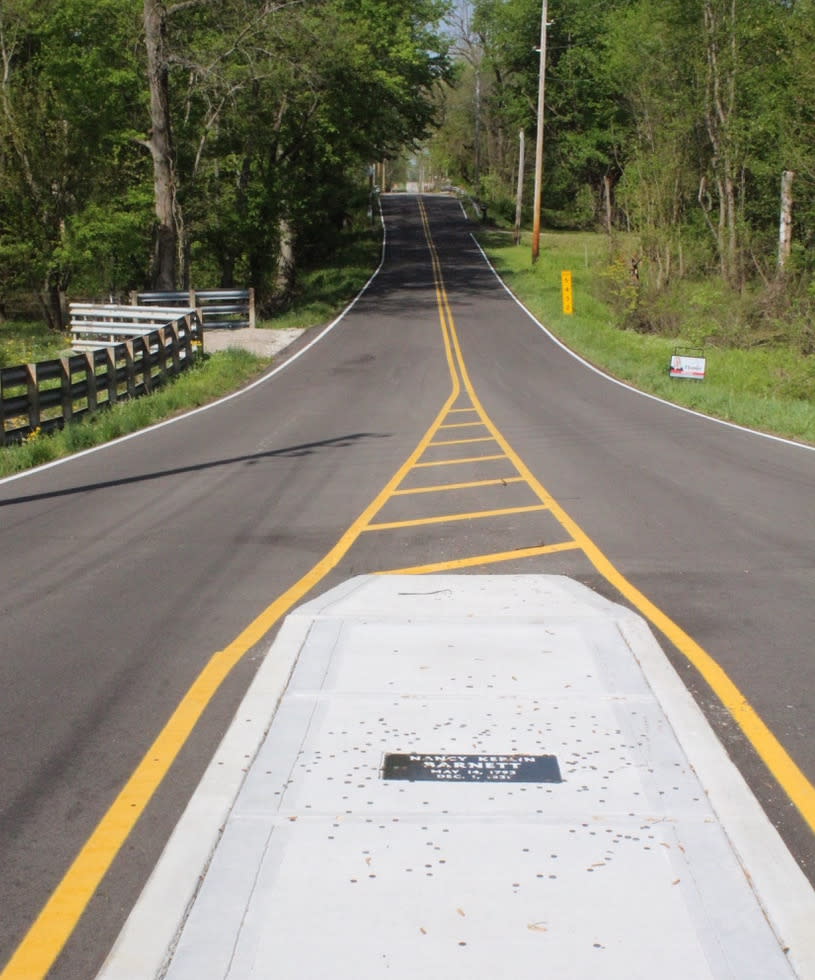 Historic places in Johnson County
Folktale Greenwood was once the site of the Johnson homestead, a stately, unique residence from 1840. The family is said to have housed their beloved bear cubs and lions there! Needless to say, the patriarch of the family, Grafton Johnson, loved animals. Johnson, along with his wife and six kids, owned the home for more than 80 years and ran a nearby general store in the Grafton Peek building. Today, it's a stylish, intimate event center as well as a concert venue on select evenings.
Be careful when driving to this site, because here lies an actual grave in the middle of the road. The Nancy Kerlin Barnett grave is on County Road 400 South, west of County Road 700 East, in Franklin. Barnett died in 1831 and her last request was to be buried on a hill at that location. Johnson County officials decided to put a road through the spot in the early 1900s, but her grandson stood vigil with a shotgun and kept her remains from being moved. To this day, the road splits at the gravesite, with one lane on one side of the grave and one lane on the other. There is a plaque to commemorate the site.
Visit Camp Atterbury Museum and, across the street, visit the outdoor museum to see a monument and get your photo with military tanks, helicopters and other military hardware. The Prisoner of War Chapel is another interesting site to view and is about three miles away.
The impressive Pixy Theatre was built in 1907 for only $12,800 and was originally called The Majestic. Masons occupied the third floor and the first floor had offices, a 600-seat opera house and a stage. Later on (and still today), the building became home to motion pictures, concerts and comedy shows.
Historic places in Franklin
It was once the Indiana Baptist Manual Labor Institute until it transitioned to the four-year liberal arts college it is today. Franklin College was officially founded in 1834 as the first college in Indiana to admit women. For more than 50 years, most of the classes were conducted in Old Main, which still stands as one of the most iconic buildings on campus. Today, the college offers 21 NCAA Division III sports, more than 40 student organizations, more than 50 majors, 15 advanced degree programs and more. In 2022, it was home to 907 students from 19 states and 7 countries. 
Located in Franklin but representing the whole county, the Johnson County Museum of History showcases local history from its geological beginnings to the pioneer days to the foot-tapping 1950s. Kids can explore an authentic covered wagon and play in interactive exhibits. Plus, admission is free.
RFD Franklin, named for both Real Food, Fresh Dining and Rural Free Delivery, is an upscale American eatery with a rich history. Part of its name comes from its 1936 building which was once the site of the local post office. When inside, you can see the viewing slots where the postmaster would secretly spy on employees to make sure they were working, as well as the windows at the top that were used to vent hot air in the summers. There are many other original features like the vault, tile floors, brass hardware and woodwork.
Founded in 1922, the Historic Artcraft Theatre maintains its classic art-deco style and shows classic movies on 35-millimeter film, just like the good old days. Named best theater in Indiana, this award-winning historic theater showcases favorite movies from a variety of decades as well as live events. It's also home to the Artcraft Alley, an art installation with 200 colorful stars overhead that glow under blacklight at night.
What is now a charming café and eatery was once the site of the only hospital in Johnson County until after World War II. The building was constructed in 1906 and was run by Dr. William Province and his family for several generations. It was later run as a doctor's office until the family retired. If you walk inside, head over to the back wall where local goods are sold. The tile on the ground is original to the hospital.
Madison Street Salvage is the largest vintage and antique shop in Franklin and is a great place to find a piece of history for your own home. The shop is run by an organization called Franklin Heritage, a non-profit that seeks to preserve historic properties when feasible, and if the structure cannot be saved, their goal is to save every significant piece of architecture, keeping them out of landfills and saving their history for the next generation.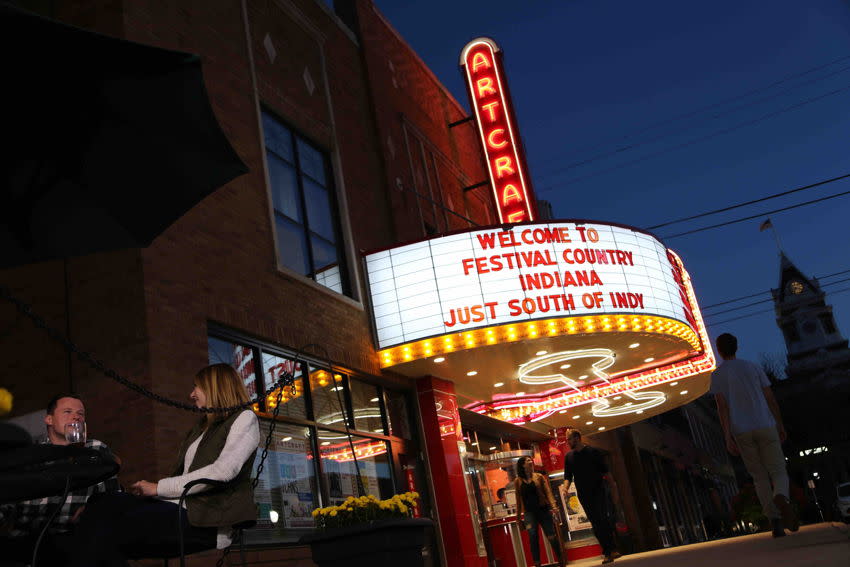 A Bit of History
On December 31, 1822, Indiana Governor William Hendricks signed a bill that created Johnson County. The county earned its name from John Johnson, a Justice of the Indiana Supreme Court. He was a delegate from Knox County at the 1816 Constitutional Convention and served on the first-ever Indiana Supreme Court. 
While the governor's signature created the county, much work had to be done to organize it. John Smiley was appointed as the first sheriff and on March 8, 1823, the people of the new county gathered to elect its first officials. At that point, there were only about 500 residents in the whole county, and business was conducted inside Smiley's home, which soon became the first courthouse in Franklin. Today, the county is home to more than 160,000 residents and Franklin remains the county seat. 
Speaking of Franklin, the city was founded in 1823 and currently boasts more than 26,000 residents. Its early days were chronicled in the December 2, 1940 issue of Life magazine, showing the booming downtown streets on a Saturday night. Today, you'd see a similar view, with families and cars filling the downtown with energy and excitement after dining, shopping or attending a festival. The city is currently home to several historic sites like the iconic courthouse, the Historic Artcraft Theatre, Franklin College, RFD Franklin, the Johnson County Museum of History and more. Visitors and residents alike love the city for its local shops, art installations, restaurants, festivals and charming downtown feel. 
Ready to explore the history for yourself? Book your stay in Festival Country Indiana here.