The Indianapolis Zoo is going to get in on the Christmas fun this year — like they do every year, actually; this is the 47th year the Zoo has decked the halls and hung the mistletoe. They're kicking off the Christmas season on November 28, and extending the holiday festivities well into January. That way, if you happened to miss out because you're too busy, you still have time to see the lights and decorations after the holidays.
Gates open daily at noon, and you can participate in the activities from 5:00 – 9:00, Wednesday through Sunday, starting Friday, November 28, and ending on Sunday, January 4. Extra days will be thrown in on December 22 & 23, and December 29 & 30. The Zoo will be closed on Christmas Eve and Day, and New Year's Eve and Day.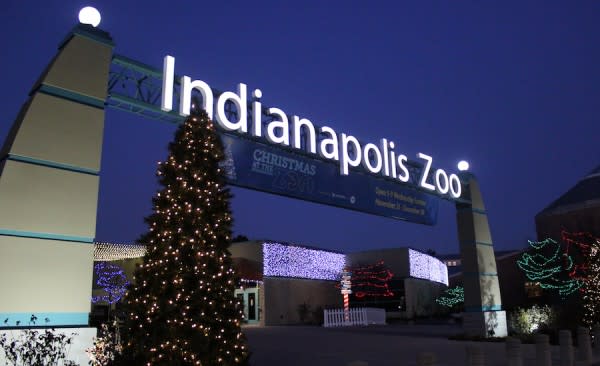 Photo by Carla Knapp
There will be the All-A-Glow light show, and We Three Trees displays, and you can enjoy Christmas carols sung by Common stock and area school choirs.
And don't think the cold weather sends most of the animals indoors. There are several animals that enjoy being out in the cold, including tigers, polar bears, brown bears, walruses, and my favorite, the red pandas. The animal keepers will be available to chat, and since it's indoors, the Dolphin Adventure Shows will be held during their normal schedules.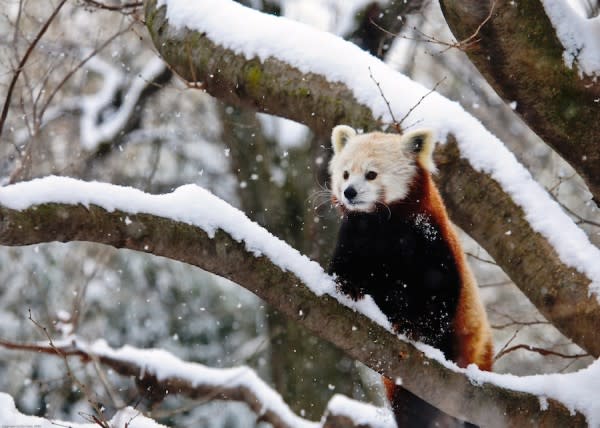 Red Panda in the snow (photo by Jackie Curts)
And if you get too cold, you can visit the animals in the Deserts pavilion (it's a dry heat), Oceans, and the new Simon Skjodt International Orangutan Center.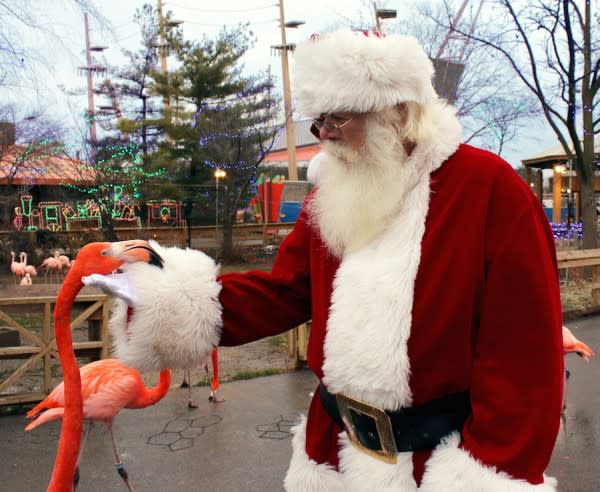 Santa and a flamingo compare color schemes (photo by Carla Knapp)
Santa will be at his Workshop, and Mrs. Claus will be decorating cookies with the kids. Check him out at Santa's Tropical Paradise inside the Hilbert Conservatory.
Christmas at the Zoo is free for members and included with Zoo admission. Guests can get tickets at the gate, or buy advance tickets at IndianapolisZoo.com. You can also buy discount tickets at Indianapolis-area Donatos and Teachers Credit Union locations.