Here in Indy, holiday lights and candy cane poles on our beloved Soldiers & Sailors Monument mean one thing: Circle of Lights® presented by the Contractors of Quality Connection and Electrical Workers of IBEW #481 is almost here!  On Friday, Nov. 29 come Downtown and see Monument Circle sparkle with nearly 5,000 lights. To ensure you have a great time, I've outlined a few things you should know before you go: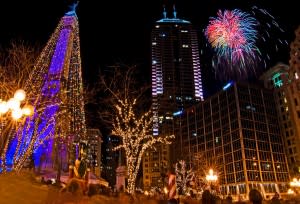 Circle of Lights
1.) Park
Although parking on Monument Circle will be closed, we don't think you'll mind walking a few blocks and enjoying the winter wonderland that is now Downtown. Parking meters are $1.50 per hour. For the biggest bang for your buck, head to the Circle Centre mall parking and snag a $2 spot (for the first three hours). For a complete list of parking options, visit here. 
2.) Eat
Head Downtown a little early and dine at a local favorite. Treat yourself to the shrimp cocktail at Harry & Izzy's or for something on-the-go, visit one of the many vendors at the Indianapolis City Market. Visit some of the hotspots on Mass Ave including R Bistro and Mesh. Top it all off with a truffle from The Best Chocolate in Town and hot chocolate from The South Bend Chocolate Factory to warm up before the main event.
3.) Stay
Instead of heading home at the end of the night, take a Downtown holiday getaway. In-state residents can save up to 50 percent off rates at Indy's top hotels. Stay at the newly renovated Crowne Plaza at Historic Union Station, celebrate the 100th anniversary at the Omni Severin or indulge in the luxury of Conrad Indianapolis. For a full list of participating hotels, click here.
4.) Shop
From Mass Ave to Circle Center, Black Friday shopping will be in full force Downtown before Circle of Lights. Participate in "From Mass Ave to the Monument" from 10 am to 9 pm. all along Mass Ave. Make sure to visit Silver in the City and Mass Ave Toys for unique holiday gifts with hometown pride. Circle Center will be open until 10 pm.
5.) Event tips
In anticipation of the biggest Circle of Lights yet, we recommend arriving early this year. Pre-show festivities start at 6 pm with the televised show from 7 – 8 pm. Check out the north half of the Circle for pre-show radio giveaways before finding a good place to stand. The lighting takes place at approximately 7:45 pm with a fireworks show immediately following. See you there!
Can't make it Downtown? Catch the show on WRTV-6 at 7 pm.