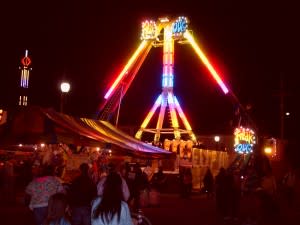 Bluffton Free Street Fair offers plethora of carnival rides.
As a lifelong resident of Wells County, I have many fond memories of the Bluffton Free Street Fair. When I was a child, Dad drove a buggy pulled by one of his horses in a parade during the fair. Mom, my sister and I rode with him. Heady stuff for a child!
Years have gone by but the Bluffton Free Street Fair still thrills and entertains me and many other people, whether they grew up in this town 25 miles south of Fort Wayne or not.
This year's fair will take place September 16-20.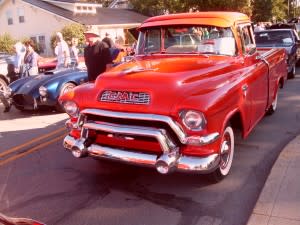 The Antique Car Parade draws enthusiasts of all ages.
While it is sometimes difficult for local folk to maneuver around the fair as sections of Bluffton's downtown are blocked off, most of us are willing to put up with it to have the chance to visit with friends, enjoy the entertainment and indulge in culinary treats.
Food vendors line the streets, making it easy to find a foodstuff of your choice. One of my favorite snacks is elephant ears. These are flat pieces of crispy fried dough covered in cinnamon sugar approximately the size of an elephant's ear. And no, there will never be a photo of me eating one of these behemoths!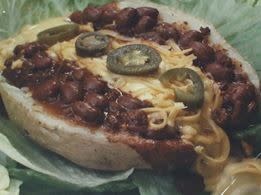 King's Highway Tabernacle has made taco potatoes and salads at the fair for decades.
Expect to find hefty portions and long lines at King's Highway Tabernacle -- fans like my husband say it is worth the wait for these mega taco salads and potatoes.
Mettler's Fish Stand has been a family-owned and operated eatery on West Washington Street since the early 1900s. Heartier fare on surrounding streets includes pancakes and sausage, Polish sausage sandwiches, corn dogs, gyros, turkey legs, tenderloins. Sweet treats like apple dumplings, caramel apples and funnel cakes fill the air with enticing aromas.
ZUM sticks (Zanesville United Methodist Church) is a collection of chunks of fruit on a stick dipped in chocolate. I don't mind spending money on yummy foods that benefit religious and civic organizations.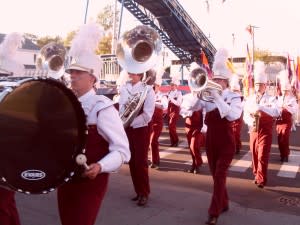 Bands compete for prizes at the fair's contest on Wednesday.
The first Bluffton Free Street Fair occurred in 1898. During the early years, the fair displayed agricultural products of local farms. Back then, large horses pulled plows. Horse pulling contests became an important part of the fair and that event continues today. The animals and competitions are located at the 4-H Park on the south side of Bluffton.
Recommended highlights:
September 16 -- Opening Parade
September 17 -- Antique car parade; Band competition with area high schools.
September 18 – Industrial Parade; Show choir contest with area high schools
September 20 -- Bluffton Idol contest—local singers compete for prizes
The Bluffton Street Fair Band performs their music during the week, as well as other musical groups.
While carnival rides are operational during the week, discount 'bracelet' hours are available during the week at designated times.
The fair's website helps people stay informed of changes due to inclement weather and other conditions(http://blufftonstreetfair.com/).
With so many opportunities to eat, visit with friends and have fun, the biggest problem with the Bluffton Free Street Fair may be in knowing when to go home!
Those of you who have visited the Bluffton Free Street Fair are encouraged to comment about your favorite food. We'll see which gets the most votes!
Thanks to Joe Ayres and Martha Poling for use of their photos.