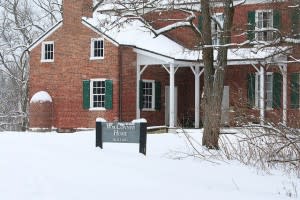 There are few better ways to get in the spirit of the holiday season than at Conner Prairie by Candlelight.
If you're not familiar with Conner Prairie, it is an Interactive History Park in Fishers, Indiana that recreates life in Indiana in the 19th century.  In Prairie town, one of the historic areas at the living history center, the year is always 1836. Costumed interpreters play first person roles to give visitors an accurate as possible historical experience.
Visiting Conner Prairie any day throughout the year is sure to be a fun experience, but nothing is quite as exciting as visiting the museum outside of regular business hours on a cold December night.
Every year since I can remember, my family has gotten bundled up, made the drive to Fishers and attended one of the Candlelight tours through the 1836 Village.
The tour starts with a reminder that it is Christmas Eve 1836, and then visitors are sent out into the night. The one-hour tour takes you through nine different homes throughout the village, and each celebration is different. For some, Christmas Eve is just a day like any other- there are still chores and farm work to be done.
Others, like Dr. Campbell and his family, are pulling out all the stops to through a Christmas Eve celebration to remember. There are cookies to be eaten and carols to be sung.
There's something about the historic cabins, the roaring fires, and the costumed interpreters that really make you feel as though you have been transported back to Christmas Eve in the 19th century.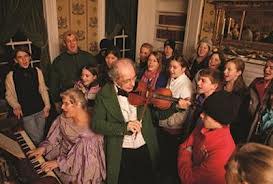 Conner Prairie by Candlelight is a unique holiday experience I would recommend to anyone wishing to do something a little bit different this holiday season.