Country Living has released a list of 25 Under-the-Radar Midwestern Towns for Girlfriend Getaways, and six Hoosier locales have made the list! The Hoosier towns that Country Living selected are Chesterton, Corydon, Bloomington, Carmel, Columbus and Santa Claus!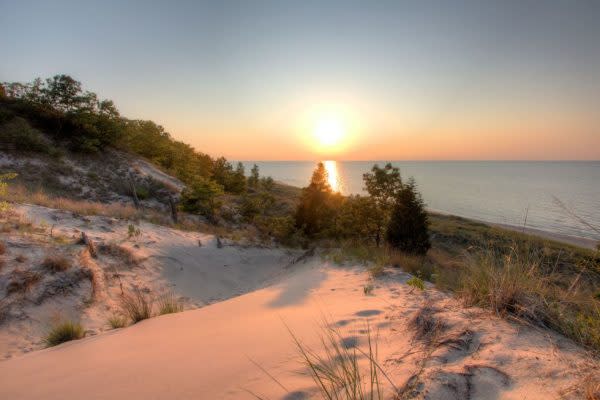 Photo: Country Living
Home of Indiana's beachfront, Chesterton came in at No. 4 on the list:
4. Chesterton

Home to the Indiana Dunes—a 15,000-acre outdoor playground of sprawling woods, beaches, and sand dunes—Chesterton offers an outdoor workout unlike any other with its 1.5-mile 3 Dune Challenge. Prefer an adventure for your tastebuds? Local standby Octave Grill features "sneaky cider" and "earl grey" cocktails and inventive burgers. For unforgettable digs, hole up at Riley's Railhouse, a bed and breakfast fashioned from an old freight station, or DunesWalk Inn, a restored mansion that will put you a skip away from the gorgeous shores of Lake Michigan.

Indiana's original state capitol, Corydon is number 10 on the list thanks to historic inns, shops and caves.
10. Corydon

In this historic city (and original state capital) on the southern tip of the Hoosier state, make the Kintner House Inn your stomping grounds —. Next, pick up a souvenir or two at Zimmerman Art Glass where you can watch glassblowers at work, or Broomcorn Johnny's, in case your partner could use a cleaning hint. Craving a hit of Indiana Jones  adventure? Check out Marengo Cave tours, where your group can gape at the stunning Crystal Palace, a mix of impressive stalactite and stalagmite formations. If chancing Lady Luck seems more apropos for your tale of "babes in the woods," Horseshoe Casino is a stellar option.

For more information, visit thisisindiana.org.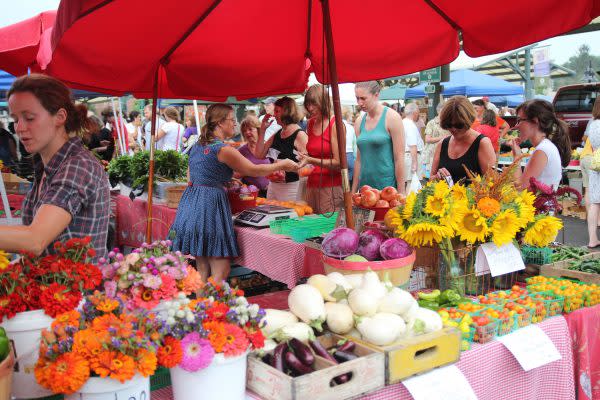 Bloomington Farmers' Market, Photo credit Visit Bloomington
Bloomington grabbed No. 12 on the list thanks to a great culinary scene.
12. Bloomington

This booming food town just an hour south of Indianapolis has something to delight everybody's taste buds (even your farmers' market-addicted friend who never wants to miss an opportunity to swoop up unique microgreens or small-batch tamales). Burn off your edible adventure at Wapehani Mountain Bike Park's hiking trails and single-track mountain biking trails. Or, torch some calories dancing at back-alley music venues like Block House and The Bishop, which often hosts first-rate acts on the cusp of becoming famous. When it's time to turn in, the historic Wampler House is known for its hospitality and outstanding traditional breakfast. If your prefer total seclusion, the rustic Antler Log Cabins are the kind of thing group rental dreams are made of.

For more information, visit visitbloomington.com,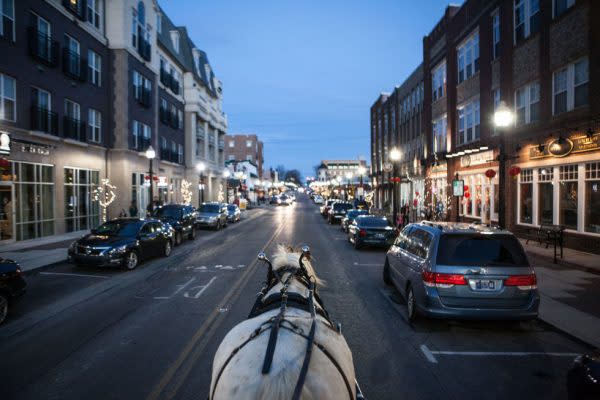 Photo: Country Living
Carmel's arts and cultural scene earned it No. 14 on the list.
14. Carmel

This bicycle-friendly, fireplace a'flickerin' town is sprinkled with top-notch breweries and some of the best theaters in the Hoosier-verse. Start at Deviate, where taps are updated daily and may include hits like Strudel Cake and Roasted Peach Impediment. Next, you and the sidekicks won't be disappointed with a live performance at The Palladium at the Center for Performing Arts. Nor will you regret snoozing at Old Town Carmel Bed and Breakfast, where you can sprawl out on your patio, beside the fireplace, or just laze in bed with a book (and delightful breakfast). Once you're feeling restored, may we suggest hiking or biking the 18-mile stretch of the Monon Trail?

For more information, visit visithamiltoncounty.com.
The unique architecture and food in Columbus merited 24 on the list.
24. Columbus

Yes, like the one in Ohio (there's a Nashville, Indiana, too!), but with a much, much smaller population and completely different vibe. The town is known for its collection of modern architecture from "Starchitects" like I.M. Pei (who designed the Louvre Pyramid in Paris) and Eero Saarinen (of St. Louis Arch fame). Geek out with the Columbus Architecture Tour or mosey on over to Miller House and Garden, a pristine example of midcentury modern design. Henry Social Club is an absolute yes on your checklist where the bacon-wrapped dates taste *almost* as good as Aunt Linda's. To keep most of your trip on two feet, grab some rooms at Hotel Indigo, a centrally-located boutique hotel with bold, colorful decor.

For more information, visit columbus.in.us.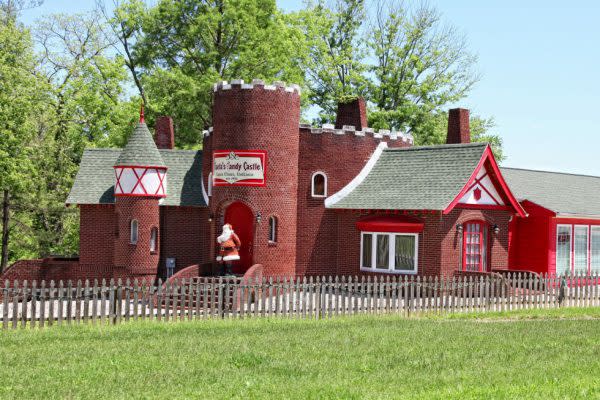 Photo: Country Living
It wasn't just Christmas Fever that got Santa Claus a spot on the list. A cozy inn, winery and more landed the 25th spot on the list.
25. Santa Claus

Yes, it's home to to the world's only post office with St. Nick's name, but there's a lot more to this southern Indiana town than Christmas lore. Enjoy cozy vibes at The Rockport Inn, where everyone's daily chorus will be "Can we please never leave?" But leave you shall, whether it's a swift walk to the Ohio River, or a longer detour to the pastoral Monkey Hollow Winery. You could easily spend a week here without running into any elves, but if that's your thing, may we suggest visiting during the holidays when you can treat yourself to warm-the-heart parades, candy castles, and a drive-through holiday light show?

For more information, visit santaclausind.org.