If you're a fan of Mediterranean food, then a visit to Meditrina Market Cafe in Valparaiso is in order. The cafe itself is small, with a handful of small tables, some bar seating and a patio, but it's big on flavor and freshness and you can't really go wrong with anything on the menu.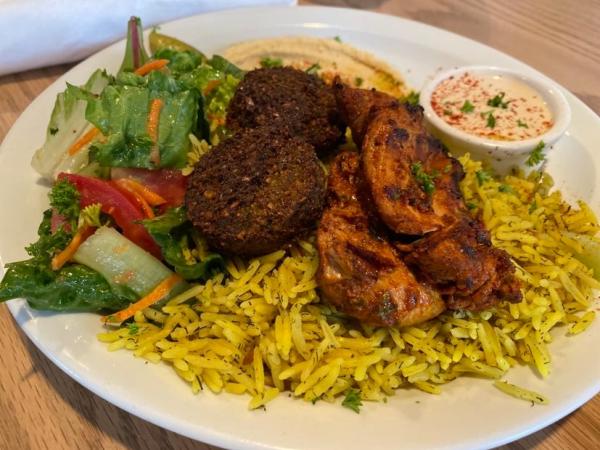 Healthy Foods
Eating a Mediterranean diet has been touted by healthcare experts for years as a suggested lifestyle that has a number of benefits. According to the Mayo Clinic, consuming a Mediterranean diet helps prevent heart disease and stroke. It's heavy on plant-based foods, healthy fats, whole grains, herbs and spices and fish, seafood, dairy and poultry are used moderately. 
Menu
Meditrina Market Cafe specializes in traditional Mediterranean cuisine with a variety of flavors and textures, with several plates that are perfect for sharing. The regular menu has a large variety of starters and many options for those who are vegetarian or vegan. Among the options are stuffed grape leaves, feta-stuffed dates, baba ganouj, hummus, tabouli, roasted beets with garlic potatoes and falafel.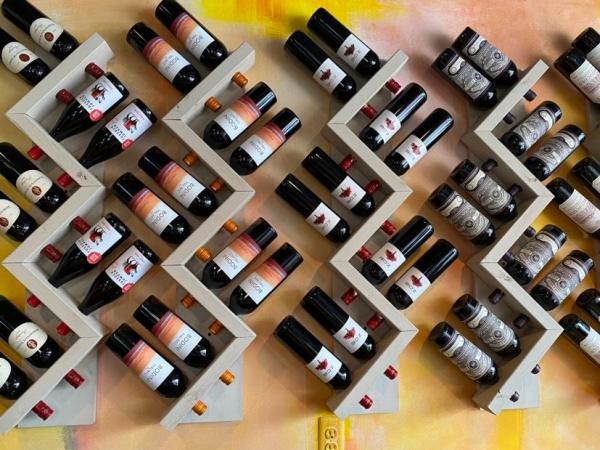 Sandwiches include beef or chicken shawerma, falafel wrap and Med Burger, which is spiced ground beef topped with feta, sumac onions and taziki. A variety of salads offer fresh vegetables and other ingredients - among them a lentil salad with goat cheese, a fattoush salad, a spinach salad and a grilled salmon Caesar salad - and protein can be added (salmon, steak, tofu or chicken).
The grand plates are full dinners with rice or potatoes and vegetables, and there are several combo plates where you can try a variety of their dishes in one meal. They also run some amazing specials. On my most recent visit, I tried one of the specials that week - a skirt steak with Mediterranean chimicurri, which was delicious and served with a salad and potatoes. Some other recent specials have been spiced okra stew, shrimp kebobs, wild North Atlantic fluke, grilled octopus, branzino, grilled leg or lamb kebobs, spinach hand pies and cauliflower curry. I've not had dessert there, but I have heard rave reviews on the baklava. There's also a nice list of wines with some craft beers and wine cocktails.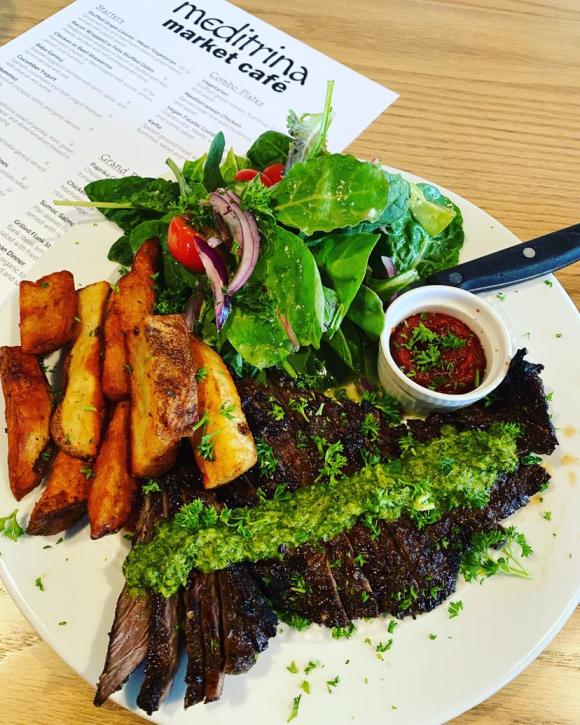 Atmosphere and Area
This place is so cute and cozy, and the staff is super friendly. It's perfect for a mid-week lunch, an intimate dinner or a little downtime with a glass of wine at the bar.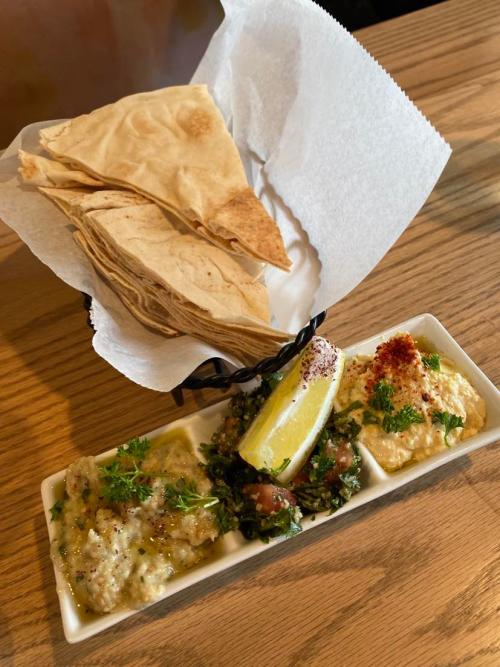 Meditrina Market Cafe is located in downtown Valparaiso. It's just a block north of the main street, Lincolnway, and close to the courthouse, Central Park Plaza, the historic Memorial Opera House, the Porter County Museum and many quaint shops, making it the perfect stop on a day trip to Valparaiso. They're open for lunch Tuesday through Friday from 11:30-2 and open for dinner Monday through Saturday from 5-9 p.m. For more information, visit meditria-market-cafe.com.