Welcome to downtown Fort Wayne, where you can take a seat at one of the best minor league ballparks, take a culinary adventure, and celebrate with festivals almost every weekend in the summer.
Fort Wayne is the second-largest city in Indiana and offers convenient family-friendly fun. City streets are walkable, accessible, and situated along Fort Wayne's three rivers - the St. Marys, St. Joseph, and the Maumee.
Add these top activities to your downtown Fort Wayne itinerary on your next Midwest adventure!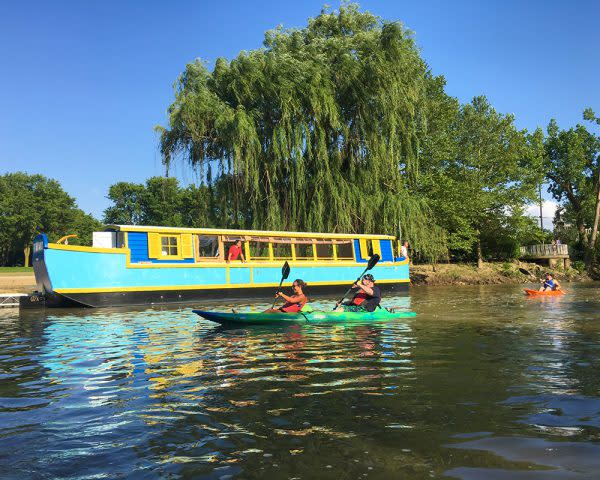 The Top Things to Do in Downtown Fort Wayne
1. Outdoor Recreation
Fort Wayne's rivers are the best source for outdoor recreation in downtown Fort Wayne. Plus, Fort Wayne is home to more than 100 miles of trails and 8 miles of water trails.
Bring your kayak or bike, or rental while you're here for an adventure in downtown Fort Wayne. Take to the Rivergreenway trail following the banks of the rivers, make stops along the way at the historic Old Fort or make your destination one of the many splash pads dotted around the city. Or, you can take to the water with a kayak, standup paddleboard, or canoe rental. For a leisure tour, visitors can opt for one of the tour boats operating along the three rivers - party barge anyone?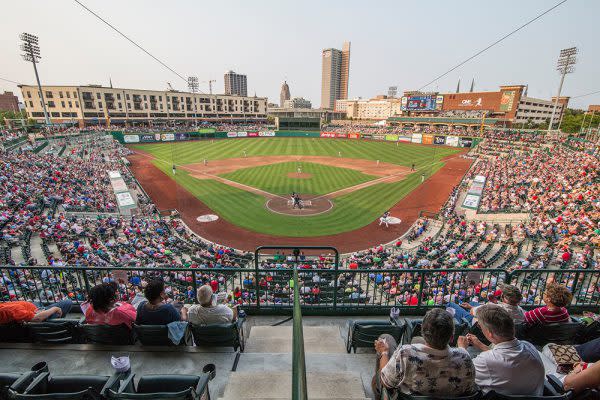 Besides active activities, there are plenty of passive outdoor activities that help you explore downtown Fort Wayne. Grab your mit for a TinCaps baseball game. A TinCaps baseball game is perfect for the whole family. The kids will love the play area and splash pad, and everyone will love the entertainment and postgame fireworks every Friday and Saturday game in the summer.
Plus, opening in August is the newest riverfront park, Promenade Park. Families will be able to stroll the treetop trail and take the slide down 8 feet into the accessible playground below. This park will be a year-round attraction for everyone to enjoy. Think permanent foosball, ping pon and cornhole game tables, fire pits, porch swings, a kids' canal, beer garden, riverboat rides and more.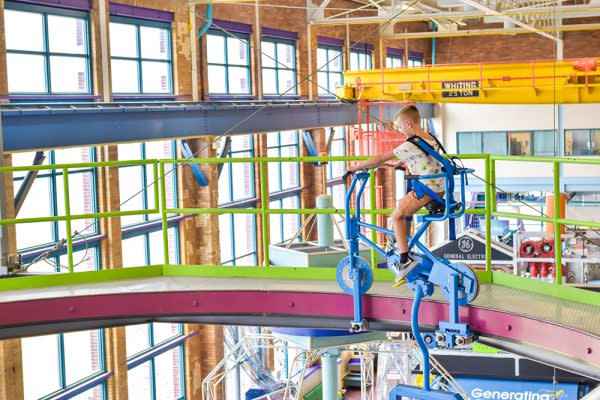 2. Attraction Adventures
There is no shortage of fun at these downtown Fort Wayne attractions.
Spend hours at Science Central and discover more than 200 permanent hands-on exhibits. From the high rail bike to the water table, and Science on a Sphere, kids of all ages (and the young at heart) are welcome to test their skills.
Discover a downtown oasis at the Botanical Conservatory, which has 3 indoor gardens and a beautiful outdoor terrace garden. Every summer guests can discover the life of butterflies in the live butterfly tent. Watch as the butterflies rest, eat, and play - one might even take a break on your shoulder! Plus, throughout the year, the Botanical Conservatory hosts 3 other different displays in their Exhibit Garden.
Take to the books at the nation's largest public Genealogy Center situated in the Allen County Public Library's downtown branch. Ever wondered how to get started on researching your family history or need help breaking through a barrier in your research? The Genealogy Center can help, and it is all for FREE!
And, finally, visitors to downtown Fort Wayne can appreciate the beautiful art displays at the Fort Wayne Museum of Art. Explore glass art from around the world including the Repose in Amber permanent display, or explore one of their rotating exhibitions of contemporary and historical art. Plus, kids can become draw their own art in the Early Learning Center.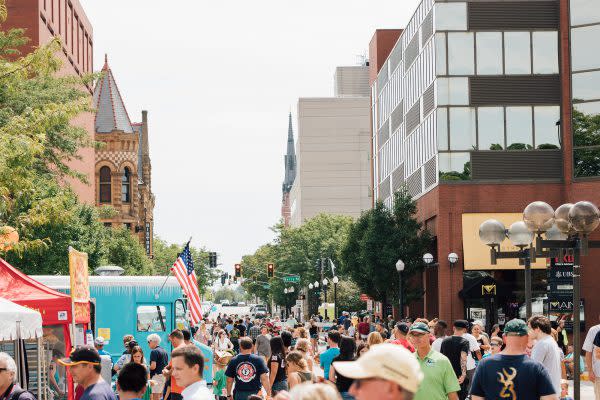 3. Celebrate
Get your dancing shoes ready for some fun in downtown Fort Wayne's festival central at Headwaters Park. Starting in June there is a festival for every interest. Take part in cultural celebrations including Arab Fest, Germanfest, and Greekfest. Join the community during the largest festival, Three Rivers Festival, which includes a parade, art displays, fun races, and more. Or, discover quirky festivals including Hobnobben Film Festival, Buskerfest, and Fort Wayne's favorite arts and food festival - Taste of the Arts.
During any time of year, you'll find that Fort Wayne is playing your tune. Rock out at concerts in the Clyde Theatre, Embassy Theatre, or Memorial Coliseum. Or, mark your calendars for summer concert series at the Sweetwater Pavilion or Foellinger Outdoor Theatre. There are even free summer concert series on Fridays and Saturdays, and festival like Gearfest and Middle Waves Music Festival (happening in 2020.)
If you're looking for more things to do, there are always special events happening in downtown Fort Wayne like ballet performances, Philharmonic concerts, lunchtime gatherings, and more.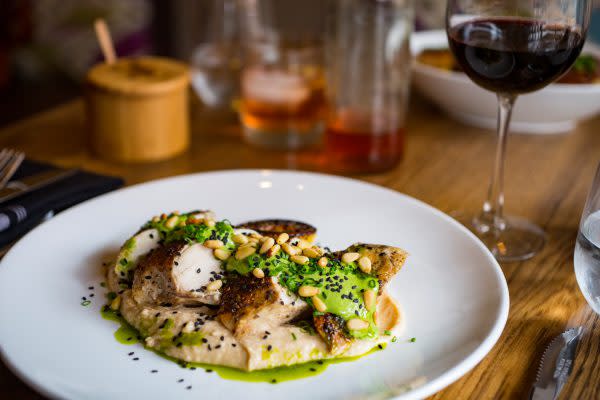 Everything in between
Downtown Fort Wayne is the perfect stop for your next Midwest road trip - accommodations, dining, and shopping are all conveniently located along tree-lined streets, and nestled in between sky scrapping buildings and architectural gems.
Pull up a seat at a 15 seat diner, or book a table for a fresh dining experience at Tolon. Plus, there is really everything in between as far as dining goes in the City of Restaurants.
Shop til you drop at local boutiques dotted around the city. Favorites include The Find, local chocolatier - DeBrand Fine Chocolates, and gallery shops like the Paradigm Gallery.
Rest your head in downtown Fort Wayne at two soon to be four great hotels - opening in July is the new Hampton Inn and Suites situated near Parkview Field, and opening in Fall 2020 is a boutique hotel featuring designs by Vera Bradley co-founder, Barbara Bradley-Baekgaard. From hotels connected to the Grand Wayne Convention Center to hotels with rooftop bars, there are accommodations to fit everyone's needs.
Take a break in the city, and discover Fort Wayne's thriving downtown!