While my mom was in town, we sought out a breakfast place. We wanted something relaxing but also delicious. SoBro Café fit these stipulations perfectly.
Part of what makes SoBro Café such a great place is the feel of the café. Because it is in the South Broad Ripple area, hence the name, it has an artsy, bohemian vibe. The café has indoor and outdoor seating. Due to the nip in the air we chose the indoor seating, which had many unique paintings hanging around the intimate setting.
We went for brunch, which is only served on Saturdays and Sundays. We got doughnuts as an appetizer. The homemade jam inside perfectly complimented the fluffy outer shell encompassing it.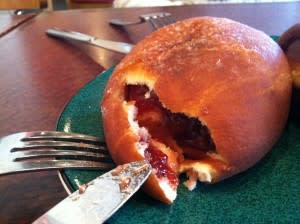 Delicious raspberry-filled doughnut 
Not long after finishing these delights, our main dishes arrived. I asked for the waitress' suggestion, which was the Lebanese Egg Scramble. The main portion of the meal, the eggs, had the perfect hint of lemon and mint to compliment them. This was also served with homefries and toast. Each of these had a perfect pairing of homemade ketchup and raspberry jam, respectively.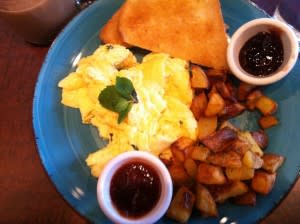 Lebanese Egg Scramble with homefries and toast accompanied by homemade ketchup and raspberry jam.
My mom ordered the Tuscan Omelette, which I had ordered on my last trip to SoBro. She was equally impressed with the beautiful mixture of flavors. The cheeses and veggies added a new take on the typical omelette.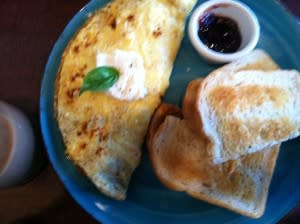 The Tuscan Omelette perfectly mixes cheeses and veggies.
The best part of our meal, however, was the chai tea for which SoBro Café is known. It warmed my throat and soul. I felt as though I was drinking a gingerbread cookie. While usually not a huge chai tea fan I decided to give it a try. I have told my roommates that we have to have bonding here and order the chai tea. I'm looking forward to spending time with my roommates and enjoying some good food and drinks.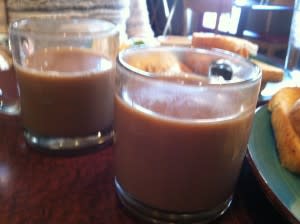 Liquid Gingerbread, AKA Chai Tea