Mooresville is more than just home to the Indiana state flag. This Morgan County town is a vibrant place to stop for a meal - from Cajun to homestyle green beans to sushi! Gather with friends at one of the local coffee shops. Or spend a whole day exploring unique restaurants, antique shops and art studios.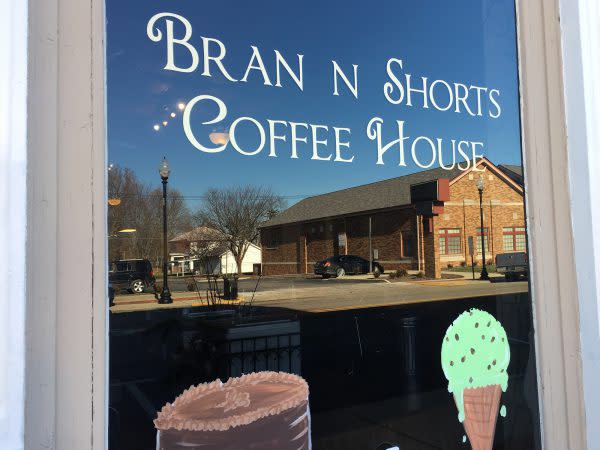 Bran N Shorts Coffee House on Main Street
Start the day with coffee at Bran N Shorts Coffee House, featuring a variety of fresh pastries. Three sisters and Casey, a daughter, start their day at 4 a.m. Casey bakes a different pie every day. Gluten/dairy/egg free muffins are available. A delightful blast-from-the-past for me was finding a baked replica of Biff's (now closed) Bismarcks! These delicious iced cinnamon pastries along with real coffee mugs make Bran N Shorts a must-visit! This is a great place to drop in, chat with regulars, or gather with a group. The space is bright, homey and comfortable. Tips are donated to a different cause each month – this month it's sponsoring an Honor Flight. The story of the name is worth the visit!
Sheila's Bakery Unlimited has 26 kinds of cookies, 34 donuts, and 58 cupcakes and cakes of all kinds! Stop by and order a cake for your special occasion or satisfy a sweet-tooth craving with a cupcake. Daily special: Coffee & a donut for $1.50!
Ralph & Ava's Café is open for lunch and dinner. Sandwiches, salads and wraps are well-seasoned and fresh, with a great selection of craft beer. It's also a popular local place for trivial pursuit.
Gray Brothers Cafeteria will satisfy your comfort-food appetite without having to do the dishes. Fried chicken, green beans and pie are my go-to favorites here. The extensive food selection features everything from meats to salad and vegetables. Don't skip the homemade pies! Gray's doesn't take reservations, but the clean, expansive dining area can accommodate almost any size group any time of day.
Squealer's Barbeque Grill's original location features southern style BBQ – everything from bologna to ribs. Indiana-sourced pork ribs, slaw and sweet potatoes were a flavor-filled BBQ experience – along with the best fried biscuits and apple butter around!
A1 Japanese Steakhouse and Sushi Bar is the real deal. I stopped by mid-afternoon for a sushi snack. I ordered tuna sushi and avocado roll – so fresh! Order individual pieces or combination plates. Sushi is made to order and served with ginger and wasabi.
Zydeco's is a favorite of both locals and Cajun food lovers in the area. I ordered fresh oysters, blackened catfish with jambalaya and white chocolate-blueberry bread pudding for dessert – all perfectly seasoned with a palette-pretty presentation. The lively atmosphere, decor and plenty of beads are perfect sides for a full menu of Cajun favorites like crawfish, jambalaya, gumbo, etouffee, gator-on-a-stick and more. Order small bowls to sample a variety of dishes, or order full portions of traditional dishes. The seafood is fresh and the drink selection is extensive. This isn't a fast-food place – enjoy the food while spending time in "New Orleans" for an evening! Open Wednesday-Saturday, dinner only.
Fun Places in Mooresville
After your dining adventures, check out Mooresville's eclectic array of other destination gems. Something More Boutique's gift section had me laughing the moment I walked in! Check out the humorous mugs, towels and gifts along with women's clothing. Yellow Moon Antiques has a little of everything! Dig around and find your treasure: vintage clothing, jewelry, glassware, kitchen items, furniture and even snowshoes. You'll find something here you didn't know you needed! The Constable's Antiques has a massive collection of military antiques. Monrovia Mudworks owner Jolee Chartrand has been creating with clay for over 30 years. Pick up a unique gift, sign up for a class or explore the variety of clay techniques on display in the shop. Color Works Framing and Gallery is owned by renowned Indiana artists Jeanne McLeish and Mark Burkett. Take a cooler and stop by Value Market meat counter – local resident Harmon says "If you try this, you won't go anywhere else."
Whether you're driving southwest of Indianapolis, or hiking at Morgan-Monroe State Forest, plan a stop in Mooresville. Parking is ample and convenient and the people are really friendly. Mooresville is small-town Indiana at its best!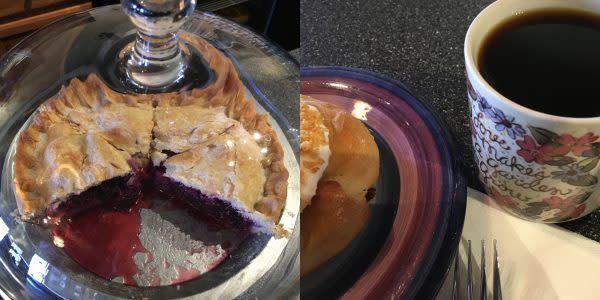 Bran N Shorts Coffee House, a former tavern, where the owners dreamed of a space for all to "come in, sit down, chat, get off your phone."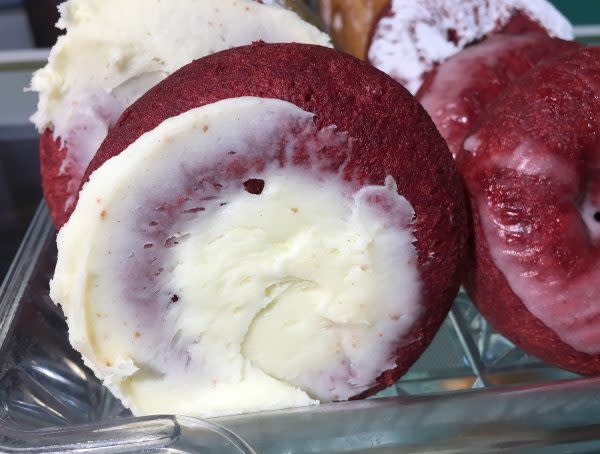 Sheila's Bakery Unlimited red velvet cupcakes with cream cheese icing - yum!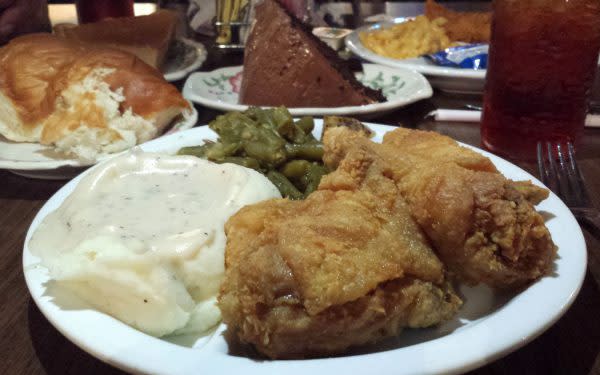 Gray Brothers Cafeteria is an Indiana landmark!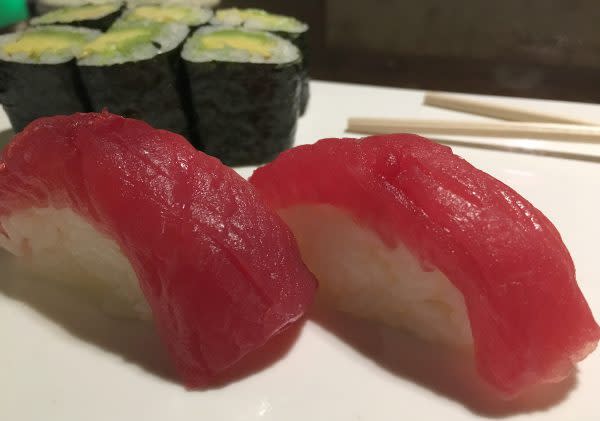 A1 Japanese Steakhouse and Sushi Bar - fresh, fast and a pleasant atmosphere.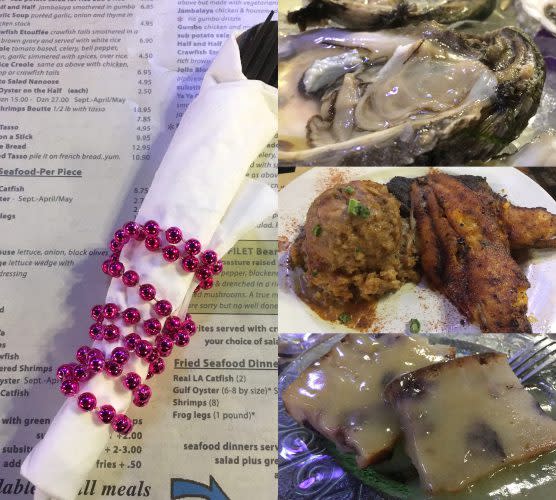 A step into Zydeco's is a step into New Orleans for an authentic Cajun dining experience. Order the oysters when available.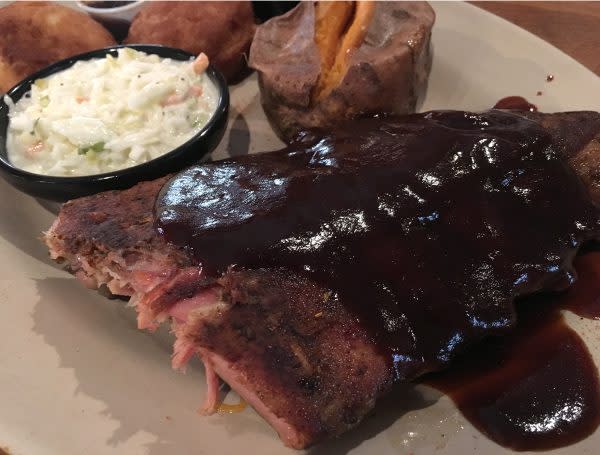 Squealer's Barbeque Grill baby back ribs - try mixing the sweet and hot sauces!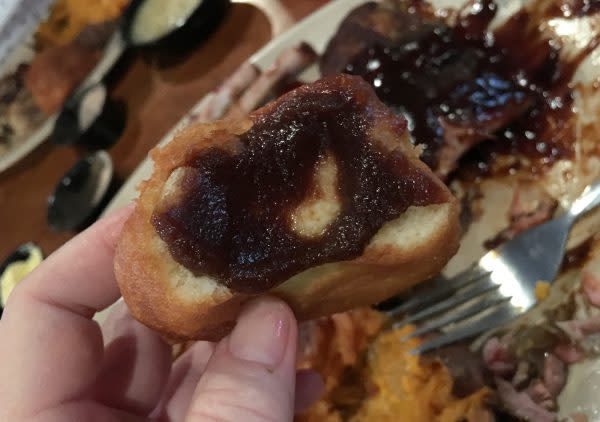 Fried biscuits and apple butter at Squealer's Barbeque Grill are the best in the area, and available for carry-out!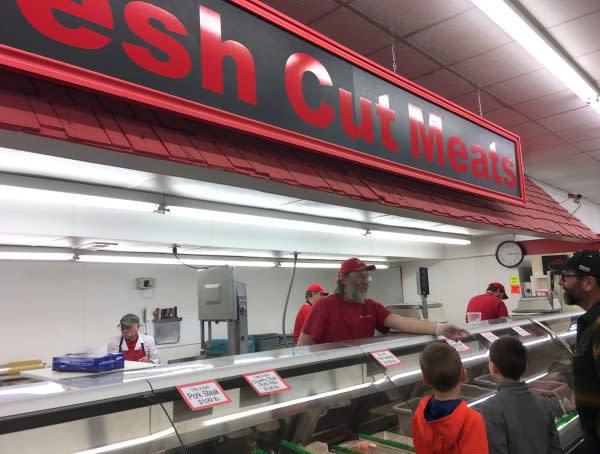 Value Market word-on-the-street: "the best steaks - and say hello to Delbert the butcher!"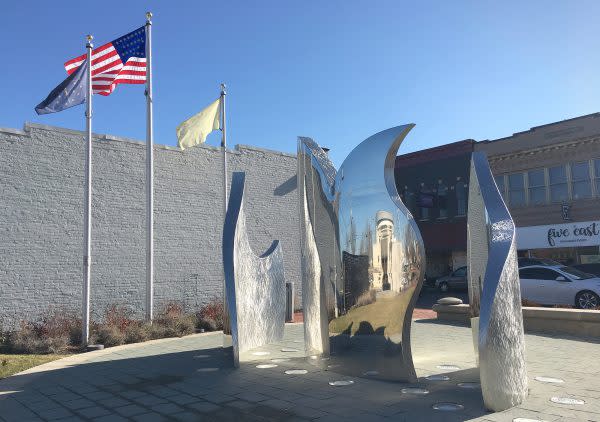 Mooresville, Indiana, was incorporated in 1938. The town is the "Home of the State Flag" was the childhood home of notorious gangster John Dillinger.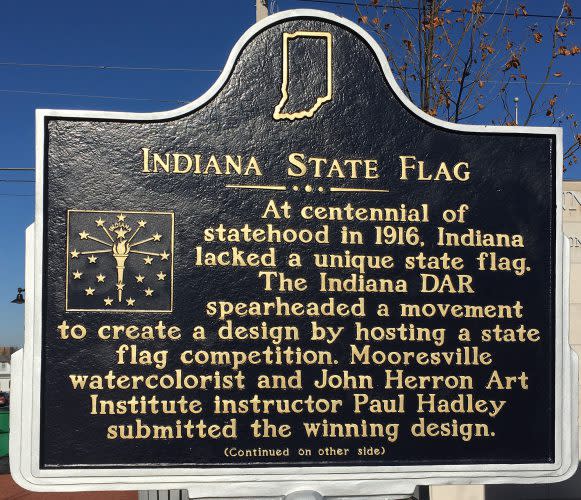 Mooresville adopted the slogan "Home of the State Flag" in 1966 in honor of designer Paul Hadley.