Last weekend I was able to visit French Lick (Southern Indiana). Let me first say that I so enjoy the trips I take to the southern part of the state due to its vast difference in landscape. Rolling hills, beautiful trees ... just gorgeous. But our visit revolved around one thing ... elephants.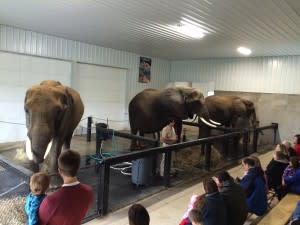 Wilstem Ranch has become "home" to three beautiful (Mekia, Lovey and Lou) elephants from March - October.
Now, there are two ways visitors can interact with the elephants:
A fun, informative and educational session where you learn anything and everything you'd like to know about these animals and are encouraged to ask questions. ($25/person)
A spa treatment of sorts, where you (the visitor) gets to actually take part in bath time for the elephants. ($59/adults and $49/kids)
We were able to do the the spa treatment (which includes the informational portion as well) and it sure did not disappoint!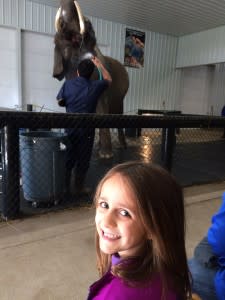 We were all hands on. My daughter "painted" their toes with mineral oil ...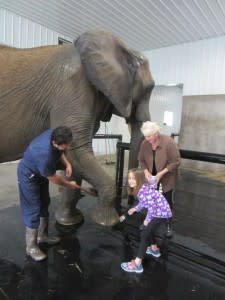 I got to do the initial washing down ...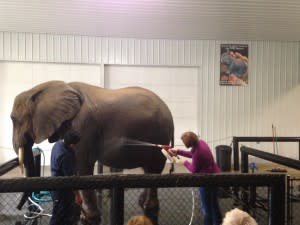 And my mother-in-law rinsed one off ...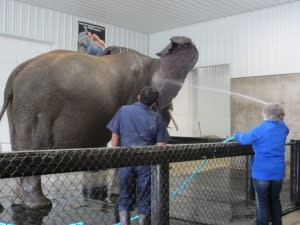 We also learned a thing or two:
African elephants have larger ears that are in the shape of Africa.
They can pick up a DIME with their trunk, which can also expand like an accordion! It can even eat an apple out of your hand.
There memory is 3x larger than a humans.
Average span of life is 50-60 years old.
Their wrinkles help break up the sun rays.
Their tusks have a nerve running down them.
And we had plenty of photo opportunities!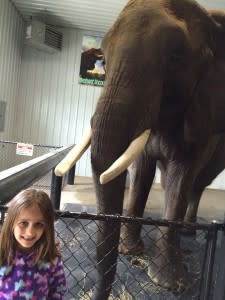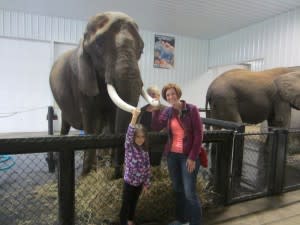 It was a terrific way to spend two hours watching, learning and touching the elephants. I have a new appreciation for them and a huge appreciation for all their owners do for them year around.
Who would have ever thought you'd get this up close and personal with elephants in French Lick? And it all ties into the circus history ... which I'll tell you more about next time!
For more information on the elephants and all there is to do at Wilstem Ranch (like horse rides, zip lines and more), click here.
For more information on attractions, activities and lodging in French Lick and West Baden, click here.