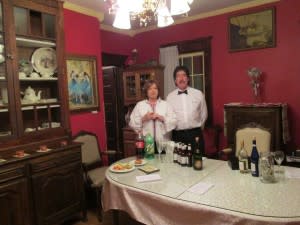 Sion House features French paintings and decor. Sion Bass may not be a household name, but he holds distinction as the first Colonel from Indiana to be killed in the Civil War. Originally from Kentucky, he moved his family to Fort Wayne and lived in a two-story home in what is now the downtown part of the city.
Bass believed in the Union cause and left his family to enlist. Sadly, on April 7, 1862, the second day of fighting at the Battle of Shiloh, he was struck by a bullet in his leg. He died from the injury on April 14, 1862 and is buried at Lindenwood Cemetery in Fort Wayne.
Today, his home still stands and is in fact a popular venue in Fort Wayne. It is part of the LaSalle Bed and Breakfast Inn.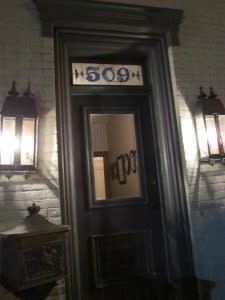 After-dark entrance to Sion House, part of LaSalle B&B The LaSalle and Sion House sit side by side. Both buildings are owned and operated by a couple who have visited and lived in Europe. The wife was born in France and much of the décor of the two buildings reflects her love of her homeland with paintings and furnishings depicting European scenes, culture and figures.
My husband and I recently chose to spend a night at the LaSalle and felt like it was a bit of Europe in Fort Wayne. As an extra treat, the owners have arranged a series of what they call 'Cabaret' shows on the upper level of the LaSalle. We attended the first Cabaret concert by Brenda Williams from Indianapolis.
She was a terrific singer with spunk and energy and a line-up of songs that were both new and familiar. Williams has won several awards for her singing and I'm happy to say she has a vivacious personality off-stage as well.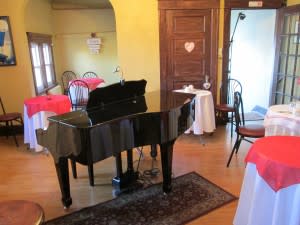 Preparing LaSalle's front room for its evening Cabaret performance. We met her in the afternoon before the concert as we registered for the night's stay and she was warming up for the show. She was warm and fun to chat with. Chris Rutkowski accompanied her by playing the piano almost reverently. Rutkowski is a professor of music at Indiana Purdue Fort Wayne.
Her concert that evening at 8pm lasted approximately two hours. The crowd of 20 or so filled the rooms set up with tiny tables and soft seats. During intermission, house staff offered drinks and snacks for sale in an adjoining room.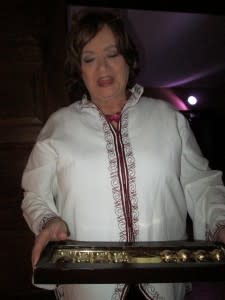 Chocolate sweets made the Cabaret concert even sweeter! When the owner offered everyone chocolates from France, we accepted!
The next set of Cabaret concerts on February 13, 14, 20 will feature Guylenn from Paris. Guylenn teaches students at the Conservatoire de Paris and Ecole de Musiques et de Danse du Penthievre. She has performed with jazz greats Claude Bolling, Dizzy Gillespie and others.
On March 13-14 baritone singer Everett Greene will conclude the Carbaret series with a repertoire of tunes. Greene has recorded several albums, including an album of Hoagy Carmichael songs done by the Buselli Wallarab Jazz Orchestra.
After the concert, we were no less pleased by our accommodations next door in the Sion House.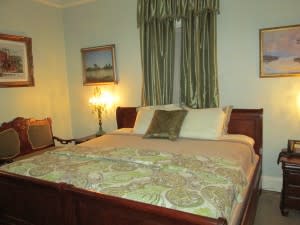 The Lawton Room at Sion House is decorated in soft greens and antique furniture. Our bedroom in the Lawton Room on the upper level featured a creamy silk bedspread and curtains in soft green tones that were comforting and oh, so cozy. After soaking for an hour in the Jacuzzi tub, I instantly fell asleep after crawling into bed, although I would have liked to have enjoyed the fireplace, Wifi, widescreen TV and computer. Did I mention the lovely antique furniture placed around the room that made me feel I was a rich lady staying in an inn from an earlier time?
Breakfast was fun the next morning back in the LaSalle's dining room. We chatted with guests from California and Wisconsin over Belgian waffles, fruit, yogurt and orange juice. They all voiced their pleasure with their night's stay.
Sion Bass may have died in battle, but I think he'd be happy at the way his home is being cared for today so well and that it is offering hospitality to guests in such elegant fashion.
Tickets for the LaSalle's Cabaret are $15 in advance; $20 the day of the show.
LaSalle Bed and Breakfast Inn 517 W. Washington Blvd Fort Wayne 46807 260.422.0851 Lasallebb.com
The End