One of the best things about college is the weeks off we're given for holiday breaks. But it always seems like after being home from about four days, college students are ready to head back to their respective universities. This coming winter break I promised myself that I will take advantage of the awesome local activities provided for young adults like myself in my hometown, Elkhart, IN.
Elkhart is located in the most Northern part of the state and is within a short driving distance to cool neighboring cities such as Goshen, Mishawaka, and South Bend. I've compiled this list for all college students returning to Northern Indiana for winter break, and really anyone who find themselves in the area.
Shopping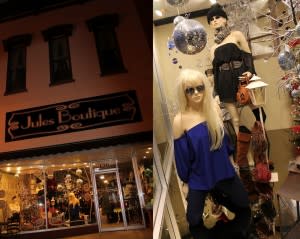 Jules Boutique
Photo Credit - https://www.facebook.com/ShopJulesB
Jules Boutique is a trendy fashion boutique located in Goshen that offers women's clothing, shoes, jewelry, gifts, and home décor for a reasonable price. Jules is one of my favorite locations to stock up on seasonal items and cute tops.
Located in the heart of downtown Elkhart, Mod Closet is a vintage clothing store stocked with clothes from the 50s, 60s, and 70s. Hats, shoes, gloves, scarves, records, house ware and other vintage items are also sold in store. I love the store's handmade and costume jewelry. You never know what hidden gems you might find!
The Picture Show, also located in Elkhart, is the perfect place to find a unique and thoughtful item for someone special or for yourself! Whether you're looking for a gift for a friend, parent, wedding, teacher, baby shower, you name it, The Picture Show's got it.
If you're looking for name brand chain stores, take a 25-minute drive over to Mishawaka and visit University Park Mall where you'll find everything from J Crew and Coach to Forever 21 and Bath and Body Works. While you're in the neighborhood, check out Heritage Square for stores like Camellia Cosmetics and White House Black Market.
Food
Chubby Trout is an awesome casual spot in Elkhart to enjoy a quality fish dinner, or a scrumptious burger with a craft beer. Looking for a deal? Sushi is ½ price from 5 to 7 p.m. on Mondays, but get there early if you don't want to wait.
Fat Tomato is a family owned Italian restaurant that makes you feel right at home! Feeling pizza, pasta, or sandwiches? This is the place for you. Carry out is available.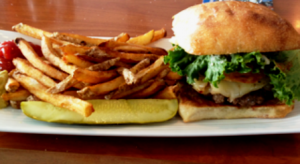 A juicy burger from Miles Lab
Photo Credit - https://www.facebook.com/mileslab
Miles Lab is by far the best place to grab a quick burger and a beer with family or friends. The restaurant offers a unique burger selection and offers up to 18 local and regional craft beers. You want the sweet potato fries as a side.
523 Tap & Grill is the place to go downtown Elkhart if you want something a bit fancier. It's a great place to go with Mom and Dad or for a birthday dinner. Steaks and Fish are the restaurant's specialty.
Nightlife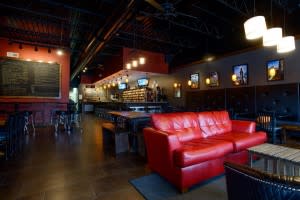 An interior view of Iechyd Da brewery
Photo Credit - https://www.facebook.com/iechyddabrew
Iechyd Da is a recently opened brewpub located downtown Elkhart that offers handcrafted ales, lagers, pizzas, and sandwiches. The atmosphere is comfortable and cool, incomparable to any other beer joint in the city. Perfect for a Friday date night.
Do you prefer your weekends be filled with a live DJ, fun drinks, and crazy fun club goers? Club Landing, located in South Bend, was voted the "Best Place to go Dancing" by the South Bend Tribune. If you're ready to party, you won't be disappointed.
Hacienda Mexican Restaurant isn't unique to only Elkhart, but I can easily say it's a favorite among everyone at home. Indulging in margaritas, daiquiris, and chips & salsa happens at least once among friends during every college break.
Day Trip
If Northern Indiana is known for one thing, it's the University of Notre Dame. Whether you're a fan or not, the beautiful campus and church worth well worth touring. Consider attending a tailgate or sporting event if your schedule allows it!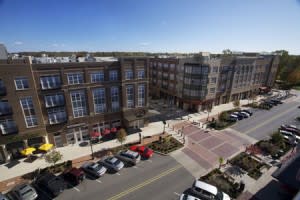 Eddy Street Commons
Photo Credit - http://eddycommons.com/
Spend the rest of your day in South Bend exploring Eddy Street Commons. It's located next door to Notre Dame's campus and offers a great variety of shops such as Urban Outfitters and Outpost Sports. End the day with dinner and drinks at Brothers Bar & Grill or one of the many other restaurant options.
Don't spend another moment watching Netflix next time you're in Elkhart or another nearby city in Northern Indiana. This is only a snippet of what the area has to offer!