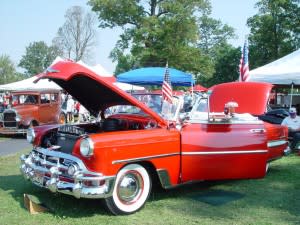 I like old cars. I've no particular favorites, but especially anything red (that is my favorite color). So attending car shows is a pleasurable activity for me as I imagine the days when these classics were new and cruised Main Streets of small towns across the country, windows rolled down and radios blaring. Sometimes it makes me wish we could go back to those days.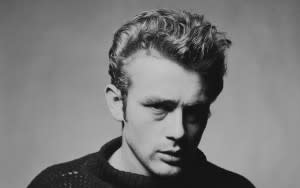 Hey, wait a minute! I can go back to those days during the James Dean Festival, held annually the fourth weekend of September in Grant County. With James Dean look-alike contests and live music from the time period played every night, it is about as close as I can get to experiencing the sights and sounds of the time when James Dean roamed the earth.
For those who may not know James Dean, he was a famous actor, born in 1931, who starred in the 1950s in such films as 'East of Eden', 'Rebel Without a Cause', and 'Giant', co-starring with Elizabeth Taylor and Rock Hudson.
He was born in nearby Marion and raised in Fairmount where he lived until age five when his family moved to California. Dean's mother died four years later and he returned to Fairmount to live with relatives. After graduating from high school, Dean left Indiana for New York and eventually the West Coast where he quickly became a major film star.
On September 30, 1955, Dean was driving his Spyder Porsche on a California highway at a high rate of speed when he collided with another car and died of head injuries. He was 24 years old. The other driver walked away from the scene.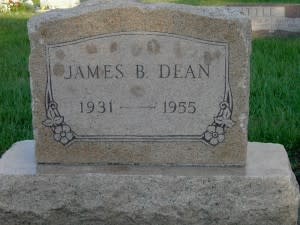 After his death, Dean's body was brought home to the town of Fairmount and laid in the family plot in Park Cemetery, a short distance from the farm home where he grew up.
It may sound ghoulish to talk about a gravesite in a travel blog, but Dean's particular plot is more than a little popular. His headstone is covered with lipstick stains, not just by American visitors. Fans from Germany, U.K., Australia, and Japan visit the area, seeking a connection with the beloved iconic actor who died just as he was reaching the pinnacle of stardom.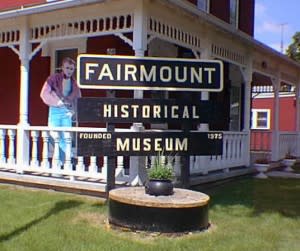 Rather than dwell on Dean's untimely death, the Fairmount Historical Museum and many residents of the town of Fairmount celebrate his life by hosting a festival honoring his memory and contribution to the film industry. The Fairmount Historical Museum contains many of Jimmy's personal effects, including photos of his childhood and one of his cycles.
The James Dean Gallery, also located in Fairmount, contains mementos and similar collections of Dean's fame.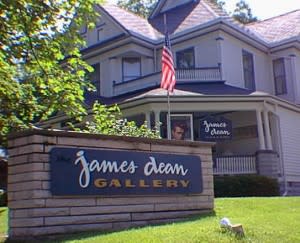 The festival's main attractions are Museum Days and James Dean Run. During Museum Days, the town offers free showings of 'East of Eden', 'Rebel Without a Cause', and 'Giant' throughout the weekend. The James Dean Look-Alike Contest is fun to watch as 'Jimmy' – that's what the locals call him -- wannabes strut their stuff.
At night live music performed on the Main Street stage and a 1950s dance contest are reminiscent of his time period.
This all leads up to what might be my favorite part of the festival -- The James Dean Run. Held at Playacres Park in Fairmount, it is the perfect place for classic car enthusiasts as thousands of vehicles of all makes and models are on display for perusing and judging. This is eye-candy for people like me who dream of owning a car like them! There is also a huge car show called Duck Tail Run at nearby Gas City. I'm hoping my feet will be able to keep up with my interest at gazing at all of those beauties!
A line-up of the James Dean Festival schedule is available at the Marion-Grant County Convention & Visitors Bureau website
Photos contributed by the Grant County Convention & Visitors Bureau.