My family is used to traveling at least once a month to experience parts of the beautiful Hoosier state. But, once the pandemic hit, we were stuck in the house like everyone else. After nearly 8 months of working from home and our boys have been attending school 100% virtually, we were able to enjoy a Fall getaway in Lafayette, Indiana.
Every stop on our itinerary made sure we were able to properly social distance and required masks. This was extremely important to us. We wanted to get out and have fun, but we were careful not to put ourselves at risk while doing it.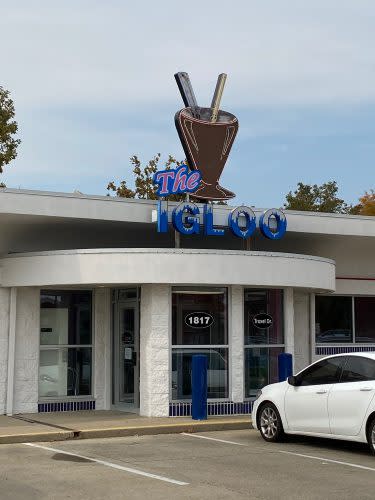 Igloo Frozen Custard Restaurant
Our first stop when we arrived in town was a popular drive-thru restaurant. I didn't tell the boys that we would be enjoying lunch when we arrived, but just like clockwork as the 11 o'clock hour hit, we rolled into the Igloo Frozen Custard. We visited one of their two locations on Veteran's Memorial Parkway.  They are open all year with drive thru and patio service (inside dining room is currently closed during the pandemic). The Original Frozen Custard location at Main & Wallace has been open since 1932 and is considered one of the oldest continuously operated Frozen Custard stands and one of the oldest family-operated businesses in the Midwest. It was obvious when we drove up that this was a popular place to eat. There was a line in the drive-thru, but it went pretty fast. We had to try a shake after seeing the sign, and it did not disappoint. After ordering our food, an employee brought our food to our car a short time later. It was piping hot, and the shakes were freshly made.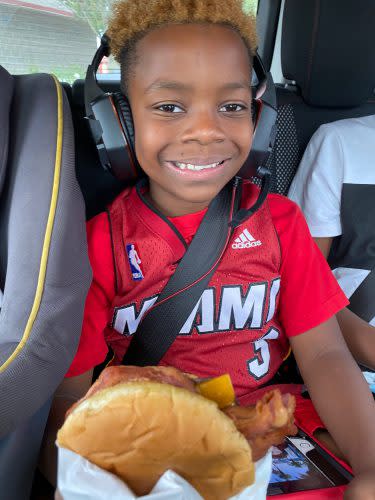 My husband and one of my sons decided to try a burger and fries, and my oldest and I went for the chicken fingers and shakes, while our youngest had to have a corn dog. It didn't take us long to realize why this restaurant has been around for so long. The food was delicious and gave us the energy we needed to head to our next destination.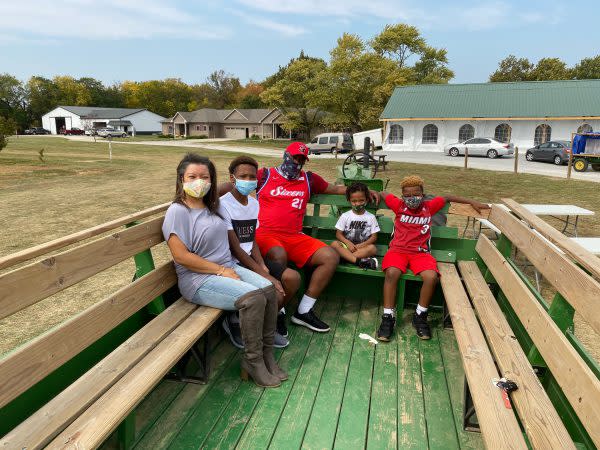 Wea Creek Orchard
Just 5 minutes away, we arrived at Wea Creek Orchard. We couldn't wait to explore this stop because we all love apples, and it's that time of year where we needed a pumpkin just in time for Halloween. It was a beautiful fall day, which helped. Once we parked, we headed straight into the 3rd Day Garden Market. There were a ton of apples to choose from.  Unfortunately, due to the weather, many of the apple trees did not make it this year. But, because they had so many types of apples to choose from, we wouldn't have noticed if they didn't tell us! They were also selling some beautiful mums, honey, jars of jelly, preserves, and butter, plus the cider slushes were amazing, and the price was just $2 bucks. You really can't beat that price, especially for how good they were to us. I honestly wished I had bought two.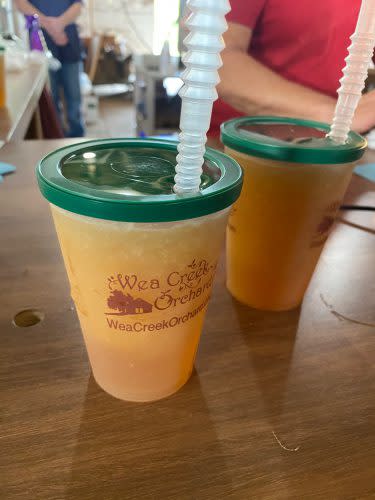 After visiting the market, we decided it was time to pick a pumpkin. We rode the tractor wagon over to the pumpkin patch. I have always loved going to the pumpkin patch, and I love that my husband and I are able to pass this wonderful tradition down to our children. While there were definitely a nice amount of people at the Wea Creek Orchard, I never felt like we weren't able to distance ourselves from others and remain safe. This was extremely important to me. Once we were out at the pumpkin patch, our boys only took a few minutes to find the perfect pumpkin. Some years it can take forever, but this year that was not the case. We rode the tractor ride by to the parking lot, but on the way, we could see a wedding was being set up for later in the day. If you are wondering how beautiful this place was, there is no need to worry. There is a reason people want to hold their big day on the property. It really was a beautiful place to go this fall.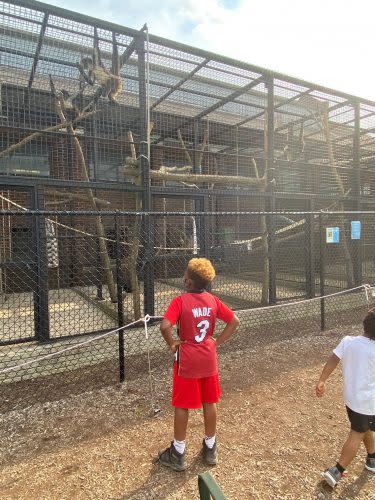 Columbian Park Zoo
Our next stop was the Columbian Park Zoo. I loved that there was free parking, not too far from the zoo. Although it was a beautiful day, it did not take us long to find a spot. I really enjoyed the 5-minute walk through the beautiful fall foliage. When we walked into the zoo, I loved that there were signs asking people to socially distance. Again, being able to distance while exploring something new was essential for us. The boys really enjoyed seeing the spider monkeys up close, a turkey vulture, pigs, goats, llamas, and so much more. I think our favorite experience was the Wallaby Walkabout. Yes, you can walk about with the Wallabys; it was so cool! There are zoo employees there to make sure people keep their distance from the Wallabys and that they don't try to get away either. We had a great time at the Columbian Park Zoo. It's important to note that during the normal zoo season, we went on the last weekend of the season, the zoo is free. However, the zoo is now closed and will reopen in April of 2021.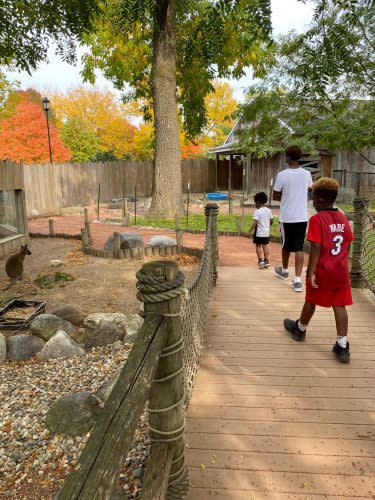 Red Seven Kitchen + Cocktail
Our last stop for this day trip was the popular restaurant in downtown Lafayette called Red Seven Kitchen + Cocktail. The streets around this restaurant and others have been closed to allow for outdoor seating.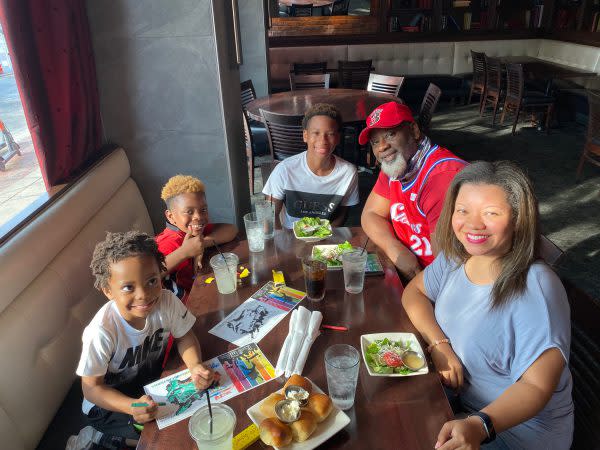 We had planned to sit outside, but it was quite warm that day, and once we walked inside to give the host our name, we were impressed with the social distancing in the restaurant and decided to eat inside where it was cooler. Once we were seated, our waiter came over quickly with a face mask on, the hostesses had face masks on as well, and he took our drink order. It didn't take us long to decide what we wanted on the menu. I decided to try the lobster mac n' cheese, my husband and oldest went with the same thing again and chose fettuccine Alfredo with chicken, and our two youngest decided to try their mac n' cheese. While we waited for our food, our waiter brought out a few delicious warm rolls with butter and our salads.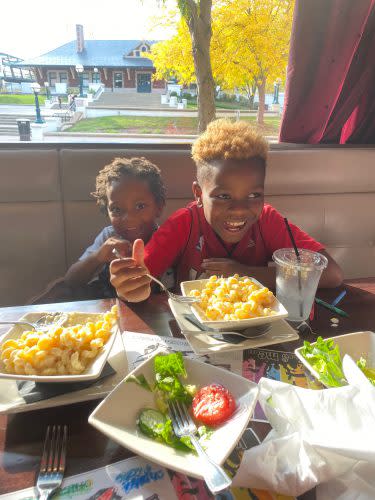 After having fun at the Wea Creek Orchard and the Columbian Park Zoo, it was nice to sit down and relax and enjoy an amazing meal. When our entrees arrived, we all couldn't wait to dig in. My lobster Mac n' cheese was so rich and flavorful, and my husband and oldest son, Jayden, really enjoyed the chicken Alfredo fettuccine, which is always a go-to favorite for them. Our youngest boys, Chase and Kaleb, loved the Mac n' cheese. We were all so full that we had no room for dessert. 
Wolf Park
Sadly, we weren't able to visit Wolf Park before we had to head home, but we have been there before. Since 1972, researchers have studied wolves at this facility. It also educates thousands of visitors about the importance of predators in the ecosystem. My oldest son, Jayden and I were fascinated with the wolves that live there. It's an experience unlike any other and I strongly recommend it. During the fall season, you can visit Wolf Park in the evening for a Howl Night. See the wolves in a whole new light.
While we choose to do a day trip, you can definitely make a weekend of it. The next time we come back I'm determined to check out Purdue University. Our oldest, Jayden, heads to high school next year, which means in four short years he'll be leaving the nest. Of course, I'd love for my son to stay near us, plus Purdue is a great school. So, we'll see what the future holds in due time.