Are you looking for something fun to do for this fall or just want to get away with the kids for a fun weekend? I have the perfect destination for you; Santa Claus, Indiana. For fall break, I decided to take the boys to Santa Claus, Indiana. Although we had been to Holiday World a few years ago, we did not explore any of the other fun destinations in town. And let me tell you, there is so much to see and do in Santa Claus, Indiana that we didn't get to do it all while we were there.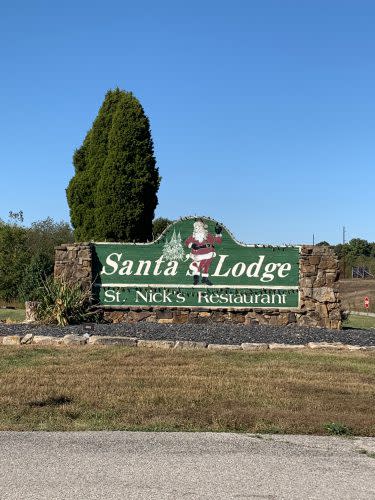 Santa's Lodge
The minute you arrive in town you immediately feel like it is Christmas no matter what time of year it is. Not only do many of the stores include the name Santa Claus, many of them are decorated with a Christmas theme as well. We stayed at Santa's Lodge and it is exactly what it says it is. This cute hotel is decked out with St. Nick and his reindeers, Christmas trees, presents, Christmas lights and so much more. Our room was small but cozy and I think what the boys loved the most was the fact that they could see Holiday World from our window. Yep! We could have walked to Holiday World if we wanted to because we were so close. During the fall season, you can grab a delicious breakfast buffet at St. Nick's Restaurant located inside Santa's Lodge on the weekends. The breakfast buffet is available during the weekdays as well in the summer months.
Santa Claus Museum & Village
After we checked in our first stop for the day was the Santa Claus Museum & Village. The first thing we did was go into the original Santa Claus Post Office and write a letter to Santa. All three of my boys wrote out three things they wanted from Santa.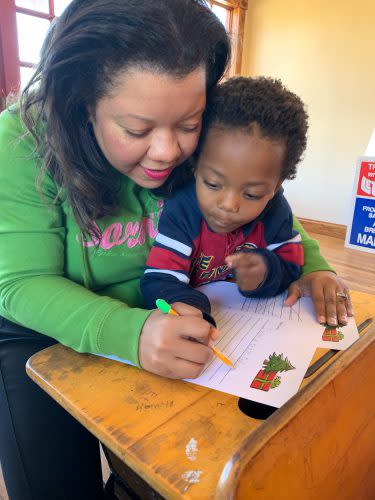 Then they dropped their letters in the green box. I made sure they wrote out our address clearly, because Santa and his elves will send them a letter back before Christmas. I cannot wait for them to receive them. Then we walked a short distance to the museum. The boys were able to find out how Santa Claus, Indiana got its name, as well as the post office. And they were able to see decade's worth of children's letters written to Santa. Then we stepped outside and snapped a photo with the historic 1935 Santa Claus statue.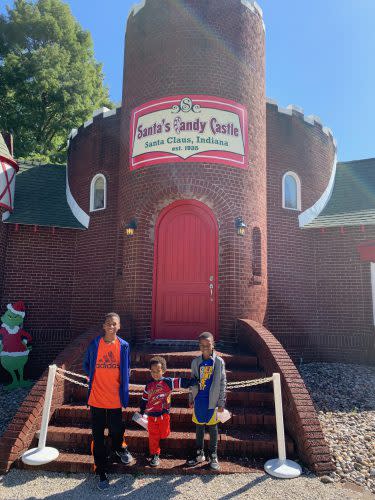 Santa's Candy Castle
Our second stop was Santa's Candy Castle located right down the street from the Santa Claus Museum & Village. This business opened back in 1935 and was the first tourist attraction in Santa Claus, Indiana. When we walked through the door, I was truly mesmerized by how much candy was available for sale. While there were other items available for sale including signature T-shirts, toys, popcorn, and chocolate, there was so much candy in one place it is kind of hard to imagine. I guess you have to see it to believe me. And, be sure to try their frozen hot chocolate. It is delicious and no, it is not just a chocolate shake. It actually tastes just like hot chocolate but cold.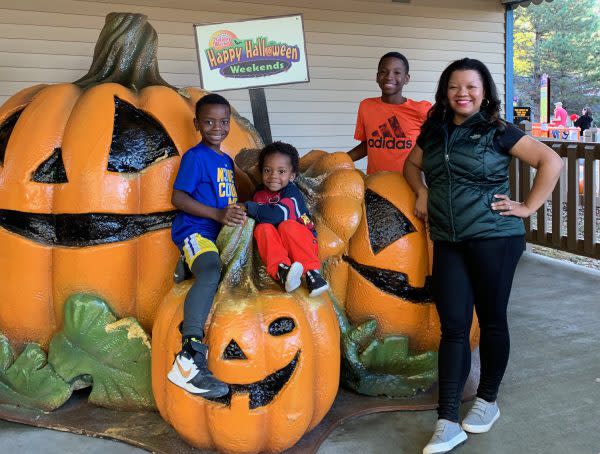 Holiday World
Our third stop was none other than Holiday World. This is a theme park that highlights several of the major holidays in a year and during the fall months, it is to be understood that the Halloween section is one of the most popular. I love that there is something for big kids to do, as well as little ones. Jayden and Chase spent the day riding roller coasters while Kaleb was able to ride smaller rides, drive old cars, trick-or-treat and of course, we all enjoyed a delicious funnel cake. Not only was the weather perfect, but it was not as crowded as it can be in the summer, which made for a great time overall.
Lincoln Boyhood National Memorial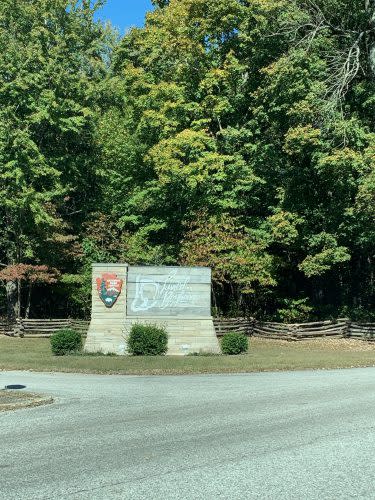 Our last stop was the Lincoln Boyhood National Memorial located in Lincoln City, Indiana, which is just 5 minutes away from Santa Claus, Indiana. I will be honest with you, I was not sure what to expect, but experiencing the site where Abraham Lincoln spent his childhood with my boys was an experience I will never forget.
The memorial building was completed in 1943. It features five sculptured panels each marking significant points of Lincoln's life. He lived in Indiana between 1816 – 1830. Across from the memorial building, you can walk and see Lincoln's mother's gravesite, as well as the cabin ruins where his mother raised Lincoln. You will also find a living historical farm where chickens, sheep, gardens, and field crop call home. One of the things I enjoyed the most was the nature walk through the Lincoln Boyhood Trail. It was a gorgeous fall day and the sun seemed to hit the leaves and trees in the perfect spot. I absolutely loved teaching my boys about a great American president, nature and how things have changed so much. It was true quality time with my boys that I will cherish as long as I live.