This new entertainment center has something for everyone in your family! Whether you are into bowling, cybersport games, laser tag, or axe throwing, it is the perfect place for family fun in Northwest Indiana.
As you would guess by the name, bowling is one of the offerings. You'll find 20 lanes with flashy lighting and backed with large screens broadcasting different sports stations. Up to six players are permitted on each lane (no minimum) and it's open for walk-in on a first-come, first-served basis. Online booking is also available for an added fee at this entertainment center.
Lanes are rented by the hour with varying prices depending on the day of the week and time of day. Shoe rental is $4.29 per person.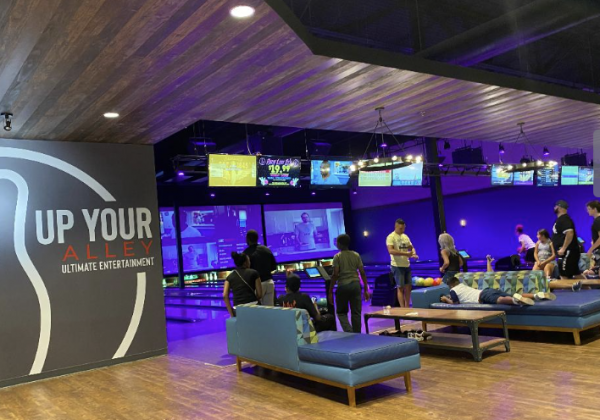 One of the most unique features of this new entertainment center is the Cyber Sports game, which is played on a court where you ride small cars that resemble bumper cars while passing a ball in a piece of equipment similar to a lacrosse stick. Groups of up to 10 can have a blast in this game. The minimum height is 54" and a minimum of four is needed for play. Prices vary depending on the day and the cost is for the full court. There is a weekday special with 75 minutes of play for $150 and it comes with two one-topping pizzas.
The two-floor laser tag arena is a fun activity to get your heart pumping and test your aim. Anyone who is 42" or taller can get in on the action. The arena holds up to 30 people and you pay for entry in 15-minute increments with walk-in only (no reservations). The price is $8 per person with the exception of Monday when you can play for half-price.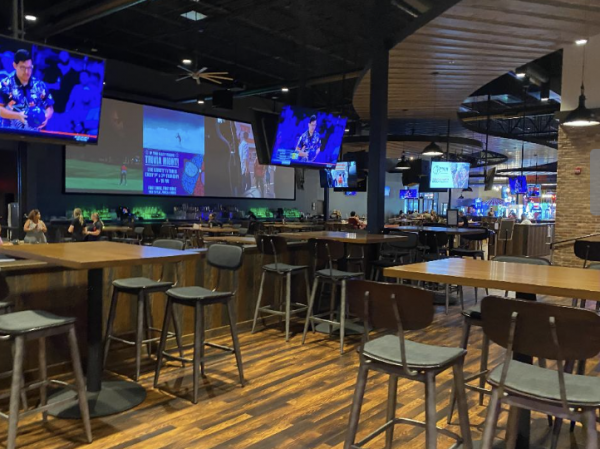 The arcade is loaded with a variety of modern videos games and seated racing games. You'll find some updated classics like Space Invaders and Jurassic Park with basketball shooting, Wheel of Fortune, and other games where you can earn prizes.
My favorite part of the place is the axe throwing lanes where I got to try out the sport for the first time after having it on my bucket list for quite a while. We made a reservation online and arrived a little before our appointment time to fill out waivers and show ID (participants must be age 18 or older with a valid ID). Our coach filled us in on the rules, how to throw, how to score, and gave us some pointers. After a few minutes of practice, I was happy to throw a handful of bullseyes.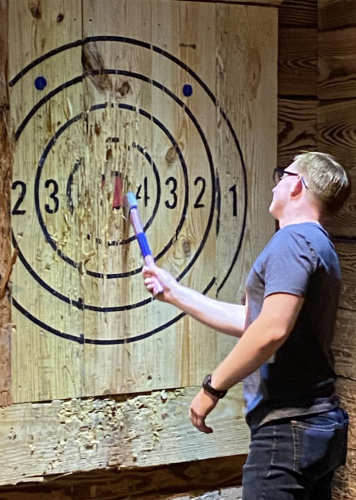 There's also a sizable and impressive menu of elevated bar food - handcrafted burgers, loaded sandwiches and wraps, sharable appetizers, customized pizzas, salads, brisket mac and cheese, and more along with a full bar for craft cocktails and signature drinks and an extensive craft beer selection.
It's a great spot for a date night, a group outing with friends, a corporate event, or a kids' birthday party. Up Your Alley is open daily from 11 a.m. - Midnight. For more information on this entertainment center, visit upyouralleybowl.com. Also, keep an eye on the Facebook page for upcoming live entertainment.