Our family made a pact to go places and do things that we've never done this year. Our first stop - Paoli Peaks and the French Lick resort in southern Indiana, which is about 2.5 hours away from the Indianapolis metro area.
We stayed at the French Lick Spring Hotel, which is not your average cookie cutter hotel. The lobby area is enormous with beautiful art on the ceiling, huge flower arrangements, comfortable seating, a store with a Starbucks inside, and a host of boutique shops along the corridors as you move through the hotel to the conference/ballroom area. Valet parking is complimentary. The hotel staff is friendly and knowledgeable, at check-in we were given maps, wristbands for the pool and information about what is happening at the resort.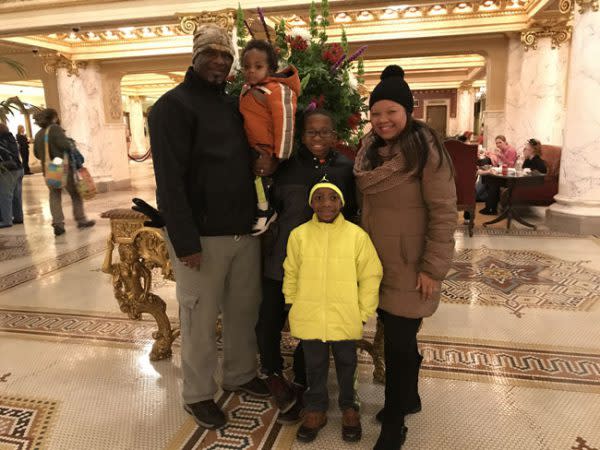 Our Family at French Lick Resort!
Our hotel room was located in the spa section of the hotel. It was a modern decorated room with two queen size beds. There was a night stand equipped with USB outlets for your electronics as well as additional plug outlets. There was a nice desk and chair and a drawer with a 40-inch flat screen television with basic cable included. The TV line up also included a channel that provides you with history and facts about the hotel and its founders. The lighting was soft, not too dim and not too bright. There are vending and ice machines on each floor, as well as room service.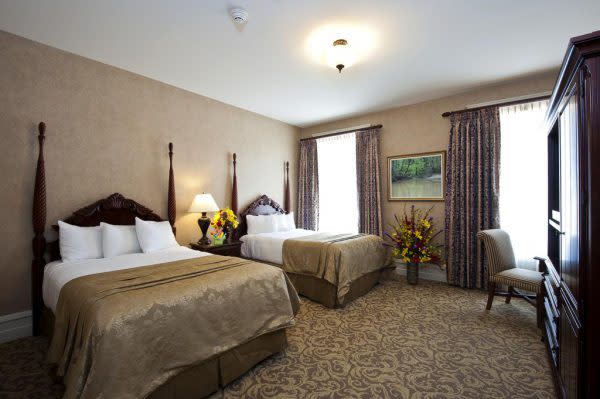 After we settled into our room for a while, we decided to explore the hotel. In addition to shopping, there are many other things to do without ever having to leave the warm confines of the hotel. There is a four lane bowling alley on the lower level fully equipped with bowling shoes, a nearby arcade and a pizza shop. Our boys acted like we hit the jackpot when we found it.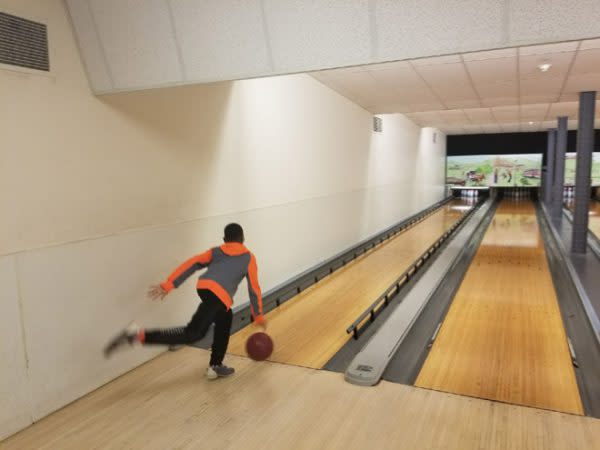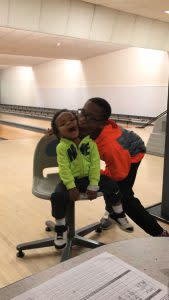 Mike, Jayden and Chase decided to bowl. I sat out to watch our youngest, Kaleb who is 2-years-old and too small to play, but the lanes are kid-friendly. They have the side rails that prevent gutter balls and a nice selection of shoe sizes. After bowling, the boys played a few games in the arcade including air hockey and foosball. The arcade is equipped with many arcade favorites.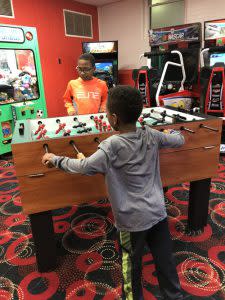 If you like fine dining, eating on the run or just want a snack, there is a place for you. We all decided to check out Pluto's Pizzeria, which was a hit for our boys. If you'd like a more elegant dining experience, check out 1875 Steakhouse. There is also a nice restaurant that offers a breakfast buffet.
The French Lick Spring Hotel is a historic national landmark. At certain points in the hotel, the walls share the history of the hotel and display famous guests, as well as an architectural model of the other French Lick hotel, West Baden. If you're feeling lucky, the hotel is connected to a casino. You can try your luck at a variety of parlor games including blackjack, poker, roulette, as well as slot machines. The casino lounge provides live entertainment and a variety of food is available at the Casino Park Grill.
After all that activity you may be in the mood to just relax. The hotel has a wonderful spa that provides an array of different services including facials, massages, manis and pedis and so much more.
Later in the evening, the boys and I decided to check out the indoor heated pool while Mike stayed in the room to put down Kaleb. The water was very comfortable, especially for a very cold winter day. The boys had a great time and even made a friend. We returned to our room and decided to call it a night.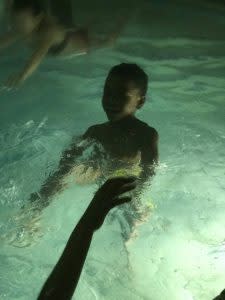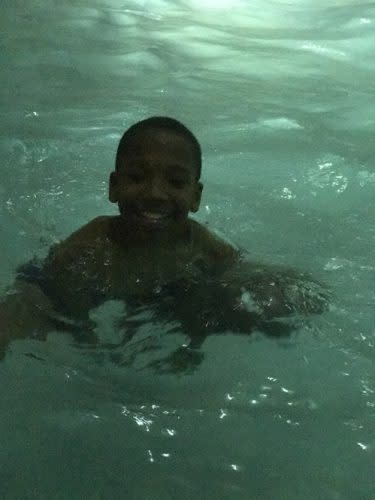 We all woke-up feeling refreshed. After packing and getting dressed, we said goodbye to the French Lick Resort. The excitement was building at breakfast. Mike and the boys had never gone snow tubing or skiing before and I hadn't been in 20 years. My grandfather used to take all his grandchildren after the Christmas holiday. They are truly some of my fondest memories of my grandfather. I was so excited to have the opportunity to make memories that our family will cherish for years to come.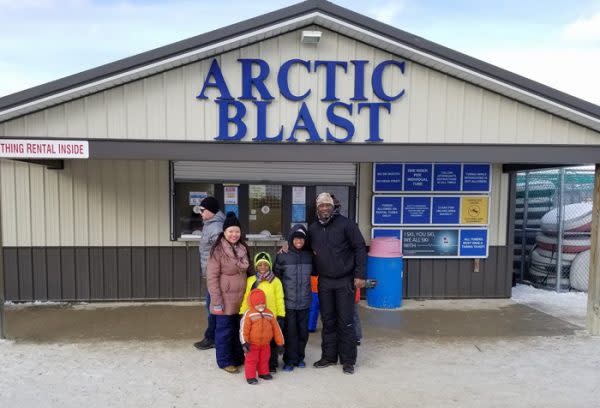 The drive from French Lick to Paoli is only about 10-15 minutes. We pulled into the Arctic Blast Snow Tubing parking lot, which sits up high from the check-in/pay area. You can't really see the hill until you walk through the building, which includes a rental area and snack bar. Once you come out the back door, you can hear people laughing, having fun, pulling their tubes to get in line to ride down the hill in their tube. It's important to note, only one person to a tube and I'll tell you what I learned the hard way. The first time you go down the hill, be sure to go by yourself.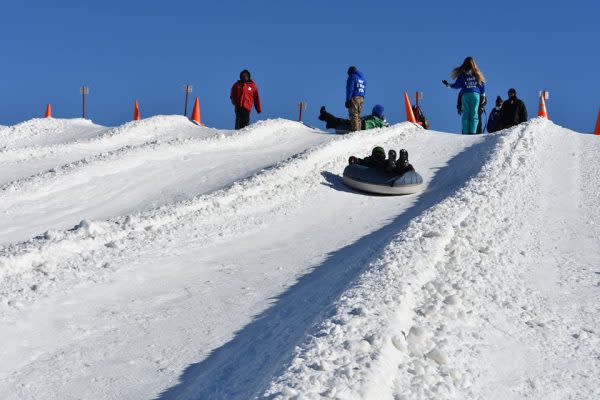 Photo from Paoli Peaks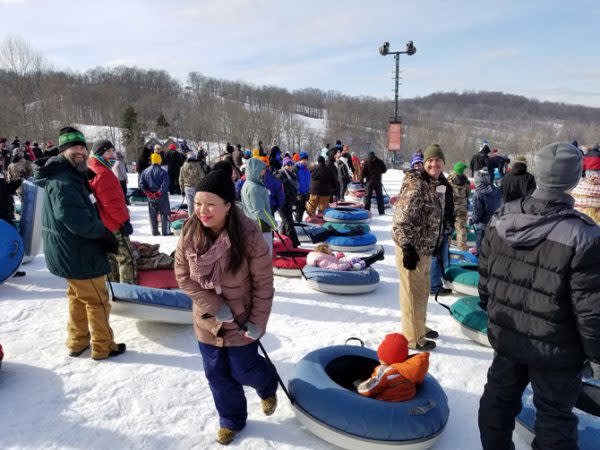 The more people you have holding on to each other, the faster you go. Jayden, Chase and I all went down together on our first time down the hill and it felt like we were going 40 miles per hour. I think I saw my life flash before me. I was definitely scared, but excited to say that I did it once we got down to the end. After you get to the bottom, there is a short trek to a motorized hill that brings you back to the top. The boys and I went down the hill several times. We truly had a blast. Mike is afraid of heights, so he decided to sit this one out and go skiing, plus play with Kaleb who was too little to snow tube. Kaleb had a blast just spinning around and around in the tube.
Our next stop as a family were the ski slopes. Mike and Jayden decided to ski and Chase decided to stay with Kaleb and I, plus try some tasty snacks while we waited. Chase enjoys sweets almost as much as I do.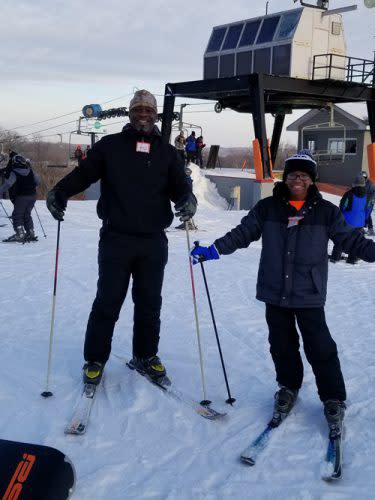 Mike and Jayden after their ski lessons
Mike and Jayden immediately went to pick out their ski boots in the right size along with the matching skis. The sound of people walking in ski boots is very distinct, my memories began flooding back. I remember wearing those ski boots for the first time and feeling like I was walking with weights on my feet. I will tell you that the more you do it, the more you get used to it. It's really a small price to pay for the fun that you have on the ski slopes.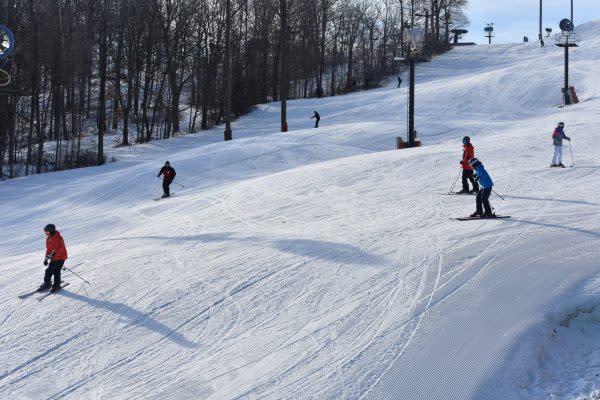 Once Jayden and Mike had their ski boots on, they were ready for their group ski lesson. They signed up for the lesson since they have never skied before. I recommend it. Plus, it was pretty inexpensive. Only $20 for a two-hour lesson. Mike and Jayden learned the basics including how to stop, how to push forward and how to balance themselves. They skied down a small hill a couple times and rode up the ski lift.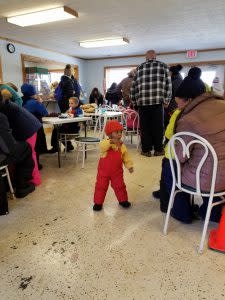 Kaleb made friends in the lodge!
Chase, Kaleb and I hung out in the lodge area. We ate a tasty waffle, pretzel with cheese and I had a delicious latte as well. We sat next to a cozy fire and watched people skiing out the window. Once Jayden and Mike were done, they joined us in the lodge.
It was definitely a day to remember for the whole family. In fact, the boys can't wait to go skiing and tubing again. So, if you're looking for something fun to do with your family, we would definitely recommend you plan a trip to Paoli Peaks and French Lick Resort.