As a young child one of my fondest memories was spending vacation time with our cousins in the summer. During our vacation time together we would make the most amazing forts, create fun games, eat good food which was mostly home cooked, watch movies, go swimming and so much more. As an adult I am still very close with my cousins and we wanted to continue the tradition with our children. Since there are more of us, we decided to look for a place to stay where we all could be together in the Muncie area.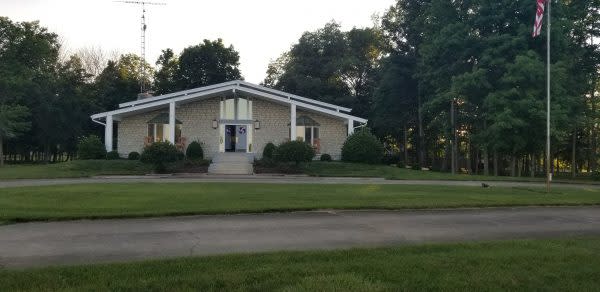 The Creek House on Burton Farm
We were so excited when my cousin found the perfect location, The Creek House on Burton Farm, which is located on 85 acres. This beautiful home was recently renovated by the Burton family and just opened for rentals in June of this year. It can accommodate up to 16 people comfortably (see full tour of the home on IGTV).
When we arrived at the home back in July for our camp cousin weekend, we were greeted by Aaron Burton, the owner of the home. Aaron was very nice and gave us a detailed tour of the home. He pointed out that each room was given a name, as well as a story behind it. Each story was beautiful in its own right. My husband and I stayed in The Belgian master suite. The room was a very nice size room and included an armoire to hang clothes, a television plus its own bathroom with a shower. I loved the complimentary locally made soaps, shampoo and conditioner that were provided to us in the bathroom, as well as clean towels and wash cloths.
One of my favorite room's in the house was the room made just for kids. They called it, "The Hideaway," which was hidden by a bookcase, but once you pushed it forward it led you to a short hallway into a huge room that consisted of two bunkbeds, a sofa, a dresser with a flat screen TV, a small table with four chairs and a closet full of any game or toy you can think of. Our kids were so excited when they saw the room and immediately began claiming who was sleeping on which bed and/or couch. The TV also came equipped with a Wii and the kids loved playing several of the games.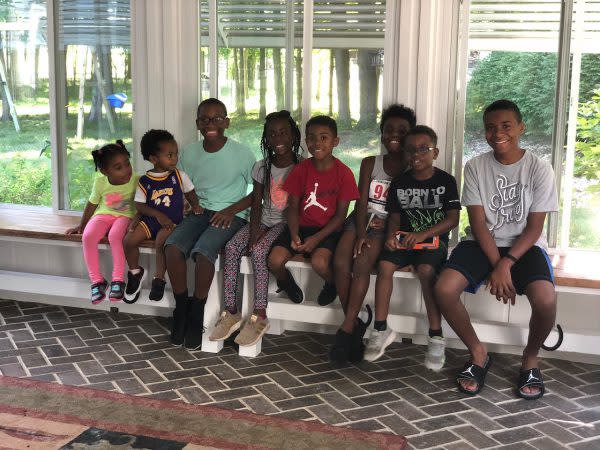 The 2nd generation of cousins.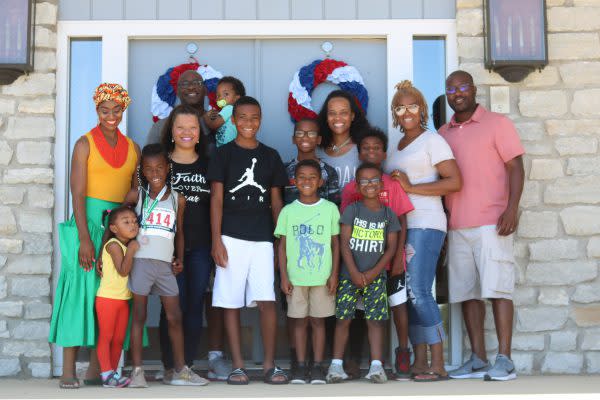 Family at The Creek House on Burton Farm
There were three additional rooms; The Muskogee had two full size beds, The Sofia had a queen size bed, and on the first floor near the kitchen and family room there was another bedroom with a queen size bed. I really loved that we all had our own space and if needed our own privacy. There are also three and a half baths in the house, a living/piano room, a family room, a spacious kitchen and dining room. And, the view from the front porch was absolutely gorgeous. You can see several horses grazing on the land just a few yards away (Be sure to make time to take in the natural beauty of the land a couple times during your stay).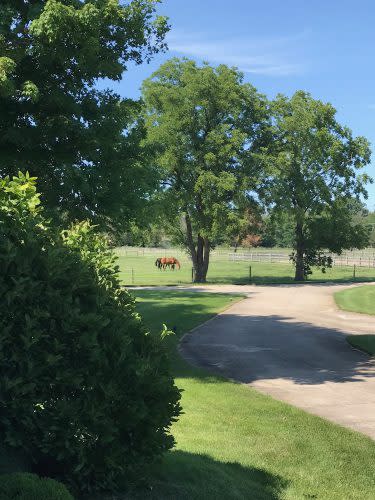 Horses grazing on Burton Farm
The first night at The Creek House we ate out at one of the suggested restaurants in a lovely book Aaron's wife, Jacqueline, put together for guests. It included farm rules and policies, some of their favorite places to see and eat at around town, a TV guide, check-out responsibilities and a detailed list of where to find essential items in the house. This book was very helpful inside and outside the home.
After enjoying dinner Friday evening, several family members shopped at a nearby grocery store for the next day's meals. We put together a detailed grocery list prior to our camp cousins' weekend. I loved that by staying at The Creek House, we didn't have to eat out for every meal.
On Saturday morning, we all ate breakfast at the house before heading to Ball State University to support two of our young cousins that were running in the state track meet. We were less than 10 minutes from the university, which was very nice. I'm happy to say that our cousins had a successful track meet. They both made it to nationals in North Carolina.
Later that evening, we met up with Aaron and his daughter, Joey, for a tour of Burton Farm. He first showed us the chicks Joey was caring for. Prior to our tour, Aaron told us we could bring rinds from our watermelon and cantaloupes to feed the chicks. The kids loved watching them eat them. We continued to walk to a horse barn and saw several horses grazing the land, as well as a farm cat that was very friendly. The kids crowded around to pet him.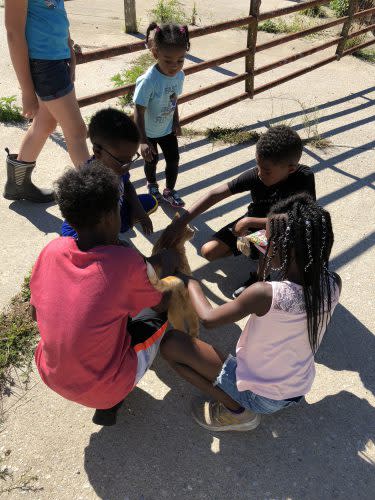 The kids petting the farm cat
As we continued to walk, we came upon a nearby creek, but that's not why the Burton family named the home we stayed in The Creek House. The name has a much deeper meaning; the family has descendants of the Creek (Muscogee) Tribe of American Indians.  Just a short walk away, were goats and chickens, a calf that the kids were able to bottle feed milk, dogs and an active equestrian center. Jacqueline helped the kids feed a horse inside some apples. The Burton family offers horse rides and lessons if you're interested. They also sell fresh eggs.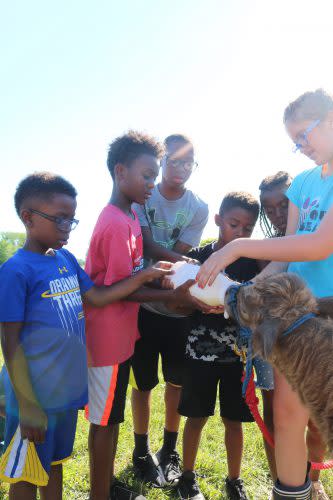 The kids feeding a calf a bottle of milk
Our amazing tour helped us all work up a nice appetite. We loved talking and sharing stories from the past while we prepared a delicious taco bar full of choices from beef to beans to guacamole for everyone. After dinner, we danced, watched movies, played games and truly enjoyed each other's company.
Sunday morning, we made a big breakfast complete with biscuits, grits, fruit and bacon. Yes, another delicious home cooked meal. The kids were able to get a few more games in on the Wii as we packed up and cleaned up the house. As I grow older I appreciate and understand how important it is to spend time and make memories with my family. I'm so happy to be passing down a wonderful tradition with our children and cousins.  So, if you're looking for a home away from home to spend time with your loved ones, I would highly recommend The Creek House on Burton Farm.